… Complete with flowing black robes – super hero style.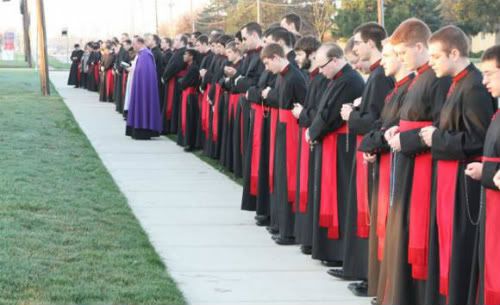 "COLUMBUS, Ohio, April 12, 2012 (LifeSiteNews.com) – Seminarians from the only Pontifical College in the U.S. have an awe-inspiring approach for confronting abortion head-on. Dressed in full regalia of a black cassock, a traditional red sash, and armed with a rosary, the seminarians descend in a powerful show of force every Saturday on a local abortion facility to confront with prayer what the seminary's rector calls the "poison of abortion." [source]
Shout out to Cory @ Josephinum.
In other awesome youth related future of the Church news…
Study finds new religious vocations are younger, more educated
Mr. Nelson [Abbey Roads] has some interesting thoughts on the burden of college loans keeping the 'more educated' youth from entering religious life and how he doubts that even some of our Saints would past muster and gain admittance into today's religious communities.
The Little Sisters of the Very Highly Educated.