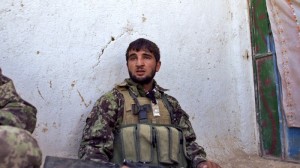 Tell Spring Not to Come This Year is courageous artistry of the highest order. After experiencing this movie covering a year in the life of an Afghan National Army (ANA) brigade, I was overwhelmed by a cascade of feelings and thoughts. It took me a while to sort them out.
First, I felt awe and appreciation for the co-directors and their crew. Saeed Taji Farouky and Michael McEvoy were the first filmmakers allowed to embed with the ANA, at that time preparing for the departure of U.S. and other NATO military forces from Afghanistan. When their unit comes under fire, the cameramen must run for cover and hide in courtyards, too. Considering that their brigade is serving in a hotly contested region of the Helmand Province, the danger is considerable for both soldiers and film crew.
By staying glued to their unit for a full year, we get a gritty sense of the soldiers' daily life. Whether washing down a carpet in their Spartan concrete quarters, horsing around on an antiquated foosball table, or threatening suspected Taliban supporters, we feel that we, too, are there for the mundane and the hair-raising.
Second, I felt helpless rage over history's heartless repetition. Just as in Vietnam, America's foreign policy makers have chosen to prop up a vile kleptocracy in its fight against a totalitarian insurgency. Can't we do better than this? Will we ever learn from our past mistakes?
I was angry, too, that these U.S.-backed soldiers at one point hadn't been paid by their superiors for nine months (what a swell morale booster!). They were also making do with antiquated weaponry, used cloth rags for handcuffs, and lacked a stretcher to carry a grievously wounded soldier.
Third, I recognized the universal struggles of existence in a war zone. For the average combatants, they have no clue about any overarching strategy, while resenting chickenshit officers who lead from the rear. For civilians, harassment comes from both opposing sides, while they just want to earn an unhassled living, which in this case involves harvesting opium.
The sole flaw of Tell Spring Not to Come This Year is that the Afghan soldiers are scarcely distinguished from one another. In many cases, we don't even learn their names, so these young men stay anonymous in their frustration and frequent deer-in-headlight helplessness.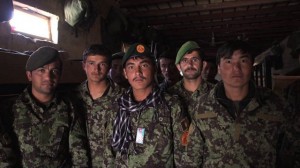 Despite this omission, this is truly brave, immersive filmmaking by Farouky and McEvoy. Tell Spring Not to Come This Year deserves and demands viewing by a wide audience, for those who want to understand the consequences of Western foreign policy and military choices, once we leave the nations we've tried to help.
Being Evel was a no-brainer choice for my second film of the day. As a kid in the mid-1970's, I loved playing with my windup Evel Knievel motorcycle and action figure. I was keen to learn more about the man who tried to rocket across the Snake River.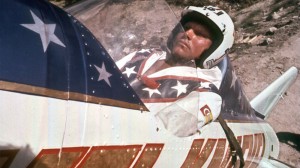 Daniel Junge directs this biographical documentary with a flash and kineticism befitting a grand self-promoter who dressed like a pimp caricature when making the rounds on Johnny Carson and other talk shows. The Beach Boys and Peter Frampton soundtrack also suits this man whose heyday meshed with the prime of these musicians.
Being Evel comprehensively covers the life of the man born Robert Craig Knievel. We learn of his abandonment by his parents in hardscrabble Butte, Montana. Townspeople and relatives recount the adolescent petty theft and racketeering that foreshadow his adult narcissism and sociopathic behavior.
Of course, we also see the footage of his greatest stunt achievements and debacles, narrated as it should be by oldsters from ABC's Wide World of Sports, as well as contemporary stuntman goofball Johnny Knoxville. Be prepared to cringe and wince aplenty at some of Knievel's painful wipeouts.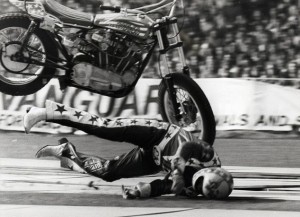 In this age of "Behind the Music" idol-smashing, I shouldn't be surprised that my childhood hero was a mess of a human being. What is distressing about the film craft of Being Evel, however, is the dissonance between the chuckling, dismissive "boys will be boys" storytelling by Junge's interview subjects, as contrasted with the late-life regret and revulsion that Knievel himself felt for his abundant screw-ups and betrayals.
Daniel Junge also tries too hard for social relevance and a profounder meaning to Knievel's life story. I can buy that Knievel's wheelies and jumps across 14 buses paved the way for today's extreme sports. I'm far less sold on the notion that Knievel was a savior figure for malaise-ridden, beaten-down-by-Vietnam America.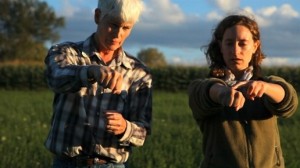 Happily, the last film of the day was not only another must-see film, but a life-affirming smile inducer. From This Day Forward is director Sharon Shattuck's first full-length movie, and what a debut it is!
In the Q&A following today's screening, Shattuck divulged that she initially intended to make a general documentary about rainbow families, until friends nudged her to tell her own family's story instead. Happily, she followed their advice.
In preparing for marriage, Shattuck feels motivated to learn the history of her mother's and father's 35 year relationship, for theirs is not a typical one. When the director and her younger sister Laura were in elementary school, their father Michael began gender reassignment, eventually changing her name to Trisha.
Candor with plenty of love is the name of the game in From This Day Forward. Both Shattuck and her sister disclose that for some time as children, they hoped their parents would divorce, allowing them to escape the mortification and community judgment that commenced when their father began leaving their home in women's attire.
Their mother Marcia openly discusses the intense marital turmoil in the aftermath of Trisha's choice to act on her inescapable gender identity. Trisha speaks insightfully of her bind, feeling suicidally depressed in a male body, yet terrified of losing the woman she deeply loves.
If this sounds too grim, fear not. In the Shattuck family, love truly conquers all, with a prevailing attitude of nonjudgmental curiosity.
The personalities of both parents, too, are irresistible. Physician Marcia emanates determination and grit. Painter and musician Trisha is exuberant and quick-witted. In one hilarious scene, Trisha relates how she's an erstwhile landscape architect given to planting trees in her neighbors' yards, "sometimes with their permission."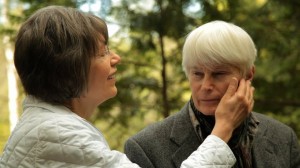 Abetting the cheery spirit of Shattuck's film is her use of a consistently bright color palette. Settings are luminous, both inside the Northern Michigan parental homestead and outdoors in forests or along the waterfront.
The frequent closeups of her father's artwork immeasurably enhance From This Day Forward. With echoes of Chagall, van Gogh, Renoir, and Picasso, the paintings are a symbolic diary of Trisha's relationships and internal battles. Titles such as "Tightrope Walker" and "Conflicted" would've made this evident, even without Trisha's explanations of her lovely, evocative images.
As a mental health professional, I treasure the depth of insight contained in the Shattuck family's commentary. The significance of gender pronouns and the fluidity of sexual identity are smartly covered here. Anyone who gives a damn about transgender concerns will benefit from viewing this film.
I wish, too, that defenders of "family values" who froth over the perils of marriage equality would take a look at Shattuck's documentary. I can't think of a better recent film about the love, perseverance, and hard work that go into an enduring marriage, not to mention the joy and enrichment that result from such a commitment.
Tell Spring Not to Come This Year: 4.5 out of 5 stars
Being Evel: 3.5 out of 5 stars
From This Day Forward: 5 out of 5 stars