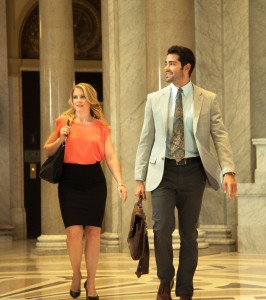 Pure Flix, the studio behind God's Not Dead and Do You Believe? has set a release date for God's Not Dead 2: He is Surely Alive. The studio also released the first publicity photo for the film, starring Melissa Joan Hart and Jesse Metcalfe.
The press release is below:
—
(Los Angeles, CA) Pure Flix, the largest independent faith film studio just wrapped production for God's Not Dead 2: He's Surely Alive.This film is the highly anticipated follow-up to the immensely successful God's Not Dead, which grossed over $60 million last year at the box office. God's Not Dead 2 features a star-studded cast that includes: Melissa Joan Hart (Melissa & Joey), Jesse Metcalfe (Dallas), David A. R. White (God's Not Dead), Hayley Orrantia (The Goldbergs), Ernie Hudson (Ghostbusters), Sadie Robertson (Duck Dynasty), Robin Givens (Head of The Class), Fred Thompson (Law & Order), Maria Canals-Barrera (Cristela), with Pat BooneandRay Wise (Robocop).
Other returning cast favorites include: Trisha LaFache (Amy Ryan), Benjamin Onyango (Reverend Jude), Paul Kwo (Martin Yip), and Newsboys (Michael Tait, Duncan Phillips, Jeff Frankenstein, and Jody Davis).
About God's Not Dead 2:
Scheduled to be released in theaters Easter 2016, God's Not Dead 2 will have audiences standing unashamedly and firmly in their faith during a time when it seems increasingly unfavorable and divisive to do so in the public square.  The film takes audiences back to Hope Springs, Arkansas … home not only of Hadleigh University, but also of Martin Luther King Jr. High School, where beloved teacher of the year Grace Wesley (Hart) helps students understand and enjoy history. Grace's love of teaching, her love of life, and her love of people all come from the same place: her love of Christ. So when Brooke (Orrantia), a hurting student grieving the loss of her brother, finds Grace at a coffee shop, their conversation naturally leads to Grace sharing with Brooke the hope she finds in Christ. However, when Brooke asks an honest question about Jesus during a lesson Grace is teaching about Dr. King and Gandhi, Grace's answer lands her in big trouble—almost before she finishes giving her reasoned response. With the principal (Givens) and superintendent teaming up with a zealous civil liberties group represented by an attorney with no love lost for God, Grace faces an epic court case with, the help of a sympathetic and charismatic defense lawyer (Metcalfe), that could cost her the career she had always dreamed of—and expel God from the classroom once and for all. In a story that could easily be pulled from today's headlines, it's good to remember some things will always remain the same: "God IS Surely Alive!"