Somehow, it seems fitting that I write about seeking Brighid's healing at this moment. I'm still learning how to navigate a world that no longer includes three members of my family.  Also, Covid is running rampant in my home. We are all vaccinated, so the symptoms (while uncomfortable for those suffering) are mild. But, it all indicates the theme of personal healing is the one to focus on.
During past Imbolc rituals, my intention has been the annual purification of our physical spaces with a deep clean. Looking past the ice and snow still outside my window toward Spring, making plans for the garden, etc., I'll still be looking ahead, cleansing the home (once the illness abates), but as mentioned the physical and emotional wellbeing of self and family is foremost in my mind. Therefore, I thought I'd share a few ideas for those of us who may not have the time, energy, or health to do more than a simple ritual or spell but really kind of need it.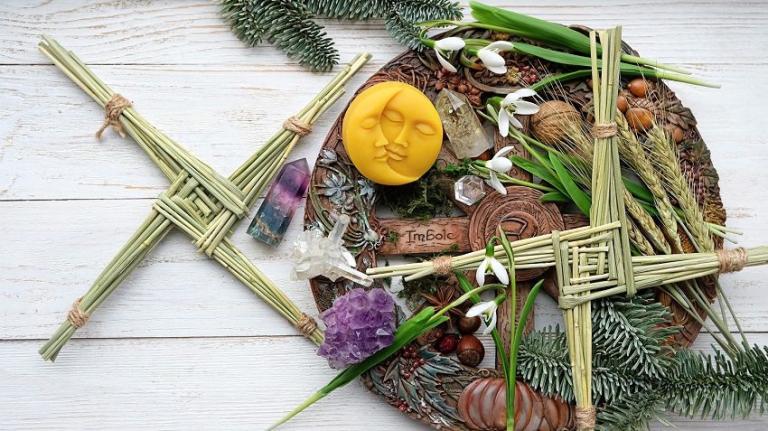 Imbolc Altar
We have a family altar where one of the deities represented is Brighid. I'll definitely be sprucing up the whole altar with fresh flowers, maybe some herbs. I have a bowl with water that represents my lady's connection to healing wells.
Ideas for an Imbolc altar:
Uncomplicated is my motto right now. A lot of what I'm sharing in this list is always present on my altar, available in my apothecary or kitchen cupboard, or at the grocery store. That way, all I have to do is add an item or two as needed. Highly recommended:
White, yellow, or pink flowers (tulips are a favorite of mine)
Green herbs such as bay, basil, sage, or rosemary in sprigs or bundles (you can find packaged fresh herbs in the vegetable section of most grocery stores or use what you have dried in the kitchen).
Brighid statue (or another goddess and/or god), Brighid's cross or doll (handcrafted, hand-drawn, or printed from a computer image works well here).
Dish of water
Incense such as frankincense, lavender, or rosemary
Imbolc Meal and Offerings
In my relationship with Brighid, I have found an offering of bread soaked in milk works quite well. Wine or mead is a good option for offering a libation but the milk could count as well.
Bread – storebought is fine but if you want to make it yourself it is a satisfying experience.
Milk – any kind will be accepted.
Cheese– any kind will be accepted.
Chicken or pork
Dried fruits
Herbal infusion (tea) such as chamomile, lemon-lavender. A detox blend is a goodoption as well.
Cakes, cookies (lavender shortbread is especially nice, in my opinion)

Imbolc Cheese Sandwiches
When running short on time, nothing is easier than a grilled cheese sandwich (vegans and vegetarians use whatever substitute melts the best). You can add spinach, chopped red pepper, tomato, or other vegetables that look toward Spring).
Here's what you need:
Sourdough bread (or whatever you have on hand)
Butter (you can get the spread with olive or canola oil but try to stay clear of margarine)
Cheese (American, Gouda, Swiss, Provolone, Asiago–use whatever you like or sounds good)
Vegetables
Directions:

Spread a thin layer of butter on one side of two bread slices.
Place butter side down on the first slice into skillet.
Layer the bread slice with a slice of cheese, vegetable (if including), another layer of cheese.
Top with second bread slice, butter on the top side.
Grill on low heat until the bottom slice of bread is toasted or crispy golden
Flip the sandwich carefully to grill the other side to toast or until crispy golden.
Throughout the cooking, focus on your intention to honor Brighid, Imbolc, etc.
Remove the grilled sandwich from the skillet onto a plate and cut it into four quarters.
Simple Meal Ritual:
Light a candle. Place one-quarter of the grilled cheese sandwich on the altar as an offering–"Hail Brighid, goddess of the forge, the arts, and healing – I honor you. May your cloak cover me, your waters heal me, and your fires inspire me."— then enjoy the rest of the sandwich with a glass of wine, mead, herbal tea, or other preferred beverage.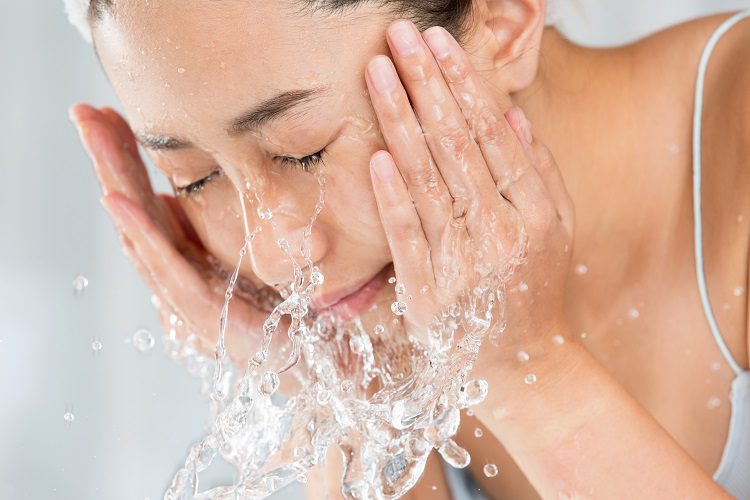 Brighid's Healing Water
We do not all have access to wells in Ireland that are said to be holy places of the goddess. But what we can do, is place a bowl of water on our altar dedicating it to Brighid. Ask her to imbue the water with healing energy to strengthen our minds, hearts, and bodies.
Simple Ritual Shower
If you do not have time to craft a healing brew, simply draw a small vial from the water dedicated to Brighid on your altar. Take a shower or bath, focusing your intention of cleansing, purifying, or healing yourself in whatever way is needed. In your mind's eye, see whatever is afflicting you (head, heart, health) sluice off your body and down the drain. Then, pour the vial of Brighid's water over your head as you visualize your healing. When your shower is complete, dry off and anoint yourself with oil (olive or coconut is fine)–crown, third eye, heart, palms, and tops of feet.
Cleansing Brew
If you have time, you can create a healing brew to accompany your shower. An herbal infusion that you can both drink and include in the ritual (poured over the head with Brighid's water).
Add to a muslin bag:
1 tsp rosemary leaves
1 tsp echinacea
1 tsp rose hips
Pinch of Lavender buds (sparingly, otherwise it may taste of soap)
Heat 3 cups of water to boiling then remove from heat or turn off. Put the muslin bag filled with herbs into the water and let it steep (10-15 minutes).  Remove muslin bag. Pour one cup of tea for yourself to drink. Add some of Brighid's water to the rest of the brew to use during the shower ritual. Drink the rest of the tea after anointing yourself with oil, focusing on your intention toward healing.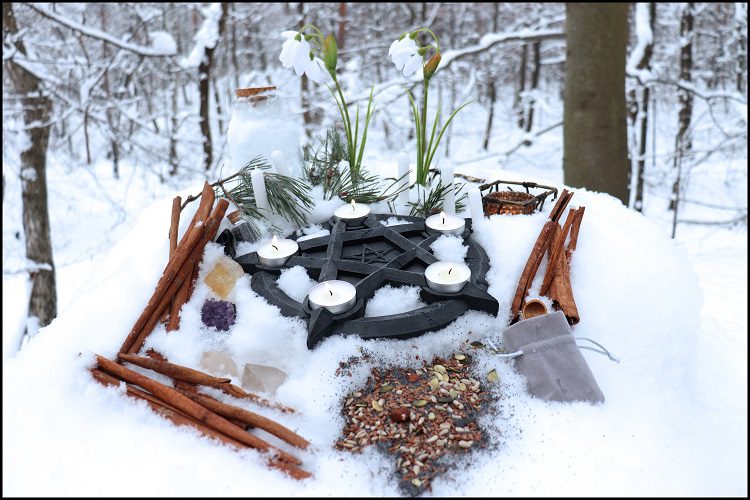 It Is Winter Here-But Spring Is Coming
Outside my window, the snow has been piling up from weeks of freezing temperature and continued precipitation. However, the beauty of Imbolc is it reminds us that this time is as important as what is to come. Because we can take the time to look deep at what we can keep and what needs cleaning up.
We are reminded to care for ourselves in the ways available to us right now. For me, that is taking the time to heal what ails me at this moment, so I can be ready to move forward once I am feeling better.
You may not choose to celebrate Imbolc. But if you do, find the time to nurture yourself by seeking Brighid's healing. You may find yourself bolstered and revived, in a way that may be missed otherwise, in preparation for the next step of your journey this year.