This Saturday we'll be talking with Andy Gullahorn about the power of a story as it relates to music.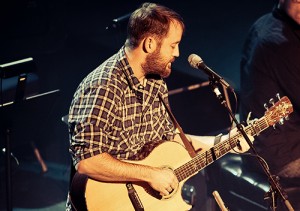 I was first introduced to Andy Gullahorn back in 2006. It doesn't take more than a casual listen to know that he knows whereof he sings. There are a plethora of Christian artists out there who speak of hope and of the sufficiency of Christ, but they sound like an 8 year old talking about the deep and abiding love they have for their first crush. There is no doubt that they believe it, but they lack full experience of love. It is untested.
When Andy sings of brokenness and loss, the gravity of his lyrics and the sincerity of his performance confirms that he is relating his own experience. Whether the stories he sings are his own, or a retelling of something that happened to someone close to him, or are simply from his imagination, he sings with humility as someone who knows what it is like to have lost everything but hope, and for that hope to hold strong.
In recent albums, his songs have begun to shine a light on the dignity of the human person, especially those persons that our society tries to hide in the dark. He sings a reminder to us that God loves the homeless, the terrorist, the lonely, the sinner, the womanizer, the murderer, etc, and that God calls us to see everyone as he sees them.
Even with all this weight of content, Andy's songs will make you laugh uproariously. You'll have to listen three or four times to catch all the jokes, because you'll laugh over half of them the first few times. Perhaps its because he knows how heavy the rest of the album is, and he wants to provide some relief, but I'd guess it's just because he has a very wry sense of humor. I am continually amazed at how he keeps a deadpan, straight face through his performances. His songs will make you weep, even ones he writes to prove a point. But most of all, his songs will give you a lot to think about. I can't wait to have you join our conversation!
Tune in via the Breadbox Media App or Live Stream this Saturday at 4:00 PM Eastern for our discussion of skinny jeans, papal cereals, middle toes, and how these relate to the power of storytelling.
Don't forget to call 252-OTW-SHOW (252-689-7469) and tell me what song has stuck with you and given you strength and joy when times are down.
If you miss it, catch the archives in the menu above.
EDIT: Archived Show below.