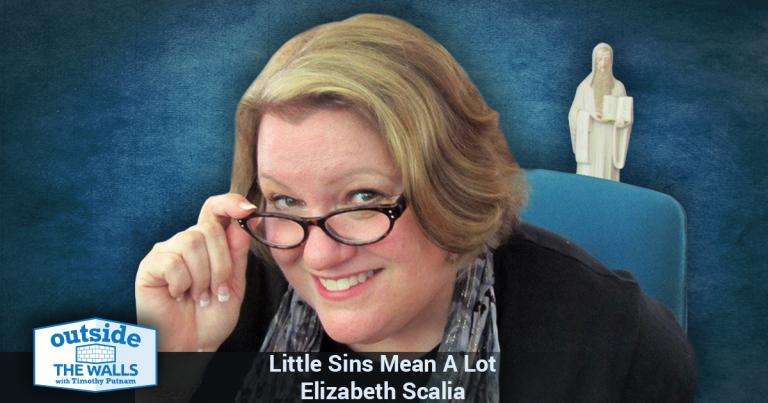 *My conversation with Elizabeth Scalia is embedded at the bottom of the page*
Little Sins Mean A Lot: Kicking Our Bad Habits Before They Kick Us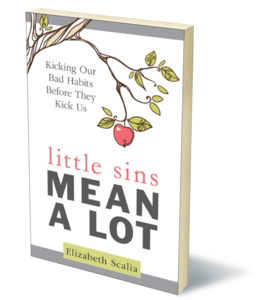 Two weeks ago, I put out a call on Twitter to find a religious sister to interview on the topic of Silence. Imagine my shock to find a reply from The Anchoress herself, Elizabeth Scalia. I've followed Elizabeth from the days when she was the Editor of the Catholic channel here at Patheos, through her tenure as Editor over at Aleteia, and recently rejoiced with her over her new endeavor as a content manager at Word on Fire. I knew I needed to take advantage of the interaction! I went over to her website, and there staring back at me was her book Little Sins Mean A Lot: Kicking our Bad Habits Before They Kick Us. The title was arresting, and the topic is timely as we quickly approach the end of Lent. And so with a couple of messages back and forth, the interview was scheduled.
Industry Secrets
Having a radio show has its perks. Publishers are happy to send me their new releases, so I rarely pay for new books. I interview the authors that interest me, and I give away the books that don't fit my format but would interest someone else. This book, however, didn't fit the formula. It was published last year, so it was unlikely that I would be able to get a review copy. But even if I could get a free copy the interview was too close to get it on time.
I was so intrigued by this book, that I actually spent money to get it! (*GASP*)
And another industry secret, we don't always read the book cover to cover. I'll read a few chapters to get a sense of the way things are going and to formulate a few good questions. But not this book. I read Little Sins cover to cover.
Disarming, Delightful, and Damning
Elizabeth Scalia is a master at her craft. She takes the topic of venial sins (which could end up feeling very judgemental) and uses her own life as the lens through which we view them. By doing so, she creates rapport with the reader and puts them at ease. As we laugh our way through her extended examination of conscience, we let our own guard down. But there it is, she's spent so much time pointing the mirror at herself, and inviting us to find the humor in her experiences, that we begin to see a lot of ourselves in her.
"Oh, I've got that little sin too," we respond to her. And as she has shown, it isn't as little as we thought. This is a book that urges you and me on to conversion, and to answer the universal call to holiness.
This is a fantastic Lenten read, one to which I intend to return year after year.
Little Sins Mean A Lot: Kicking our Bad Habits Before They Kick Us is available through Our Sunday Visitor at your local Catholic bookstore.
Don't Just Read It; Listen and Share!
I had a wonderful conversation with Elizabeth Scalia on Outside The Walls. Our conversation is embedded below. Find all the show archives at www.outsidethewalls.com.
As always, the conversation continued after the show ended. Patreon supporters get an extra eight minutes of interview content about her life as a Benedictine Oblate at https://www.patreon.com/posts/elizabeth-scalia-17743514.
One More Thing
There are new episodes every Saturday!
Subscribe: Apple Podcasts // Google Music // Podbean // RSS
Social Media: Twitter // Facebook // Instagram 
Support the Show: Patreon
Leave a Review: iTunes