"What's catching our eyes is actually looking for us."~ Dr. Jacob Israel Liberman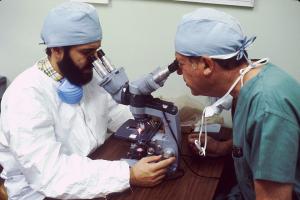 We have been led to believe that the only way to improve eyesight is through eye surgery or glasses. My guest on the Kat Kanavos Show has very different beliefs to vision improvement. He even performed experiments on eyes and these beliefs with astounding results. Dr. Israel Liberman's journey began early in his optometric career, when he experienced a sudden, significant, and permanent improvement in his vision during a meditative experience, much like daydreaming on purpose.
This seemingly inexplicable daydream-meditative-event led him to question standard medical beliefs and practices, investigate the therapeutic value of light and color, and wonder if our fundamental ideas about life, medicine and healing are flawed.
During this Radio Interview Blog you will be fascinated and illuminated as Dr. Liberman explains how:
Every function of the body is guided by and dependent upon light.
Our receptivity to light impacts our health and relationships on every level. Law of Attraction.
We are continually guided by the intelligence of life, revealing the true meaning of presence.
The Link to the Radio Interview is at the bottom of this Blog.
You may have heard the saying, "Your eyes are the windows to your soul." What does that mean?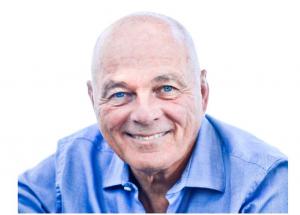 Dr. Liberman's initial research revealed that most of us are not looking where we think we are looking. Our "mind's eye" is not focused on the same location as our physical eyes. But when this misalignment is corrected through simple practices, vision improves as presence expands, impacting nearly every aspect of our lives through sight and the windows of our soul, our eyes.  He also found that what's "catching our eye" is actually looking for us. This is the visual Law of Attraction in action.
To prove his belief, he conducted an experiment.
He allowed everything that "caught his eye" to guide his action. Rather than trying to direct life, he attempted to respond to it. The result was, "the experience of an extraordinary level of ease, joy, and connection with everything that entered my awareness."
Life flowed without effort or struggle.
By allowing the light that attracted him so he could effortlessly focus his eyes and attention, he experienced true "presence" – and discovered that light is always guiding us and illuminating our path. According to Dr. Liberman, "Presence is an involuntary response to an invitation by life's intelligence pointing us toward our maximum potential."
Despite popular belief, presence is not about thinking ahead or trying to be "here now." 
Presence is a naturally occurring state that arises when our eyes and mind, activated by light, focus on the same place at the same time. As the good doctor explains it, "Presence is in response to light's guidance. Our eyes begin an intricate dance of aiming, focusing, tracking, and teaming, bringing us to extraordinary states of awareness without effort."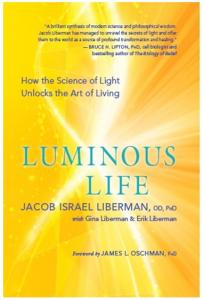 Dr. Liberman is the author of two other seminal books on light and vision, and the developer of the first FDA-cleared medical device for vision improvement. His book, Luminous Life: How the Science of Life Unlocks the Art of Living integrates 40 years of research, practice, and direct experience, into this groundbreaking information presented as a new science of life. His years of clinical research and direct experience have led him to a new philosophy of life that can be implemented by anyone at home, resulting in a profound transformation that is rapid, significant, and permanent.
And remember, whatever is catching your eye is searching for you. So, just go with the flow of life and may the windows to your souls meet and embrace through this Law of Attraction in Action.
CLICK to Hear Spreaker Radio Link (or copy & paste into your browser) :
About the Author: Kathleen (Kat) O'Keefe-Kanavos is an agented published author and three-time cancer survivor whose dreams diagnosed her illness as seen on Dr. Oz,  NBC News, American Express Open, in Newspapers and magazines. She's a Contributing author to Chicken Soup for the Soul, TV/Radio Host/Producer- Wicked Housewives On Cape Cod™, the Kat Kanavos Show, Internationally Syndicated Columnist & Featured Contributor BIZCATALYST360.com, Keynote Speaker and Lecturer who promotes patient advocacy and Spiritual guidance through Dreams.  www.KathleenOkeefeKanavos.com
Interview resources:
Dr. Jacob Liberman And The Key To Optimum Health – Life .., http://lifemasteryradio.net/dr-jacob-liberman-key-optimum-health/ (accessed May 20, 2018).
Photo credit: book pictures, posters, and jpg photo used with Dr. Liberman's permission.
scientist-1332343_960_720 Photo Shop Tassel Pixabay FREE No Attribution Required