Have you ever doubted your belief system or your belief in God? Have you ever wondered, "Is this all there is my friend?" Has God seemed to far away from you to be reached because religion appeared to be a roadblock to God? My guest blogger today is Teresa Velardi who suffered through all these doubts concerning her beliefs and search for God. In the end, God may have found Teresa. Was it an "Ask and you will receive" moment after a long journey of searching and praying? Read Teresa's story of a journey through doubt, and abuse, to Divine Joy after a long search through the storm of life, and share your thoughts with us.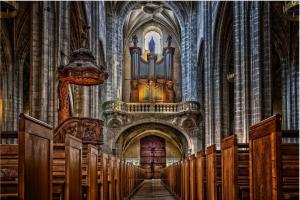 httpspixabay.comencathedral-church-dom-religion-3599450Tama66 FREE for commercial use No attribution required

Teresa's Story:
What does it mean to believe? According to Webster's Dictionary, belief means: "to accept the truth of what is said" or "to accept something as true, genuine, or real" or "to have a firm conviction as to the goodness, efficacy, or ability of something."
There was a time in my life when I believed in Nothing, and sadly, believed in No One. 
Some not-so-good decisions that went against the very core of who I am left me feeling totally devastated and alone.
Growing up with a belief system that was very ritualistic, involved going to a particular church each week for what seemed to be no reason, listening to seemingly unusable even useless information; and words written so long ago made no sense to me at the time and left me searching for God and my own spiritual beliefs.  Lost in the things that made up a Sunday service, trying to find a way to access this Higher Power, I struggled even to imagine the loving God I wanted to know.
That church and my father were telling a different story about God.
Asking questions never led to definitive answers, only the "fill-in-the-blanks" needed for answering questions on a test. According to the Nuns, no one needed to know the reasons why or what the answer really meant, they just needed to know the answer. After a while, I gave up on trying to get the answers and was numbed out by the rhetoric while still kept the weekly ritual of going to church because my parents said I had to or there would fire and brimstone-sized consequences.
I wanted to know God and prayed for someone, anyone, who would make some sense of it all.
Eventually, I decided not to go to church anymore… let's leave the reaction from my father out of this. Devout in his belief, even he couldn't give me the answers I searched for.  My parents baptized us, we made First Holy Communion and were Confirmed in the church. That's where all the questions came in. Not knowing where to begin and beyond frustration, I didn't know what to believe or even what my parents believed, particularly my father, beyond the rituals God wasn't something he really talked about.
So, the search and study of a variety of religions began. 

httpspixabay.comenroad-travel-banner-header-journey-2371503The-Digital-Artist-FREE-for-commercail-use-No-Attribution-required.jpg
As I stretched my mind and opened my heart, I realized my search wasn't just about looking for God; I wanted a relationship with God and the ability to feel His presence, comfort, and guidance that people I knew, who believed, would describe. To be able to believe in something bigger than me; to feel that someone or something was somehow in control of my life and loved me was my heart's desire because my life was so out of control.
My marriage to an abusive alcoholic man was surely a dead end.
I knew the day of the wedding I had made a mistake. The feeling in my gut said, "Whoa," and years later, it became clear that the warning I felt and even heard, was a nudge from God, the loving God I now understand and is part of my everyday life. Eventually, life had become unbearable and finally giving up the belief that the abuse was punishment for not listening to the nudge at the altar, I cried out to the God I had been searching for.
What I now believe is not about religion, but a relationship with God.
Life is centered on the relationships we build, the people we believe in, and the trust that comes from belief in someone or something. For me, spirituality is about having a relationship with God, not religious doctrine, and rituals, but a personal relationship and the choice to believe.
When we are grounded in a belief system, whether it be in the God of your understanding, the universe, or whatever you connect with as a Higher Power, there is a certain "grounding" that happens, a confidence and love that is indescribable. For me, finding and connecting to that source was the real beginning of my spiritual growth. It was from that place of connection I had longed fo
r that finally brought me to discover who I really am, what my gifts are and so much more.
Yes, now I do go to church, but it's much different from the church of my youth.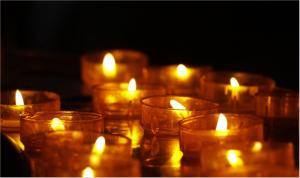 httpspixabay.comentea-lights-candles-candlelight-3612441Pixel2013 Free for Commercial use No attribution requiredhttpspixabay.comentea-lights-candles-candlelight-3612441Pixel2013-
Journaling and reading the Bible are part of my daily routine, not because I have to in order to win some points, but because it's where I spend time with God. That's how we build relationships, isn't it? We spend time with those we love. My time with God brings me peace, confidence, courage, strength, and love which spills over into all the other relationships of my life. I believe God was seeking me as much, if not more than I was seeking Him.
I'll leave you with one of my favorite Bible verses. "With God all things are possible," Matthew 19:26. I believe that.
Are you on a spiritual journey? You are invited to share your comments below.
With Gratitude and Blessings!
I wish to thank my guest blogger Teresa Valardi for sharing her story of searching for and finding her belief, and in the process, God. 

About the Guest Blogger: Teresa Velardi, author, editor, ghostwriter, speaker, and founder of Authentic Endeavors Publishing and the Daily Gift Book Series. www.dailygiftbookseries.com Teresa also uses her pottery making skills to illustrate transformation and the evolution of written works. "A ball of clay or a blank page becomes a one-of-a-kind work of art."teresavelardi@gmail.com

About the Author: Kathleen (Kat) O'Keefe-Kanavos is a three-time Breast Cancer Survivor, as seen on  Dr. Oz, DOCTORS, NBC, and CBS, whose Divine Dreams diagnose her illness, and was a Dream Research Participant for Duke University's Dr. Larry Burk's Breast Cancer Dream Research Program. They co-wrote, Dreams That Can Save Your Life. She is a Syndicated Columnist, TV Producer/Host and award-winning Author/Lecturer who promotes patient advocacy and connecting with Divine Spiritual-guidance through Dreams for success in health, wealth, and relationships. "Don't tell God how big your problems are. Tell your problems how big your God is." @ www.KathleenOKeefeKanavos.com
Photo credit:
httpspixabay.comencathedral-church-dom-religion-3599450Tama66 FREE for commercial use No attribution required
httpspixabay.comenroad-travel-banner-header-journey-2371503The-Digital-Artist-FREE-for-commercail-use-No-Attribution-required.jpg
httpspixabay.comentea-lights-candles-candlelight-3612441Pixel2013 Free for Commercial use No attribution requiredhttpspixabay.comentea-lights-candles-candlelight-3612441Pixel2013-