Then God said, "Let Us make man in Our image, according to Our likeness; and let them rule over the fish of the sea and over the birds of the sky and over the cattle and over all the earth, and over every creeping thing that creeps on the earth."~ Genesis 1:26
Helen Brennand's heart was utterly shattered by the death of her beloved child. The rip was so deep there was no belief that it would ever be healed again…until the smallest of horses felt her enormous pain and through unconditional love mended her mind, body, and soul.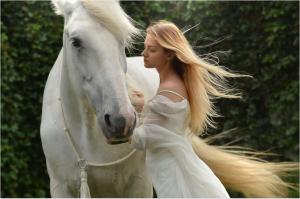 This is the story of how a mother's grief became belief.
Helen's story is a story of how love, healing, and development is possible on a grand scale when mass-consciousness is directed together for one purpose. Her story, which she shares with us in the YouTube Video posted at the bottom of the article, is a powerful message to society and was borne from the author's spiritual awakening through her connection to a herd of horses.
She experienced a series of realizations and truths about life and the world around us.
Creative, knowing, and fearless as a child, Helen Brennand had been stripped of these qualities by her early forties. She felt the lack of love and respect for all forms of life made the world seem like a dark, empty place. This began her downward spiral. According to Helen, society's social conditioning was the culprit.
Next, came the loss a child. Is it possible for a mother to recover from such a profound grief?
When life appeared too painful to endure, miraculously her suffering was swept away through an intimate connection to a small herd of horses. She is embraced by them and in unspoken communication sees the truth of her life, her mistakes, and her fears.
Helen decides to ride with them as a part of the herd, and they take her on a journey of discovery, resulting in a spiritual awakening.
"My life and world turned around as I witnessed wisdom and truth embodied in the majestic horse and natural world in which they live." Helen shared during the interview.
Her horse accessed parts of her that she did not even know existed.
Although Helen is a Holistic Healer, it is through the heard healing by the horses that Helen emerges strong, bright, articulate, and ready to share what she has unearthed with the rest of the world in her book 'Belief.'
Yes, Helen as a mother was able to recover from the shattering grief of losing a child to death.
Today, Helen Brennand is an author and equine professional based in England. She is an accomplished, rider, trainer, holistic therapist and has a passion for horse welfare and respect for them as sentient beings. The nurturing she received from her beloved horses who nurtured her through her period of immense sorrow helped her create a sanctuary for horses. She talked about the trials and joys of this fulfilling work for horses and informed the audience during the how that the sanctuary had just accepted their first donkey.
Complementing her writing, Helen's time is now dedicated to the Centre she has founded to ensure a lasting and safe place where horse's inner wisdom is free to be released and allowed to shine.
It was through the collaborative equine-herd-collective-consciousness, universal-oneness, and the connection to unconditional love that Helen's grief was turned into belief.
From her grief came a belief in healing based on the experienced collaboration of hearts, many hearts, some human, some not, but all created by God and sent to Helen in her time of need.
Please enjoy the Video Podcast Kat Kanavos Show Interview of Helen Brennand on YouTube
YouTube- https://www.youtube.com/watch?v=YoVQqlwnJNc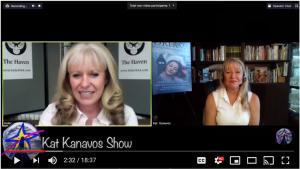 About the Author: Kathleen (Kat) O'Keefe-Kanavos is a VIDEO Podcaster, a three-time Breast Cancer Survivor, and Dream Expert as seen on  Dr. Oz, DOCTORS, NBC, & CBS. Her Divine Dreams diagnose her illness. Kat was an R.H.BLOCH Cancer Hotline Mentor, a Participant for Duke University's Dr. Larry Burk's Breast Cancer Dream Research Program. They co-wrote, Dreams That Can Save Your Life. She is a Syndicated Columnist, TV Producer/Host and award-winning Author/Lecturer who promotes patient advocacy and connecting with Divine Spiritual-guidance through Dreams. "Don't tell God how big your problems are. Tell your problems how big your God is." Learn more @  www.KathleenOKeefeKanavos.com
Photo Credit:httpspixabay.comengirl-daydreaming-horse-daydream-3551832horse-Kudybadorota-Pixabay-FREE-for-commercial-use-No-attribution-required.jpg
Article Research:
Belief By Helen Brennand By Helen Brennand – Read Online, https://www.scribd.com/book/388650615/Belief