Just consider for a moment.
Over 1900 years ago, Jesus Christ approached a fisherman on the Sea of Galilee. Fixing his gaze on the rough figure casting nets, God himself called, "Come after me, and I will make you fishers of men." And so Simon came. Simon would soon find himself the unlikely leader of a band of disciples. He would learn from Christ's parables. He would witness miracles. He would be nearly blinded by a transfiguration. Exhibiting deep faith, he would be called Peter, "the Rock" upon which Christ would build his Church. Demonstrating short-sightedness, he would be called "Satan" and be told to get behind the Lord. The betrayal, the Crucifixion, the Resurrection, evangelization and imprisonment soon painfully and gloriously followed.
And when he had aged – his hair grayed, his calloused hands arthritic, his vision dimmed – when the sting of his failure had dulled and the beauty of eternity laid wide open before him, the fisherman – the Rock – was turned upside-down and died. It is upon considering St. Peter's story that we are challenged to reckon not simply with what St. Peter says, but what he means.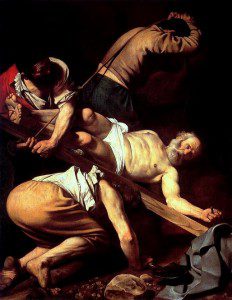 This week the 266th man to hold the Chair of St. Peter arrived in the United States. Thus far, he has been greeted on the tarmac at St. Andrew's Air Force Base, welcomed to the White House and received by American Bishops. Not long ago, he performed the rites of Canonization of Blessed Junipero Serra. And now, he is the first Pope to address a joint session of Congress.
And do you know what?
I don't even care what Pope Francis says.
Okay, okay…Now, understand, my tongue is firmly fixed in my cheek when I say this.
But just for a moment, consider this. What are the odds that after Roman Empire persecutions, self-immolating European religious wars, French revolutionary fervor, Nazi terror, Communist oppression and draconian secular fundamentalism, the Catholic Faith's earthly representative – the Vicar of Christ – rooted in love and mercy would stand smiling, serene and central in the backyard of the world's greatest superpower.
Just what does that say?
It says what Bishop Robert Barron recalls being told by Francis Cardinal George when Joseph Cardinal Ratzinger was named Pope Benedict XVI in 2005. George drew deeply upon his musings as he stood next to the new pope on the balcony at St. Peter's Basilica.
"I was gazing toward the Circus Maximus, toward the Palatine Hill where the Roman emperors once resided and reigned and looked down upon the persecution of Christians, and I thought, 'Where are their successors? Where is the successor of Caesar Augustus? Where is the successor of Marcus Aurelius? And finally, who cares? But if you want to see the successor of Peter, he is right next to me, smiling and waving at the crowds.'"
And so too, among the President, First Family, national and international dignitaries, military personnel and countless faithful, the pope quietly stood with eyes fixed on him. Again, just what does this say? It says that a stooped, elderly smiling man donning white vestments and clutching a ferula is not the representative of an ossifying, antiquated, irrelevant institution. Oh, no. Rather, he represents a vibrant, faithful and glorious tradition that continues to capture hearts and the imagination. He symbolizes uncompromising advocacy for human dignity, a heart of inexhaustible mercy, a spirit of faithful accountability, and a yearning for unending peace. He points, forever points, to Christ saying, "Do whatever he asks." The Pope capably says so very, very much…
And this is before he utters one word.
This week as Pope Francis' speeches and homilies are dissected, rehashed, categorized and criticized as too liberal or too conservative, let us responsibly and quietly stop and consider what Pope Francis says – no, what he means…
Long before he says it.
After all, I don't care what Pope Francis says…nearly as much as I care what Pope Francis means.
—————————- Image credit: The Crucifixion of St. Peter by Caravaggio (courtesy of Wikipedia)