Last year I published a number of interviews with magical colleagues, friends and authors whose work I have been inspired or informed by over the years.  I took a break from the interviews, but now I am back with a few more to follow in the coming months.  I hope that you, my Patheos Pagan readers, will find in these interviews opening gateways to different esoteric communities and teachings, perhaps shining light on new and diverse topics. This interview marks a return to this series for my Adamantine Muse blog. 
In addition to being an author, Persian born Payam Nabarz is also a Sufi and Dervish.  He is an OBOD Druid, the co-founder of the Nemeton of the Stars Gove and a revivalist of the Temple of Mithras, a Hierophant in the Fellowship of Isis, a Past Master in the Craft (Freemasonry) and a Companion of the Royal Arch.  He has also explored the Golden Dawn system, Thelema, Nath Tantra and Wicca and much more besides! He is also a thoroughly lovely man.
I think I  first met Payam at a cèilidh (dance) in Oxford nearly 20 years ago, or perhaps at a gathering at the house of another occult publisher in Oxford around the same time.  I remember being impressed by his good manners and calm friendly demeanour. Some years later, Payam contacted me about his book Stellar Magic – A Practical Guide to the Rites of the Moon, Planets, Stars and Constellations and I took it on as one of the early books published by Avalonia.  His poetic approach, and original approaches to magical ritual as presented in Stellar Magic resonated with me.  In the years since Avalonia has also published the anthology Anahita (edited by Payam, various contributors) and his monologue The Square & the Circle (exploring the similarities between Wicca & Freemasonry).
In addition to the books published by Avalonia, Payam is also the author of books such as The Mysteries of Mithras: The Pagan Belief that Shaped the Christian World (2005) and the Persian Mar Nameh: The Zoroastrian Book of the Sanke Omens & Calendar (2006); as well as the Divine Comedy of Neophyte Corax and the Goddess Morrigan (2008).  
In this Children of Earth interview I ask him about Mithras, he shares some of his inspired magical prose about the City of Oxford, he shares insights from his experience in magical groups, Wicca, Freemasonry, the Morrigan – are all topics we touch on!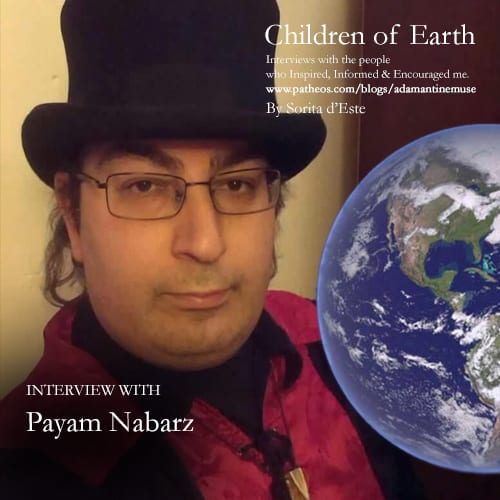 Sorita d'Este Interviews Payam Nabarz
Children of Earth – People who Inspired, Informed or Encouraged me.
Sorita:  You are a Persian-born and a Sufi who became involved with Wicca and Druidry, while you continue to honour your roots through not only Dervish practices but also your work for Mithras and Anahita.  How did you first become aware of and interested in Western Pagan traditions and magic?
Payam: When I was in school in Iran one of my teachers use to say frequently:  
 ز گهواره تا گور دانش بجوی
It's a Persian proverb and means 'Seek Knowledge from the Cradle to the Grave.' That has been my personal motto since then. I like learning about different religions and ideas. I became interested in Western classical religions and magic when I was 16. The first books I read were Crowley's Magick in Theory and Practice, and some of Janet and Stewart Farrar's books.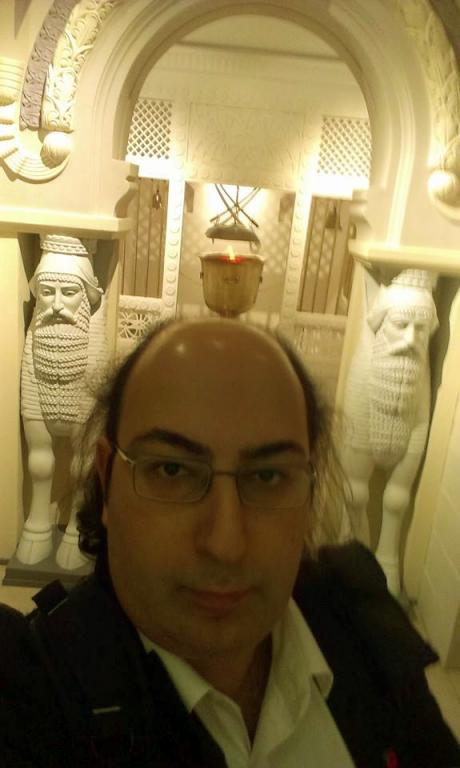 Sorita: Why do you feel Mithra (and Mithras) is still important today?
Payam: One of the main attributes of Persian Mithra is that he is the Lord of Truth, and today we are faced with a flood of fake news, spin and lies. This disturbs me greatly. In the Hymn to Mithra (Mihr Yasht), we are told: ''The ruffian who lies unto Mithra brings death unto the whole country, injuring as much the faithful world as a hundred evil-doers could do. Break not the contract,  and Mithra, the lord of wide pastures, gives swiftness to the horses of those who lie not unto Mithra… Fire, the son of Ahura Mazda, gives the straightest way to those who lie not unto Mithra. 'The good, strong, beneficent Fravashis of the faithful give a virtuous offspring to those who lie not unto Mithra.
In addition to these examples, there are multiple times we read in the hymn (online at www.sacred-texts.com/zor/sbe23/ka.htm) why lying offends Mithra, and the effect lying has on the world. He is very relevant to our current age, and standing up for the Truth is a religious duty. In Zoroastrianism, Ahriman, 'the devil' figure, has its primary name as Druj 'the Lie'. 
In regards to Roman Mithras, one of the main syncretic religions of the Roman empire, he is also of interest today as it was a mystery religion which brought diverse groups of people together across the social divide, a fraternity of equals including citizens, merchants, free slaves and soldiers who would worship and dine together. The Roman Temple of Mithras in London has recently been reopened as part of the museum and can be visited at:  www.londonmithraeum.com. 
Sorita: Every Yule there are numerous memes on social media, not to mention articles, saying that the story of Jesus was originally the story of Mithras.  What are your views on this?
Payam: Some of the memes over-complicate the issue. The Sun is reborn at winter solstice, which is the natural time to mark the birth of sun gods and deities of Light, be they Christ or Mithras – Sol Invictus. The Winter Solstice was celebrated hundreds of years before Christ as attested by sites such Stonehenge and other sites around the globe.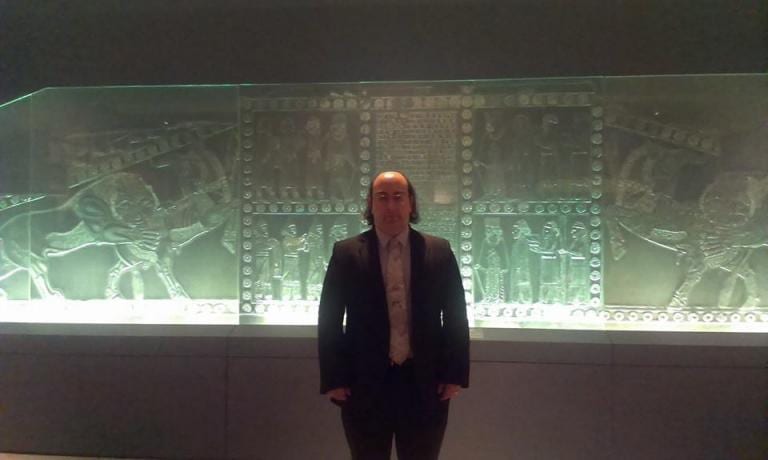 Sorita:  Oxford is one of the most magical cities in England, and I have many fond memories of spending time in its museums, parks and bookshops; with the occasional visit to a couple of more secret ancient sites within its perimeter for secret gatherings and rites over the years.  Do you feel that living in Oxford has influenced your perspectives on Western Esoterism? 
Payam: It is an amazing place, and to summarise it here is the Astral Tour of Oxford poem I wrote, which was published in my Stellar Magic, published by Avalonia.
ASTRAL TOUR OF OXON (PART I- III)

Part I Moonlight

(Written at full moon 7 December 2003.)

"Once a man had a dream of people walking together in equality,

a place where you can 'do what thou wilt'

to grow in mind, body, and spirit,

without fear of persecution or prejudice.

A place where the mosque, church, synagogue, temple,

off-licenses are all next door to each other.

This is Crowley (Cowley) Rd, where there is no restriction,

follow your own Will, and see the dream of equality as reality.

Head to CS Lewis's Headington neighbourhood,

walk on Shotover Hill and look for its hidden carved Giant.

I wonder if Lewis was alive today would he

approve of the 'Headington Swingers Club?'

Maybe you'd prefer the Ents in Merton College grounds,

or the door to Moria painted on the dining hall door.

Say "Mellon" and enter, and share a drink

with J.R.R. Tolkien's ghost in The Bird and Baby.

If a fog comes down when you are in Christ Church,

Merton, or New College, you will know the meaning

of time travel. Is it 1900? 1800? 1700? The fog rolls in

the college corridors and pushes away time.

The music from HolyWell music room will lead you back to the present.

Beware of the Bodleian library, always there,

she entices your mind with her

thousand years of preserved knowledge,

and with her dark caverns under Broad Street,

she beckons you to her web.

Isis will catch your eye, with her moist blue skin

and deep black eyes, her slender body stretches

along the Thames. Boats and Punts glide over her

like hairbrush through her beautiful hair.

At midday she shines golden and bright,

At midnight she shines silver and mysterious,

Beckoning you in for a skinny dipping,

Enflaming your love, feeding your passion.

The Kassam stadium is up for sale for one pound! 

May be one day Oxford United

will go up the football league table,

but then maybe that's one dream too far!

If you go down the woods at night,

you are sure of a big surprise, witches and magicians,

dancing around bonfires, chanting and drumming.

Witches don't fly on broomsticks, but they certainly

carry big staffs and long swords.

By witches, I don't mean the Hogwarts bunch

in Christ Church. I mean descendants

of WB Yeats and Dr. John Dee.

If world treasure is the aim of your quest,

look no further than the Ashmolean or Pitt Rivers,

a complete Egyptian Temple, Aboriginal religious artefacts,

Roman Mithraic statues, Greek vases, and of course the shrunken heads.

From there, blood-red Keble College

is a stone's throw away, with

its Holman-Hunt's 'The Light of the World',

remember the door to thy self and enlightenment opens inwards.

If you are in the right headspace you might see

the Mabinogion's two dragons that sleep under Oxford,

one of their tails being Magdalen College tower,

the other tail being St. Michael's tower.

Their scales and ridges stick up through ground

all over the city, giving rise to the Oxford 'Spires'.

St. Frideswide, Patron Saint of Oxford, fortunately

strokes the heads of the dragons and keeps them calm,

otherwise the Uffington White horse might bolt

along Ridgeway, and no Smith could shoe her then.

If you head out of Oxon towards the North,

you might RollRight back into Oxford again,

best to follow the river South and pay the ferryman at

Duchess Dykes and Whittenham Clumps.

Go for a walk along the Science Park,

and recall Fleming's miracle work,

or go straight to the Lamb and Flag

for a pint of Old Peculiar.

It's not all joyous, there is a dark side too,

Campsfield prison for strangers in a strange land,

or the B52 bombers flying off from Brize Norton,

to drop death 1000 miles away.

I wonder does God still visit Frevds Church

on Sundays since it turned into a bar?

Or does he prefer watching a French film in

Phoenix cinema in Jericho? I am sure I saw a book

by him in the Inner Bookshop,

'Sacred Landscape, God is Everything'.

With that thought, I let myself gently

be engulfed by the wings of the Isis River

and visions of the Ox,

and dream of 'City of Ambrosia'.

If you think it's all heads in clouds here,

remember this is the home of BMW,

and this little tale

has just been a Mini adventure."

Part II Ancient 

(Written January 2004)

"Perhaps you'll find yourself walking up

Sunderland Avenue, beware of Philip Pullman's

doorway leading to parallel Oxford – Cittagazze.

There is plenty to see here without side-stepping,

just follow the Lewis Carrol's white rabbit and go

down Binsey Holy Well. Alice will be your guide

to the Fly Agaric mushroom.

Look through the 1000-year-old Yew tree

in Iffley Churchyard and see the old Christian

Pilgrim's route from Abingdon Abbey,

to St. Bartholomew's Holy Well on Cowley Rd.

A visit to St. Bart's Well is said to lead

to a decrease of 400 years from your purgatory!

I asked the old Woman by Northgate

and St Michel's Saxon Tower

how old is she?

She didn't reply in words, but showed me her way.

Then I saw before the City,

the Round huts on Port Meadow,

and there was a strong black

Ox grazing in the fields;

before that a beautiful White Horse

running in the Valley,

followed by numerous other beasts;

before that the old Ridgeway twisting

like a serpent, on it the old Smith,

the old Liddington and Barbury Castle Hills

leading to Avebury in the South

and Ivinghoe Beacon in the North.

Before that, the river, the Thame-Isis , flowing.

Before that a very old, yet fully blossoming tree.

(I guess that is where Tolkien's inspiration

for the White Tree of Gondor came from!)

Before that, I saw the old Woman again,

she appears no older than now,

all this time has been

a brief moment for her."

Part III Deeg Jush (Seething Cauldron)

(Written 20 June 2004)

"At Summer Solstice, the longest day,

The symbolic height of power of light (Nur).

Under the eye of Mithra (Mehr-kindness): the Sun,

In the Old Windmill, the Pir is turning the Millstone,

metamorphosing the soul-grain of the Sufis into

bread and cakes of light to nourish all mankind.

We little raindrops, rush forth,

like the Irish Bard Taliesin,

into the Deeg Jush –

the cauldron of transformation

to be boiled and changed.

In the 'Jam Khaneh' – the Gathering House,

All have gathered, seen and unseen,

from Earth to the Seven Heavens.

All religions and their gods across

time and space stand

shoulder to shoulder in the `Jam Khaneh'.

A Shiva statue next to a Golden Buddha,

Christ next to Allah,

next to the Horned Deer

of our cave-dwelling ancestors.

People too have gathered from all corners

of this blue tear in space we call home.

Young and old, man and woman,

from different races and cultures and

continents: Asia, Africa, Europe,

the Americas, Australia,

all have gathered in

the 'Jam Khaneh'.

Words of the Pir echoes: "5000 year old Indo-European creed of Divine Unity,

Love and Chivalry spread across

the Old World by the Aryan people".

The outer label might have altered

through the millennia, Dervish, Sufi, Magi,

Duir, Druids, Brahmins… but its heart

has changed little in those

in the 'Land of the Aryans':

Eire (Ireland) to Iran.

The lit torch is kept alive by many now,

and has gone beyond the land of

Aryans, bringing light into many dark places.

In the 'Jam Khaneh', we,

like little points of light,

form a galaxy, all circling the

Qutub (pole) during Zeker –

the remembrance.

Outside of this Temple of Love,

saplings planted by us in rich soil of Oxon

many moons ago, are now tall groves

towering above our heads.

In the Oak groves, the doorway tree

of Duir opens a gateway to Otherworld.

Silver Birch tree, shimmering Lady of the Woods,

dances and moves her slender white arms

to the sound of the Tonbak -drum.

The smell of roses is intoxicating all,

in this Golestan of Love.

In the fruitful Apple Orchards,

the meaning of Avalon: Isle of Apples (Britain)

becomes clear.

The trees, the flowers, even the farmer's cows

and the bees are joining the song and dance of Unity.

Hu, Hu, Hu.

All is One and One is All.

Remember: Unity, Love, Chivalry

Haq, Haq, Haq.

'Everything' is turning, whirling

around the Qutub during the ecstasy of Sama.

An eternity caught in a moment.

Hu, Hu, Hu.

The constellation Cygnus flying

in the Milky Way, it is very much

a swan swimming in the river Isis.

As above, as below."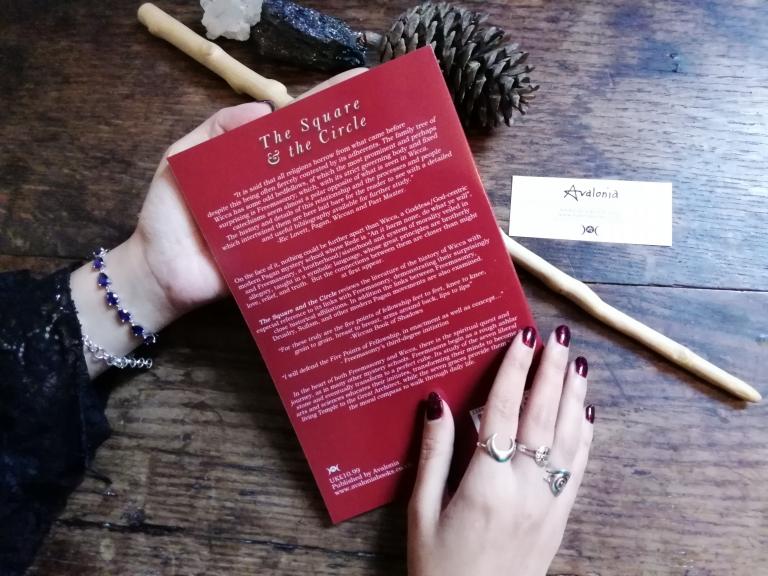 Sorita: You have written on the connection between Freemasonry and Wicca, highlighting some of the historic and ritualistic connections.  When you were researching your book The Circle and the Square, what was the most exciting or interesting fact you discovered?
Payam: On the face of it nothing could be further apart than Wicca, a Goddess/God-centric modern Pagan mystery school whose Rede is "An it harm none do what ye Will," and Freemasonry, a brotherhood/sisterhood and system of morality veiled in allegory, taught in a symbolic language, whose great principles are brotherly love, relief, and truth. But the connections between them are closer than might at first appear.
In the heart of both Freemasonry and Wicca, there is the spiritual quest and journey, as in many other mystery schools. Freemasons begin as a rough ashlar stone and eventually transform to a perfect cube. Its study of the seven liberal arts and sciences educates their initiates, transforming their mind to become a living Temple to the Great Architect while the seven graces provide them with the moral compass to walk through daily life. Wicca's teaching is clearly stated in its Charge of the Goddess: "To thou who thinkest to seek Me, know that thy seeking and yearning shall avail thee not unless thou knowest the Mystery. If that which thou seekest thou findest not within thee, thou wilt never find it without. For behold, I have been with thee from the beginning; and I am that which is attained at the end of desire." The same message is also given to all Master Masons in their 3rd-degree ceremony: an injunction to reflect on "that most interesting of all human studies, the knowledge of yourself." In both, we can still hear down the centuries the echoes of Plato's teachings and the Delphic maxim at the Temple of Apollo at Delphi: γνῶθι σεαυτόν: Know thyself.
Wicca or Freemasonry, the initiate's journey and experience is the core, here is a masonic poem I wrote which captures the spirit of it and illustrates the point:
The Initiate
Three candles lit,
Tyler's sword and curtain drawn,
Temple door locked.

Invisible pulleys and cogs turn,
As a Corinthian's column-shaped lever is pulled down,
And an Ionic column-shaped lever handle is pushed up,
Making traces of an ancient story visible on a board.

Knock, knock, knock!
Who seeks admission?
A traveller who seeks to quench their thirst for knowledge,
Stepping on the chequered path, with no trace of metal,
From darkness into the light,
Life in balance pincered between a dagger and a cord.

The lesser lights illuminating the temple,
The silver rays of the full moon, the golden rays of summer solstice sun.
Initiate walks sun-wise, marking the stations of the sun in the cardinal directions:
Saluting the dawn in the east, saluting the sun at its meridian in the south,
Saluting the sunset in the west, and silently passing the sun at midnight in the north. 

Ancient tongues and forgotten words,
Given a new lease of life,
Words echoed, sounds vibrated,
Creating a wave like a pebble in a lake,
Reaching the shores of Great Temples long buried in the sand.
A celestial music, timeless, boundless.

Mysteries revealed through experience,
Steps taken on solid earth of a marble floor,
Not absorbed via a TV screen.

The scroll of Doric column unrolled,
Cypher, Hieroglyphic, Cuneiforms, Oghams, Runes,
Wisdom, Beauty, Strength, unified.
Tapping the black and white pillars sounds hollow,
Celestial globe and terrestrial globe,
On their apex, point to the secrets within.

Teachings of Euclid, Plato and Pythagoras recalled,
The seven liberal arts and sciences are the syllabus.
Mobile phones, txt language, emoticons, celebrity culture, politics, gossip, all opium's of the masses left at the door.
In the temple it's Grammar, Rhetoric, Logic, Arithmetic, Geometry, Music, and Astronomy.
The elements centre stage, Fire Tetrahedron, Air Octahedron, Earth Hexahedron, Water Icosahedron, and the fifth element Universe Dodecahedron. 

As above as below, turning the rough ashlar to a perfect cube,
The seven Graces, like seven sisters of Pleiades, your guiding stars,
Their names thy daily mantra: Prudence, Justice, Temperance, Fortitude, Faith, Hope, and Charity.
The metamorphosis on route to know thy self,
With Prometheus and Tubal Cain as thy travelling companions.

The journey's end to die before you die,
Staring into skeletal reflection of your mortality
Hovering about ground momentarily,
Floating like a feather, suspended between heaven and earth,
Then lying in your cedar coffin, like Osiris awaiting resurrection,
Covered in earth, acacia and yew leaves,
Brotherly midwives pulling you out of earthly womb, a new birth.

Now you are a candle maker,
Darkness can be made visible, the abyss crossed,
The void bridged.

The sundial shows time has come to leave the temple,
And return to the mundane world,
Deosil procession out, and ritual gear laid down.

The ritual feast and toasts, a meal shared,
Wine flowing, modernity and tradition hand in hand,
Remembering absent friends at 9 o'clock.

The bar beckons, circular-shaped pint glass, on a square beer mat.
We met sober and parted drunk.
What more is there to say widows sons but,
Merry meet, merry part, and merry meet again.

– Payam (Friday 13.6.14, a full moon)

The Square and the Circle
Sorita: What do you feel Wicca could still learn from Freemasonry?
Payam: Group longevity and organisational structure are some of the key lessons that can be learnt from Freemasonry by other groups. Freemason lodges are very democratic organisations, as all officer roles are temporary; the officers serve for one year in each role and then hand it over to the next person. It's the progression through the offices that provide new learning and insights. Many lodges are over 100 years old, and of course, new lodges are formed too, but you can see the longevity is part of the way it is organised. It's not dependent on one or two leaders to carry the torch which can happen in some Wiccan groups.
The most visible aspect of Freemasonry is its charity work,  contributing more than £48 million to deserving causes in 2018 alone. www.ugle.org.uk/giving 
Sorita:  You have also written about the Morrigan, the Irish / Celtic Goddess associated with Sovereignty, can you say more about that project? 
Payam: A good sense of humour is key when walking a spiritual path, and to this end I wrote the Divine Comedy of Neophyte Corax and Goddess Morrigan (Web of Wyrd Press, 2008). The stories of the magical comical character of Corax and his animal friends continue and are still published online frequently. The idea behind the project was to write a divine comedy that both enlightens you and has you rolling on the floor with laughter, and it's written as a play. This tale of the magical journeys of a Neophyte called Corax, and his initiator Goddess Morrigan attempts to do that. The Celtic Goddess Morrigan is the Goddess of war, death, rebirth, change, and justice. This is far more than Corax expected at his initiation!  I have been writing the Corax joke stories for over 10 years now. The first batch of adventures of Corax, Morrigan, Lupus, Corvus, Oliphant, Lady Pelican, Kali etc… was published in 2008, with a joke price of £6.66. Here is a short video youtu.be/hwCgYL7fUcg and link to the book www.lulu.com/shop/payam-nabarz/divine-comedy-of-neophyte-corax-and-goddess-morrigan/paperback/product-2265184.html 
Here is a poem I wrote about her:
One who is Three
Morrigan
Goddess of War,
bestower and reaper of life
Phantom Queen.

Black-feathered, spear in hand
naked breasts heavy with blood and milk,
standing across the river of life.

Your beloved die in your arms,
your foes die at your feet.
Dark mother, luscious Crone, Goddess of death

as a battle rages,
you are there, graceful Raven
tearing flesh from bone.

As the moon wanes
we become closer, and closer
at the dark moon;
we dance in your cave.
Great Queen, Morrigan.
Here are some examples of the plays:
Act IX: An eclectic pagan's near-death experience

On a clear winter day Corax was happily feasting on the remains of a mouse in someone's garden, gently tearing away the half-rotten flesh and eating it, when suddenly a cat jumps him. Claws and beak meet each other, fur and feathers flying away, Corax thinks to himself "is it my time? Was I destined to die today? Did I want to be attacked today?" Too much thought really for the heat of battle and a heavy blow from the cat almost knocks Corax out, before passing out he aims for the cat's eyes and then blackness.

He is floating up, and after a few minutes he sees a bright tunnel, and there is light at the end of the tunnel, (he wonders if it's an oncoming train!) but no, the whole tunnel becomes light. He is drawn in and flies into the tunnel of light.    

After a while he reaches the end of the tunnel and is greeted by Morrigan.

Morrigan: Well, you seem to have died, it's time for a walk on the other side, follow me my child.

Another tunnel of light appears and Morrigan is about to lead Corax through. When another tunnel appears from nowhere and a group of men in full Roman armour march out, part of a Roman Legion.

Antonius: Nama Corax,time to join our rank in the afterlife, in the fields of Elysium.

Corax looks at his comrades on the one hand and Morrigan on the other, and wonders where it would be more fun to spend eternity. A loud voice breaks his thinking…

Duir: Greetings! 

Corax sees the origin of the voice coming from a new tunnel of light, standing in front of it an old man with a white beard holding a golden sickle and next to him a woman with numerous blue woad paintings on her body.

Duir: Follower of the wooden door and yew bark, follow us, it's time for you to become a seedling in our grove, grow slowly and turn in due course and many lifetimes to a great oak.

Corax is beginning to feel uncertain, which tunnel of light should he go into? Where to spend eternity? Suddenly loud laughter grabs his attention, a tall black man with face painted white; wearing a top hat and sunglasses comes through another door and tunnel.

Baron Samedi: Ha Corax, here drink from this bottle of Rum. Your time has come, come with me and you might even become a Loa. You'll be remembered, and have dances made to you. 

Another voice even louder, from yet another tunnel appears. A bald man with a 666 tattoo on his forehead points a finger at him.

Crowley: Do what thou Wilt, you are not dead or alive, and there is nothing beyond your will. Afterlife is but an extension of your Will.

Another voice: 'Dream on', says a black spider whose web spans the starry night.

Arachne: Don't worry Corax about being eaten by me, you'll be reborn as a star in the night sky, you have always been stardust, no more, no less.    

 Corax looks at the gathered assembly, even more uncertain where to spend eternity, after all eternity is a long time!

Another tunnel appears, and he can see the Great Pyramids over the horizon, and temples of Abydos and Luxor. Shining brightly Isis, Osiris, Horus, Thoth, Seth, Sekhmet et al, all looking amazing and inviting.

A priest appears holding a pair of weighing scales: Corax it's time to have your heart weighed against this feather. Then you may swim in the life-giving Nile. 

From above he hears the sound of horses, and looks up and sees several armour-clad warrior women on white horses.

Valkyries: Come Corax, you died in battle with a cat, mead and eternal rejoicing await you.     

Another door opens to the sound of 'Om Namah Shiva', Lord Shiva approaches holding his trident. 

Shiva: Corax, the ever-youthful Ashrum of knowledge awaits you; let Kali bring you across the threshold to us.

Yet another door appears, Corax sees his grandparents, they seem to have more feathers, like in their youth.

Grandmother:  Corax it's time to re-join your family in your village.

Another door opens and from it comes, a man holding a cross:

Jesus:  Remember I died for your sins heaven or hell awaits you. 

"Ignore all this", says another voice. 

Nietzsche: Remember what doesn't kill you makes you stronger, I guess on this occasion it killed you, and now you are just worm food.

From above yet another door opens with a "Garrh, garrrrh", descending like a black cloud come a flock of ravens, the Great Raven Spirit, of whom each raven is but a feather on her giant body. 

Great Raven: Come Corax time to fly with us and roam the astral plane.

Corax looks at all the tunnels of lights, and doors, thinking it's probably going to take some time to decide where to go.

Corax: This is great, where the f**k do I go from here, and eternity deciding where to go…..

Morrigan:  Well what do you expect, eclectic in life eclectic in death…….  I wonder perhaps you should go back and make your mind up..

Corax finds himself back in the garden, the cat is moving away with a sore eye. Corax has lost a few feathers, but is still alive, to fly for another day. 
Some shorter examples:
Morrigan: Great yoga session.
Corax: Thanks.
Morrigan: You are so inspirational to the class.
Corax: Really? Thank you.
Morrigan: Yes, I always tell my students if an old fat ba***rd like him with the flexibility of an ironing board can do the dog and camel poses, you skinny youngsters have no f***king excuse.
Corax: Thanks, you are so motivational!

——

Morrigan to Corax: If the chalice of wine is not stable on your stomach when lying on the altar it's time you lose weight.

—-

Corax: You seem happy?
Lady Ophelia: Yes I have completed my Yoga 2000.
Corax: Surely you mean Yoga 200?
Lady Ophelia: No Yoga 200 is so passé , Yoga 2000 is all the rage now.
Corax: Amazing so you have done 2000 hours of Yoga training?
Lady Ophelia: No I have mentioned the word Yoga 2000 times in conversation or online.
Corax: I see.

—-

Corax: Happy Beltane, shall we raise an ancient altar?

Morrigan: No, let's build another bookshelf.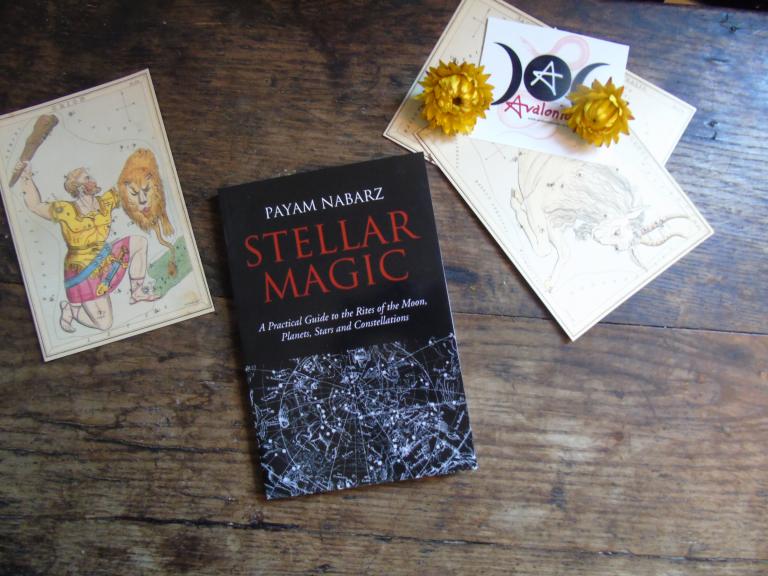 Sorita: Stellar Magic, which was published by Avalonia many years ago now, explores the magic of the Moon, Planets, Stars and Constellations.  It includes some wonderful information and advice, which is suitable for beginners and can still provide inspiration for more experienced practitioners.  In particular, I loved the way in which you used candles to map out the constellations on shrines!  What inspired you to write Stellar Magic?
Payam: When walking on a clear night and staring at the stars, something does capture one's imagination. It may be the simple beauty of the stars and the planets, or perhaps a religious meme that compels one to head out night after night in the footsteps of the modern and ancient stargazers. It is not only the full moon that turns people into lunatics and poets; there are other subtle forces there too that inspire us; the constellations. To use a metaphor, if the sun is the ocean and the moon a sea, the planets the rivers, then the constellations are the streams. There has been much written about the magic of the sun, moon and the planets, yet the gentler streams of the constellations remain largely unspoken of. The constellations that are popular are the twelve signs of the Zodiac, which are seen as part of the celestial powers that influence us from birth.
An initiate has to exceed the total sum of their programming, and using their spiritual training, go beyond the boundaries set at the time of birth, be they social, intellectual, physical, astrological, or religious boundaries. An initiate at all times aspires consciously to improve themselves, for example, as Sufis aim to become an 'Insan Kamil' (a perfect or complete human) and aim for the Qutub and becoming one with it.  In symbolic terms the heavenly Qutub is the Pole Star and the manifestation of the celestial throne. In Sufism the constellations Great Bear and Little Bear appear numerous times, as Great Bear points toward the Pole star (Qutub) and Pole star is part of the Little Bear. 
There is a video of Stellar Magic book online at youtu.be/ZyPHztm302s 
More info about the book at Stellar Magic 
Sorita: Who or what inspires you most in your work today?
Payam: The challenges of modern politics inspires me to work toward a fairer and more equal society. 
Sorita: You have been involved in a number of esoteric and Pagan groups, and I imagine you have learned from your involvement in all of them in different ways.  What advice would you give to newcomers to Paganism looking to find their first group to learn and explore group rituals with?
Payam: Ask questions, talk to all members of the group and find out about the history of the group and avoid cults. If it's a long-established group, find out who their alumni are.
Sorita: If you could speak to the 20-year younger version of yourself, what wisdom would you pass down?  
Payam: Do more exercise ☺, and travel more.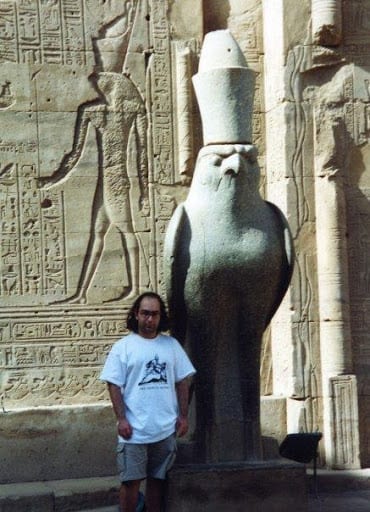 Trivialities:
Your favourite book of all time? Stories of Mullah Nasruddin
Your favourite character from history? Rumi
Your favourite element? Titanium ☺, its water.
Your favourite food? Persian Kebab
Your favourite number? 7
Your favourite planet? After Earth, it would be Saturn
Your favourite plant? Sun flowers
Your favourite stone? Rainbow Obsidian
Your favourite Tarot / Oracle deck? Crow's Magick Tarot deck, it did grow on me. 
Your sunsign? Scorpio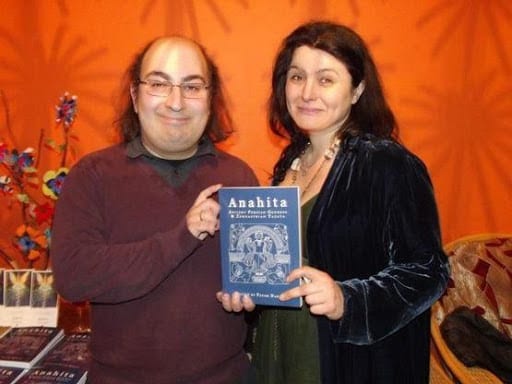 Biography: Payam Nabarz
Persian-born Payam Nabarz is a Sufi and a Dervish with a wide range of esoteric interests and is based in England.  He is a Druid in the Order of Bards, Ovates and Druids, and was a co-founder of it's Nemeton of the Stars Grove. Magi Nabarz is a revivalist of the Temple of Mithras, a Hierophant in the Fellowship of Isis, a Past Master in the Craft (Freemasonry) and a Companion in the Royal Arch.  He has also worked with the Golden Dawn system, Thelema, Nath Tantra, and Wicca.  He was the founder of Spirit of Peace, a charitable organisation dedicated to personal inner peace and world peace via interfaith dialogue between different spiritual paths.  His current interests include cycling and learning Yoga and Tai Chi. 
His studies in Mithras developed in the late 1990s and he is still a frequent visitor to the Roman remains of the Temple of Mithras in London.  He wrote 'The Mysteries of Mithras: The Pagan Belief That Shaped the Christian World' (Inner Traditions, 2005) which is one of the few books with ritual guidance material on the subject.  He then went on to edit Mithras Reader: An academic and religious journal of Greek, Roman, and Persian Studies. Volume 1 (2006), Volume 2 (2008), and Volume 3 (2010).  His interest in all things Greek, Roman and Persian lead to writing 'The Persian Mar Nameh: The Zoroastrian Book of the Snake Omens & Calendar' (Twin Serpents, 2006),  Anahita: Persian Goddess and Zoroastrian Yazata (Avalonia, 2013) and Stellar Magic: a Practical Guide to Rites of the Moon, Planets, Stars and Constellations (Avalonia, 2009). In 2007 he became interested in Freemasonry which lead to writing The Square and the Circle: The Influences of Freemasonry on Wicca and Paganism (Avalonia, 2016).
Payam views a good sense of humour as key when walking a spiritual path and to this end wrote the Divine Comedy of Neophyte Corax and Goddess Morrigan (Web of Wyrd Press, 2008); the stories of the magical comical character of Corax and his animal friends continue and are still published online. 
You can explore all of Payam's books at www.amazon.co.uk/Payam-Nabarz/e/B001K8BS52