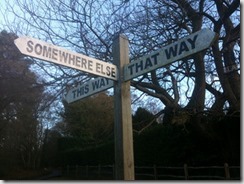 Your words have grown faint and your footsteps have long dimmed from erosion. There is no sign for me, no fingerpost indicating the way. No map shows direction, no amount of inquiry reveals an unnoticed path.
I am lost. I cannot find you and I am grown weary in the search. I have tried in vain to follow. My every labor is insufficient.
I lie down beside the road, careless of other searchers, both good and evil. Pillowing my head on a rock, I dream of angels. They go about their business, oblivious to my entreaties.
Is my mute desire enough?
*****

It's far easier to follow me over to the NEW Five Minute Friday at Kate Motaung's place. (General details here.) You can find a bunch of folks who have managed to sit still long enough to scavenge something from the unruly hoard of thoughts. No judging allowed.