I do love getting prompts to write! It's lovely having the inspiration for a start. So, I've been directed by the splendid Patheos folk to reflect on the "defining moments" that brought me to my path.
I have good stories on that score. I grew up in a loosely Pagan household, so in the broader sense I always had a fair idea what I was. The Druidry bit came much later.
I ran a folk club in my twenties. Folk has also been with me most of my life. I sing seasonal material, songs about the land, things that are intrinsically Pagan – always have done. One evening, totally out of the blue, one of the members said, "Sing us one of your Druid songs." At that point in my life, I hadn't even met a Druid. I had no idea what the chap making the request even meant, and in the heat of the moment picked an arrangement of Kipling's 'Oak and Ash and Thorn'. With hindsight, that was a pretty good call.
About a week later I met my first Druid, and being rather curious, I asked, "So what do Druids sing, then?" From there began the process that, a matter of months later, saw me joining a Grove.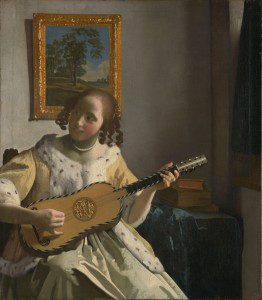 Fast forward to spring of the following year and I arranged a trip for a mix of Pagan and folk people, to Clun Green Man day. I knew almost nothing about the event, but it looked like fun (and it was!). I walked into a building where a board said "Damh the Bard." The name meant little to me, but 'bard' seemed promising, in I went. He sang about Blodeuwedd. Now, I grew up with Alan Garner's Owl Service and Kevin Crossley Holland's Tales from the Mabinogion, and Blodeuwedd meant a lot to me. There was this lovely, long-haired chap with a guitar singing about Blodeuwedd, as though she were a goddess (I'd long felt that way myself) and understanding the myths from her perspective (a first for me, I thought then I was the only one who saw her in that way). I was stunned, overwhelmed, almost in tears. That was my first point of contact with the Order of Bards, Ovates and Druids, an organisation I later trained with and that remains important to me.
It felt, during that period, less like I had found Druidry, and more like Druidry had come and grabbed me and pulled me in. I learned that impulses I'd had from childhood made sense in a Druid context. The longing I'd had from as far back as I could remember, for a harp. The love of poetry, nature, tradition, creativity, storytelling. Robert Graves and Alan Garner, Merlin, Taliesin, Blodeuwedd, they were with me from my earliest days, I just didn't know how to put it all together.
---
Druid Thoughts is published on occasional Wednesdays on Agora. Follow it via RSS or e-mail!