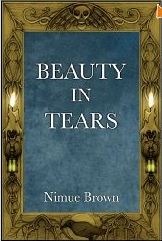 I'm not a full-time professional Druid. This is partly because I don't think of Druidry as being something you do, more as something you take with you to the things you do, and partly because the discovery of Druidry did not cause me to want to give up everything else I love–rather the opposite.
One of the other things I do is write fiction. I've dabbled in most forms and genres along the way, and no doubt will continue to do so, but the one abiding passion I keep returning to is the Gothic. Unlike many genres, Gothic isn't that firmly regimented. It's less about a story shape, more about an atmosphere. Gothic is creepy, without falling into graphic horror. It's spooky and supernatural, and it can have romantic elements, but it's not paranormal romance. Gothic is full of uncertainties, blurry edges, uncanny possibilities and the beauty of mournful decay.
My latest wander into the realms of the gothic is a novella, Beauty in Tears, which I've just self-published on Kindle. Victorian set, there's a dash of Steampunk in the mix, a little action and some romance. It's a haunted sort of a story, full of the things people think they have to do when they refuse to imagine they have any choices, and it is not, as a consequence, a child-friendly sort of tale.
The title for this one comes from an O'Carolan tune. For those of you not familiar with him, O'Carolan was a blind Irish harper, often heralded as the last great Irish bard. He wrote a wealth of exquisite melodies that these days are claimed by the folk tradition. Really he should be in the classical cannon, and at the time he was working, composers came from Europe to hear him and be influenced by his ideas. He was an incredible composer of melodies and deserves far wider recognition than he gets.
I've been playing "Beauty in Tears" for years. (I'm a fiddler, with another of those many hats on). It is a lovely, sorrowful sort of tune, much as the title suggests. Here's a rather nice arrangement of it. It does bear more than a passing resemblance to another tune called "The Ash Grove," but I digress. You can easily pick up other O'Carolan tunes, should you get the urge. Youtube will provide.
Usually I get a story idea and then struggle to find a title. This was a rare occurrence of me wanting to use a title and then trying to find a story that would fit it. I'm interested in the capacity of pain to open us up, breaking the protective prisons we build, cracking us open as we feel things we really didn't want to. Pain can be a great teacher, and sometimes the right pain at the right moment can be a great healer. So while in no obvious way is this a Druid book, there is the issue that I wrote it, and therefore pottering along beneath the surface are all manner of things that I really care about.
All of my books, regularly published and self-published, can be found here.
---
Druid Thoughts is published on occasional Wednesdays on Agora. Follow it via RSS or e-mail!