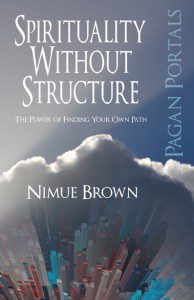 There are a lot of Pagan introductory books out there, and once you've read about three, you start to find things sound a bit familiar and tired. Where do you go next? There are so many books for total beginners, and so few books for people who have read those and want to progress. If you've picked a path, you've got all the path-specific beginner material to get to grips with… But it goes the same way — once you've read about three, you'll have the gist, though some books are better than others. If you aren't drawn to a path, or do not know enough about the various paths to make a choice, it can be really frustrating.
The internet can be helpful for reading around. It can also be confusing, and the plethora of sites with that same beginner information dominate, and finding the deeper layers takes a while. It can be done. You will need some patience. Pagan organisations can be a great place to get leads, as can magazines that are broadly Pagan. I can recommend Pagan Dawn and Bridget's Fire as carrying a broad range of topics from which you can get a bit deeper into more specific areas of things, and get a sense of what might interest you.
Sometimes the best way to explore is to get out and meet other Pagans, but your geographical location might not lend itself to that, or your personal circumstances. There's no guarantee that the kind of Paganism you need to find will be on the doorstep. Sometimes the gods are helpful like that, other times what you get is an opportunity to prove your dedication – namely a lot of work!
I've been involved with a project that I think really helps with that moment of wanting to dip a toe in the water. Pagan Portals is a series from Moon Books. Really small books, and not very pricey – in fact downright cheap if you by them as ebooks. Pagan Portals range all over the place, but give you focused introductions to much more precise areas of Paganism. It's a chance to explore, but not a big commitment. At the same time, you can pretty much tell what you're getting upfront, so have a fighting chance of working out if it's for you.
As a reader, I particularly enjoyed Jo van der Hoeven's
Zen Druidry
, which explores how those two things work together. Popular witchy author Rachel Tansy Patterson has an introduction to kitchen witchcraft and another on folk magic in this series, and having read some of her other work, that's going to be a charming and engaging read. Melusine Draco's book on cursing was a real eye-opener for me, and I found Fiona Tinker's
Pathworking through Poetry
deeply inspiring. Judith O'Grady's
God Speaking
made me rethink how we consider deity in modern culture. There are more titles (and more coming out all the time) that I have yet to read.
I've now got to the point where my own small contribution gets an airing – Spirituality without Structure. Many Pagans settle on an own-path approach, but that can involve a depressing amount of re-inventing the wheel. I've had years of exposure to eclectic Paganism, run eclectic rituals, and spent some time on the own-path approach before Druidry pounced on me. It was definitely that way round! I've tried to unpick what it is that religions do, in order to offer some suggestions about how to find your own approach. It does also work if you are adopting a more conventional religion, because if you want to be spiritual, that's all about the personal experience anyway.
---
Druid Thoughts is published on occasional Wednesdays on Agora. Follow it via RSS or e-mail!