I recently had the pleasure of interviewing Sable Aradia, author of the Patheos Premium teaching blog The Witch's Eight Paths of Power, as well as the book of the same name (forthcoming from Weiser). The blog, which focuses on eight modalities of witchcraft as originally described by Gerald Gardner, features videos and live chats.
Sable is a licensed Wiccan minister and a Third Degree initiate in the Star Sapphire and Pagan for Peace traditions.  Her passion is teaching self-empowerment through study of the Craft, which is the focus of her column Seekers and Guides. But let me allow Sable to speak for herself…
---
CHK: How did you first come to Wicca, and how long have you been teaching?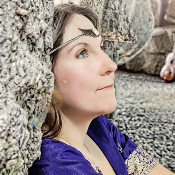 SA: I was always mystically inclined, and not being born to any particular religion, I started attending church with all of my friends.  Nothing quite fit.  Then when I was ten years old, while we were studying mythology in school, I found a book called Practical Candleburning Rituals by a guy named Raymond Buckland in my school library.  I had a mystical experience of communion with the goddess Diana under a full moon and decided to start praying to Her instead of the God of the Christians.  I guess the rest, as they say, is history.
Most of my experience was that of a solitary through my adolescence, and I started teaching about Paganism about the same time that I found other Witches to practice with.  That was 1993, the year I graduated high school.  So I guess that's been twenty years now.  Eventually (2005) I found the Congregationalist Wiccan Association of BC and received initiations into the Pagans for Peace tradition as part of my training to be a Priestess through them (which is where I get my religious representative certification).  Then I found the Star Sapphire tradition in 2007 and initiated into it because it was a good fit for me.  I think those experiences make me a better teacher and a better Witch because I can address most of the major streams of Wicca through those connections and both the solitary and coven experience.
CHK: What inspired you to teach Wicca using the "Eight Paths" framework?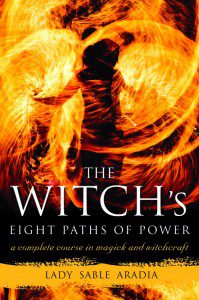 SA: I was actually trying to come up with workshop ideas to teach in the CWABC, and I hit upon Gerald Gardner's description of the "Eightfold Way" out of his Book of Shadows.  Magick has always been an important part of my Wiccan practice, and I think it often gets forgotten these days.  I don't know whether that's because people don't believe in it, or because people think that the Law of Attraction is sufficient, or whether it's just because the skills aren't being taught since most of us learn about Witchcraft from books.  I thought this was a unique approach that no one had really tried before and it might teach things that usually are only absorbed by osmosis from years of practice.  I wrote my book (The Witch's Eight Paths of Power: A Complete Course in Magick and Witchcraft, to be published by Weiser/Red Wheel in Fall of 2014) based on the workshops, and I draw the blog from the original draft of the book.
CHK: What kinds of students do you think will benefit the most from the Witch's Eight Paths of Power blog? What will students get out of studying with you online?
SA: I've tried to create a learning tool that will benefit any serious student of the Craft.  More advanced practitioners might feel that some of the exercises at the beginning are a little basic, but they get progressively deeper.  More than anything, I guess I'm trying to provide the advanced hands-on work of actual practice, even if you're practicing alone, and I'm presenting it in a way that should be able to address almost any style of learning.  Even so, my in-person coven subscribes to the blog, and we work through the material as part of their instruction as well.  I think I'm a good teacher who explains things in a down-to-earth kind of way, with examples and exercises as well as lectures and explanations.
CHK: How does teaching and learning online differ from teaching in person? Are you available to teach in person?
SA: Initially I didn't believe that this subject matter *could* be taught online!  But I started recording the workshops I was doing and with those video aids and exercises, I found ways to present the ideas and lessons in text.  I think more explanation is required online and you have to limit the subject matter so that you don't present too much information at once.  I'm sure that without the video support it wouldn't be possible.  On the other hand, it's easier to reference other online resources.  And yes, I love teaching in person.  I do Eight Paths classes for two hour sessions on Thursday nights at The Threads That Bind Us in my hometown of Vernon, BC, and I'm available to travel and teach each of the Eight Paths as six to eight hour intensives.  I'll go anywhere as long as you want to cover my travel expenses, feed me and give me a couch to sleep on. 😉
CHK: What new developments do you anticipate for Wicca and for Wiccan teachers and students in the next ten years?
SA: With video platforms such as the one I'm using for blog support (Spreecast), I think that more hands-on teaching will be available to almost anyone, which will make it easier for solitaries to get that sort of experience.  I think that the Witches who make use of it will be more accessible to more people as well.  T. Thorn Coyle, for example, is doing some great stuff with her "Fiat Lux" video classes.  Big community sites like Witches & Pagans online and the Wild Hunt blog are bringing us closer together in larger groups.  Multifaith sites like Patheos are bringing us into the greater conversation of world faiths.  These are all really good things.  On the other hand, I am concerned that conversation will defeat practice, and I'm a believer that practice is the heart of our path and the only real way to find personal gnosis.  Without that, we might become considerably more dogmatic than we currently are and I don't think that would be a positive change.
I also think we might see more professional clergy and teaching in Paganism.  I think that we're starting to realize as a collective group that nothing in this world is free, and even web hosting space and power costs money.  So, if we want more out of Paganism, we have to be willing to contribute our dollars as well as our time.  It's one of the reasons that I think that this blog is such a good idea.  At $5 a month it's affordable for anyone, and the format allows for one lesson to be distributed to many people at once, so time and expenses to produce those lessons are easily covered and it becomes something that a writer can afford to take the time to do.  I think that this is the wave of the future and in the coming years, you'll see it a lot more.  As a matter of fact, my tradition is working on combining their efforts to build our tradition-specific training program into a very similar format.
---
For more of Sable's work, check out the Witch's Eight Paths of Power blog or her column on teaching the Craft, Seekers and Guides.