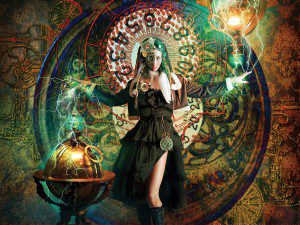 Happy New Year!  In my last column, I described how the technology now exists to make learning the Craft online a viable option for many.  This column is designed for those of you who may be called to do that kind of online teaching but lack the technical know-how to make it happen.  I'll suggest some of the available tools out there, explain why and how they are useful, and get you started on how to make them work for you.
Blogging
In my opinion, by far the best available platform for a basic course of instruction is a blog.  This gives you a way to produce articles on the subjects you're instructing, including exercises and relevant links.  As opposed to a standard website, which is open-ended and non-specific, a blog is specifically for the transfer and relating of information.  Blogs also have the added benefit of being much easier for the layman to design and build.  They come with their own, integrated "click here, stupid" design platforms, and for the most part, they also automatically submit to search engines – an advantage when you're trying to get internet attention.  Blogs also allow readers to subscribe to feeds or email lists to receive your new posts when they appear.
The three most popular blog platforms out there at this time are WordPress, Blogger, and Tumblr (in that order.)  If you want to read some insightful reviews on them, I found this link helpful.  In my personal opinion, WordPress is the best and easiest.  You can design your blog in a plethora of different, customizable ways; it lends itself easily to both individual and multi-author platforms; you can do it on your computer or your phone (and the app is so simple it's disgusting;) and you can take advantage of all kinds of tools, such as setting it to post later, post on a schedule, saving as drafts, and setting different levels of user access depending on conditions you set.  My Witch's Eight Paths of Power blog is a WordPress blog, and so is my personal blog, and so is Patheos in entirety.  At $100 a year you can set it up for your own personal advertising space and a whole series of expanded features, so if you want to charge for your work you can and it's simple; or you can fund your blog in other ways; or you can do it entirely for free.
For instructions on how to get started, you'll find the WordPress guide here, the Blogger guide here, and the Tumblr guide here.  For video tutorials, click on these links: WordPress video tutorial, Blogger video tutorial, Tumblr video tutorial.
If you'd rather attach a blog to a website, Webs.com has a lot of the same benefits and a "point and click here" interface that's straightforward; but it is buggy, it requires money to get anything really useful out of it, and it's not as popular to search engines.
Photo Platforms
Sometimes you need to show diagrams rather than tell.  Sometimes you can find existing material online and link it in your blog article.  But sometimes you have to draw it yourself, and when you do, you need a place to host it.
Some useful platforms for this are DeviantArt and Pintrest; and if you are on Facebook, you can simply use the Facebook Photos app.  Which one you should use depends on how often you intend to use art and how private it is going to be when you do.  DeviantArt won't work if you utilize the copyright protection utility, and Facebook is only useful if you're not completely private.  Pintrest is a pretty public forum and is designed to be linked to, so as long as you don't care who looks at your work, it's pretty convenient.  It also has the added benefit of being a social media network so it can drive traffic to your blog!  DeviantArt can be kind of clunky to get used to as well; but if you're an artist, this is the way to go, because you can make greeting cards and prints of your work as part of the automatic utility.
Here's an article on how to use Pintrest and another on how to use DeviantArt, but they will also guide you through the process.  I assume most of the internet using people of the world have used Facebook Photos by now so I'm not including a how-to link; if you'd like me to, let me know and I'll add it in the comments.
Video Platforms
I think that video platforms are essential to effective internet teaching, because everyone has a different style of learning, and for the same reasons that your teachers made you watch instructional videos between notes and lectures in school, you should use a video platform to demonstrate what you're trying to explain.  But different platforms are designed to be used in different ways, so I'll give you the run down on how each of the four that I use work, and what they're good for.
YouTube is the most widely used video platform.  It also comes with its own social media network (Google+), so that helps get the word out.
You can make your own videos for YouTube, and if you know how to use a video editing program with proficiency, you can make semi-professional quality videos easily and cheaply, and circulate them to a wide audience.  You can even set the level of access – public, unlisted or private.  But if you're going to link to a video or embed it in your post, you need to have it set on "unlisted" at least.  You can, however, get subscribers to send you their email addresses and personally grant them individual access to private videos; however, I tried that and found that most people just won't do it for whatever reason.
My advice to you if you use YouTube is first, don't include anything you didn't make specifically yourself, including theme music (even in the background!) or images, because YouTube is copyright-happy and they'll sanction your account if anything bears a suspicious resemblance to anything that might have a copyright.  Also, set your comments in your settings to "moderate," because trolls and fundamentalist preachy-types are everywhere, and this way you can ignore them and delete their junk from your page; even through the new integrated Google+ comments system.
YouTube has a variety of sharing options on its video page, one of which is an embed link.  Copy that link into your html webpage to make it work; or if you're using WordPress, it gives you a YouTube link option directly in the text section.
Uploading videos to YouTube is pretty straightforward and it may be time-consuming, so make sure you do it where you have a good internet connection.
Skype is video calling; but if you're going to do a group call, it costs you a yearly premium membership.  Now granted, it's not expensive, and then you can call phones as well as computers, but it still is kind of clunky when multiple users are involved, so it's best used in a one-on-one instructional format.  On the other hand, its file transfer system is bar-none, so you can also use it for that.  Make sure all your students get an account in that case and make sure you have a good internet connection or you'll lose the call (and you might anyway because it's clunky.)
Here's a video tutorial for Skype designed for a volunteer organization.
Spreecast is a video platform that broadcasts live from your webcam.  Viewers can interact via text discussion format and ask questions.  It's like giving an in-person lecture and it's great for that reason.  They allow you to have multiple producers and broadcasts and split the camera between them.  You can link pictures, YouTube videos, music from Bandcamp and a variety of other tools right within the cast to demonstrate what you are talking about.  You can also set it to a pay-per-view setting, which unfortunately makes it a private video and therefore, it is not listed and you have to spread the link around yourself.  On the other hand, you can make a little money and it's a fifty-fifty split for you and Spreecast.  You can also embed a previous Spreecast directly into your blog just like with YouTube; the links will appear at the end of the Spreecast or if you click on it later to edit it.  You can also make just small clips if you want to share part of the information.
There are a couple of drawbacks.  The first is that it's not as well-known as it should be so getting people to create an account is kind of like pulling teeth.  The second is that it seems to be limited to strictly using your webcam, so you can't have quality, previously made videos like with YouTube.  On the other hand, why not use both?  Again, make sure you have a good internet connection, and note that you may have to fiddle around with your settings or reboot your computer to get it to work properly.
Their Getting Started page is pretty useful so I'll leave you with that link, and this is a page of how-to videos which are pretty handy.
I just discovered Google+ Hangouts and I like it!  It has a lot of the same features as Spreecast but is in many ways more user-friendly.  It's integrated with Google+ so again, you get the social media advantage, and it operates automatically from your webcam and has either the option of direct video participation or internet chat function.  Pros: it automatically switches full screen between broadcasters depending on whom is making noise; it is very user-friendly; it uploads immediately to YouTube if you're the broadcaster and you tell it to; you can embed it once it has done that.  Cons: it automatically switches full screen between broadcasters depending on who is making noise; it takes some work to figure out; it doesn't integrate outside links (like the videos from YouTube or the music links); you can't charge for it; it doesn't allow you to make clips.  It's either public or private depending on what you set at the start, and only the original broadcaster can see the internet chat questions, rather than a public discussion in chat like with Spreecast.  Once again, make sure that your internet connection is good and your camera is working.
Social Media
I don't think it really matters what social media platform you use, other than personal preference, because the purpose is to drive traffic to your site and encourage discussion and community.  Facebook, Twitter and if you're going for a professional audience, LinkedIn are your best bets; Google+ is very social and Pinterest very visual.  WordPress allows automatic publishing to all of the above except Pintrest, and that's easy enough to share if you include that option when you configure your Sharing settings from your Dashboard.  I can't speak to the other blog platforms because I don't use them, but I assume Blogger, being a Google product, is also integrated with all things Google.
I hope this helps to get you started on your journey of internet teaching!  Good luck and blessed be!
Next column:  A Call from the Old Ones: the Mentoring Tradition in the Craft
---
Seekers and Guides is published on alternate Mondays. Follow it via RSS or e-mail!