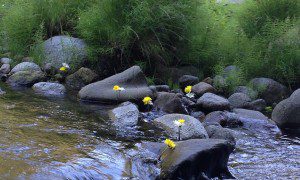 On Saturday, we did a ritual of celebration and gratitude for Spring.  We went down to the San Lorenzo River where it flows behind our house, shallow enough through our part of it.  Supplies of clay and coconut nectar were set up on a little rock outcropping.  We brought offerings of flowers and blue cornmeal and oats and cranberries.   Some of us tried to figure out how to make paper boats (pro tip:  most paper will float a little ways, no matter how it's folded!)  We covered our hands in clay and painted on the rocks.  We put wishes and thanks into the flowers and sent them twirling and dancing on the water.  We made a modern art mandala with the cornmeal and oats and berries.  A tiny poppet was crafted, and a tiny raft of found sticks, all tied with hand-spun yarn.   We milled around making things and laughing and singing and praying together.
One of our party wandered away up the river to sit by himself at the edge of the cold water.  He immersed himself in the flow and let it wash over him. We could see him there alone as we all fooled around in the warmth of the day.  When he came back, he was chilled to the bone.  When asked what he'd been doing, he said:  I thought that maybe the best gift I could give was to listen to the river.
That's what we might be doing when we choose to be away from others.
He didn't need to do what we were doing.  We didn't need to follow him upriver.  We were each there to give our thanks in our own best ways.  His best way required being away from our human voices and to have his attention focused on the need of the place, as he heard it.  He was separate from us, but very much connected to our mutual purpose of gratitude.
It is my belief that what we are here for is to be in service to our own Divine Will.  This leads us to the Ways that are most suited to us.   And being of service to our highest nature in this way isn't the same as what is usually considered "selfish" behavior.  It doesn't preclude being humble and compassionate and generous.  In Buddhist tradition, it is said that we sit for the benefit of all beings. It's a powerful idea:  we focus on our own spiritual health and by doing so, we improve the world.
Because many of us came up in difficult situations, it can be hard for us to prioritize knowing and being ourselves.  Our early lessons in life may have taught us hyper-vigilance, manipulation of power dynamics, and how to be really sneaky, but rarely were we taught how to balance the world's needs and our own.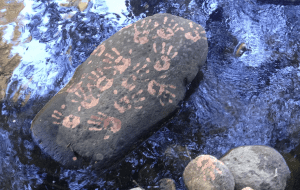 We may finally get each of our own ducks in a row, and that's still only part of the picture.  We affect and are affected by our work-mates, our animals, our food, our spirit- and blood-families, the trees and flowers, the river.  All these relationships include some form of give and take.  Is it more important for me today to have this talk with my coven or call my mom?  Do I go to make my offerings to the land or do I need to get those cages cleaned this morning?  Should I stay late at work again or do the writing for this ritual?  Can I just sleep in today?  It isn't always clear how we will take care of all of our responsibilities, or even what are ours and what aren't.
Do you remember having one kid on each end of the see-saw and trying to play so you both had fun?  (Remember see-saws?  A real world lesson in physics!)  Sometimes it would take a couple of kids to equal one other kid, or somebody would climb onto the board right at the fulcrum and push it up and down by moving their body from side to side.  And all the kids would have to agree on when to get off the thing, because the movement of one body affected all parties.   One person could make it really hard for the others to play safely.   But, there was also the option to just not get on the see-saw at all.  Certainly that was often the easiest choice.
We may choose not to play with others because we are resentful or fearful.  We may be enjoying a heaping helping of self-righteousness or judgment. We may be running an internal dialogue of how those see-sawers will regret this, or that they're being so selfish, or any of a number of other words that we use to mask our jealousy or our hurt.   We might stay away from playing for reasons that aren't helpful to us or others.
But there are other reasons why we might do things differently.  We may hear another need calling out to us.  Sometimes that looks like being way-away from the herd, or maybe just up the river a bit.  Just far enough to where we can do our own thing and still hear the singing of our kin.
---
The Dance of Pagan Recovery is published on alternate Tuesdays. Subscribe via RSS or e-mail!