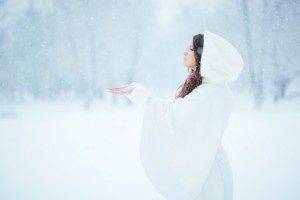 Winter has hit with vengeance this year, even down south where I now make my home. Although I spent the first quarter of a century of my life in Michigan, I rapidly adjusted to the southern idea of winter: a sprinkling of pretty snow once or twice, sunny days, and crisp air more suited to spring or fall than winter. However, the winters have gradually been shifting, and this year finds me in the second week of an almost shut-down city. The snow and ice just keep coming, and schools and stores have been closing in an effort to keep people home and safe.
I don't mind the enforced confinement the way I usually would; in fact, I've welcomed the time at home with my family, cocooned into our safe little nest with nowhere to go and very little to do. It's been cold, especially when the power went out the other day, but it's also been wildly liberating. For the first time in I don't know how long, I feel myself truly syncing up with the winter season, slowing down, conserving energy, and resting. Yes, I'm keeping my eye out for signs of spring, but I'm also quietly content to just snuggle in and be still.
My magic is always quieter in the winter, too, and this year is no exception. Other than a few quick candle spells, my altar is sitting, still and waiting, for me to return to a more regular practice. Instead of feeling guilty for my hiatus, I'm working to embrace the magical stillness in the same way that I've embraced the thick blanket of snow and ice outside the window. Times of enforced quiet can be powerful moments of healing and calm, and I don't want to rush this one. When the earth warms up again, I have no doubt that I'll once more resume my frantic pace, but for right now, I have discovered the powerful magic of stillness, and I will sit in this space as long as I am able.
Admittedly, the fact that the sun is still shining most days has made it a lot easier for me to embrace this chilly winter than the gloomy season I remember from my northern childhood!
What lessons have you found this winter?
---
The Busy Witch is published on alternate Tuesdays. Follow it via RSS or e-mail!
Photo courtesy of shutterstock: shutterstock.com