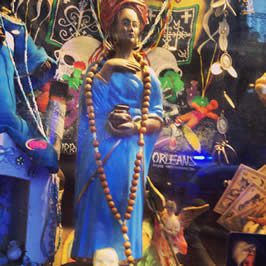 Tales of the magic of the Crescent City of New Orleans stretch back over centuries. It is an enigmatic place where Voodoo, Hoodoo, Witchcraft, and even Christianity blend at a crossroads of spiritual power.
I'm Outside the Circle, I'm not like the others.
People go right, I go left.
I'm forever a seeker and want to get at the root, learn more, delve.
There is Pantheacon, other Cons, many Fests. But there are two that have not been mentioned here and I would like to.
Folk Magic Festival
The first time I met Bloody Mary and worked with her was at the Folk Magic Festival.
The Folk Magic Festival is a truly empowering experience. The event is held in the magical city of New Orleans, where Witchcraft, Voodoo, Hoodoo, Conjure and Native spirituality have converged for centuries into a powerful blend of unique regional magic over 4 days in November.
The presenters weave their personal, unique practices and experience with each others, to present an open-ended approach to the participants exposure to these crafts. They have a shared philosophy of keeping the cultures of these crafts alive, not in an orthodox way, but rather to enliven the American cultural richness found within conjure, spirit work, root doctoring, and all the many forms it is known as.
The workshops are a mix of lecture and hands on experiences.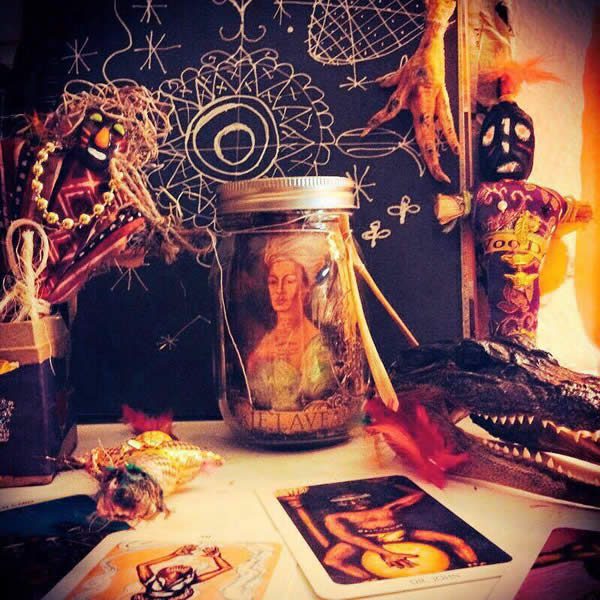 Hexfest
The second time I got to study under Bloody Mary was at Hexfest.
A weekend of Witchery held in the heart of the historic French Quarter. In sometimes June or August, the conference opens with a Riverboat Ritual and dinner, held on an authentic steamboat on the Mississippi River, followed by two full days of workshops, drumming, and ritual.
HexFest has gathered Witches, rootworkers, Voodoo priests and other magical teachers from within New Orleans and around the world to offer their time-honored wisdom.
NOLA, the perfect opportunity, Voodoo, Conjure, Hoodoo, Root Work.
It has a feel, to me, of leave your capes and swords at the door darlin, we're goin deep and primal and embarking on a whole different magical realm.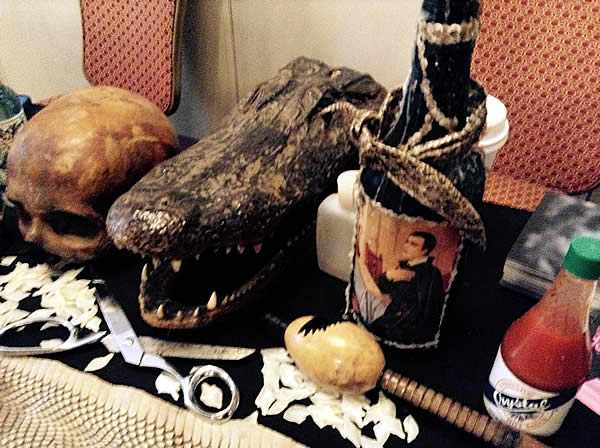 Images of potions, powders, bones. Mary has been my portal to the magical and mysterious voodoo side of New Orleans that most do not see. Teaching the difference between Cajun and Creole, and all about mojo, juju, gris gris, and the Voodoo of dances, drums and veves, bones, herbs and dust.
Bloody Mary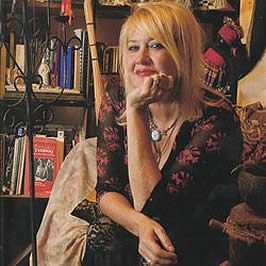 Born on the bayou and baptized as Mary Millan, Bloody Mary was raised in the Crescent City. Her family roots reach back to 1718 stemming from the Alsace-Lorraine region of France. She is a tenth generation Creole with deep Catholic roots.
She is known publicly as Voodoo Queen, celebrity historian, author, psychic medium, and owner/operator of the infamous Bloody Mary's Tours.
As a true mystic, she combines her abilities as a Shaman, Mambo and Psychic into all aspects of her life.
I too, love the paranormal.
As an aside, every trip I've ever taken, domestic, or international, I've taken a haunted tour of the place. To get to the under belly, the deaths, lore, stories, famous residents. Haunted tours have brought me in touch with the history of place.
Whether wandering cemeteries, Congo Square, learning about Marie Laveau, or Swamp Magic, building altars or enchanting us with stories like the banishing she was enlisted to do on the set of American Horror Story. Mary is a magical person 24/7.
Danette Wilson:  Between all the Tours you provide, writing your book, doing your videos and being available for clients…where do you find the time to do it all?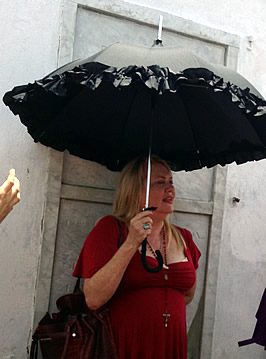 Bloody Mary: Ahh, it's a guarded ancient Voodoo secret: to bend time to my will and give me plenty of it to spare.
But other than that I have assistants to do tours with me and readings. I also have a whole ritual team. I'm a full-fledged business, but mainly a family run business. I have my husband and my son to help me out a lot and my co-priestess, cousin mambo Gina is a goddessend!
I'm also very, very picky about who I do work with for spells, rituals and psychic work. I barely allow two or three psychic healings a week. I devote a lot of my energy towards my client's works, I must be careful on not overbooking. I make time to balance my tours, plan parties and perform lots of weddings, some rituals, a couple of readings and a a few sacred tools every week. Lately I am doing more classes & workshops and lots of writing, and rewriting, blogs and social media.
Danette Wilson: You said "I was fortunate to have grown up in a mystical town that had elders willing to share their wisdom, but it was not at all like today where anyone can search for things at a click – you had to work for it!"  Mary, who was one elder that taught you the most about Voodoo and Spirits?
Bloody Mary: As in many avenues of life if you look for the one you will not find him but if you look for the many then you realize that they are all around you. As I grew up I learned my magic in mysterious ways: from strangers on a bus or by reverse engineering the spells found blocking the sidewalks and in graveyards and researching in libraries I also asked a hell of a lot of questions to strangers and family- strangely enough, in retrospect I find that I also learned a lot from the Catholic Church.
The number one true teacher was the spirit of place and her spirit allies who still speak loudly if you listen. I did actually apprentice with some very good people from many different paths: Voodoo Charley, Madame Cocoa, Priestess Margaret, a few Native American shamans, a high priestess of the old religion who I'm very grateful to (a witch from Atlanta and her swamp which mentor, who shall remain nameless by request) Papa Edgar, was my elder in Haitian voodoo along with his child , Sally Ann Glassman, from that same tradition. There were many coworkers, students and teachers all over the world.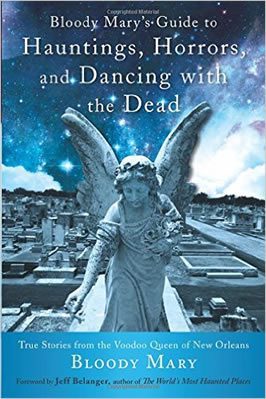 Danette Wilson: I really enjoyed your book Bloody Mary's Guide to Hauntings, Horrors, and Dancing with the Dead, it was a real window into your practice as Priestess as well as Spritual worker. Do you think you will do another book?
Bloody Mary: Yes. The original deal was for three books. Well, that's not entirely true. My original deal was my first book which was 666 pages (by accident). So we decided to divide it into three books. The idea is pending, and the books are waiting in the wings. Now if the other two books are going to be in the immediate future I won't know till end of year. One book I plan to be more about nature spirits: swamp monsters and Swamp magic. The other is New Orleans voodoo and Marie Laveau.
They are really already written but need to be re-shaped to be separate books. Rather than just the all-in-one that I had originally planned.
Danette Wilson: What inspired you to erect and incorporate your public altar?

Bloody Mary:  Well, it is part of the tradition that you have your own altars especially by priestess level.  I have so many altars on one hand, but I have an entire home temple for my voodoo family home tradition.
I let the public, in small groups into my House for readings, rituals or ghost hunts. My yard is a known sanctuary or Arbor church too. My life is an open book so are my altars.
Danette Wilson: You have said "The truth is that Voodoo is a religion, a philosophy and a way of life for many people in the world (even in Louisiana). There are as many varieties of Voodoo as there are of Christianity, and they are all right in their theory." Just how varied are the Voodoo's practiced in New Orleans?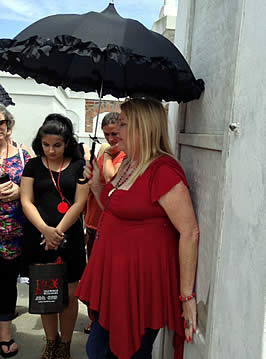 Bloody Mary: New Orleans Voodoo is extremely varied, but that is a loaded question for all religions are in New Orleans. I have a video chat planned for the near future to explain the difference between New Orleans Voodoo and Voodoo in New Orleans. I practice and teach New Orleans Voodoo primarily with a bit of Haitian Voodoo.
New Orleans has a lot of Santeria and it is a separate tradition but we honor them. Many initiate in both, I did not. Santeria came here heavily in 1960's with a Cuban immigration wave but there's also a bit of Candomble, Haitian Voodoo, Island style, Spiritualism hybrids, Spiritism and, lately, a sudden influx of Palo. Hoodoo was born here, known as Conjure and Root in other areas. Most of these transplanted African diaspora religions brought their traditions here with them or found a teacher to take them in to their house.
I practice the religion that emerged from here since my family is from here. No matter your tradition, mainstream or side stream, you should always honor the traditions of the place you live. This is not to say that you have to 'convert' to them but you do need to salute and honor them since you are living on its ground. Swamp magic is really the root here and I remember that and teach it. It is the forgotten base of New Orleans Voodoo to most people. Humans have a tendency to look outside themselves for answers – you know " the grass is always greener" but that is a double edged sword. We have to appreciate our roots! We will excel and connect deeper when we are in our base element. Marie Laveau knew that. All of the old ones knew. They saluted the ancestors and River Mamma,  Maman You, the waters above and below, and I still do. If you are going to really "get" New Orleans then Swamp magic is imperative.
---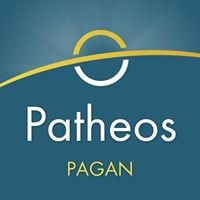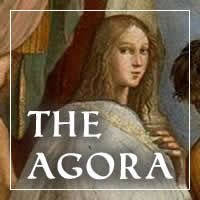 Outside the Circle is published twice monthly on Thursdays on Agora. Subscribe via RSS or e-mail!
Please use the links to the right to keep on top of activities here on the Agora as well as across the entire Patheos Pagan channel.