A few weeks ago I was fortunate enough to be part of a sacred sites tour of the Beara peninsula with Land, Sea, Sky Travel with a focus on connecting to the Tuatha Dé Danann. This was my second such trip with Land, Sea, Sky and in some ways it was very similar to the first while in others it was profoundly different.
For my part I was acting to help facilitate for the people on the tour as we journeyed from location to location, visiting sites with historic and spiritual significance and engaging in activities designed to help people experience the living story of the land and it's spirits. I also found myself learning how to balance my own spiritual needs and experiences with my desire to be respectful of the land I was visiting. The experiences I had led to a lot of contemplation and a lot of engagement with the land directly which ultimately, I hope, helped me to get a stronger sense of my place within my spiritual practice.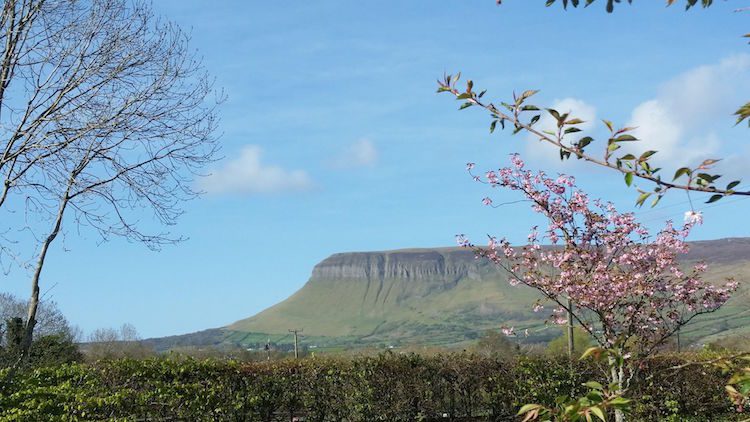 Connecting
My own journey began a few days prior to the official tour when a friend and I flew into Dublin and met up with a couple other people. We went to the Ardagh Heritage Centre and got to meet the wonderful women who run it and we visited Brí Leith [Ardagh Mountain] and I had some time to connect to the aos sidhe who inhabit the site. We stayed in Sligo, in the shadow of Binn Ghulbain [Benbulbin]. We visited W.B. Yeats grave site, an experience that was no less moving for me knowing he may not actually be buried there – Yeats 'Celtic Twilight' is a book that has been precious to me since I was a young teenager. We also visited the Rathcroghan Visitor Centre in Tulsk and were able to spend some time with a friend who was also in the area. It was a good way to begin any trip.
After the few days of personal time the tour itself began in Baile na Sionnainne [Shannon] as the people going on the tour gathered and we set out together. This particular tour focused on the Beara peninsula and as with all of Land Sea Sky Travel's trips included locations both well known and more obscure. Because the purpose of the journey was to connect to a variety of deities rather than a single one we included a variety of activities and places that could potentially help foster those connections. As with the first tour I did which focused on the Morrigan much of my focus on this trip was working to facilitate for others. This time was different and in a way more challenging with that because the tour didn't revolve around one specific divinity. We were also primarily in the Gaeltacht during this trip which was impactful in a different way.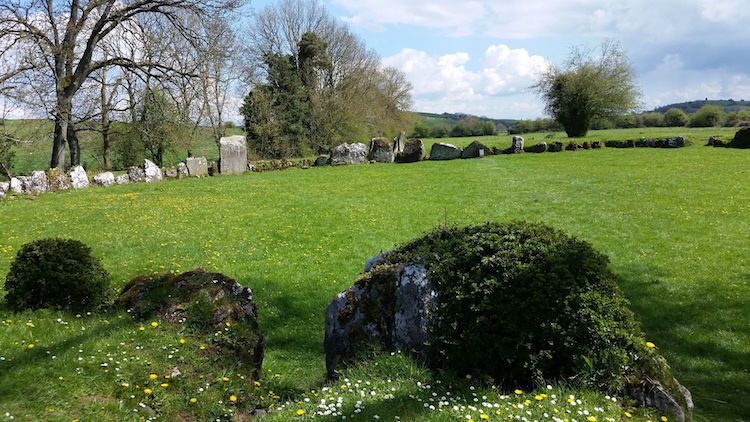 Working In Well Known Places
Of course we went to sites that would be expected on this sort of tour, like visiting the Cailleach Beara's stone to facilitate connecting to the Cailleach. We visited Oilean Baoi* [Dursey Island], the last place in Europe where the sun sets, to connect to Donn. To connect to Aine we went to Loch Guir [Lough Gour]. In a more general way to gain a sense of the Gods and spirits we went to several well known sites like Ciorcal Liag na Grainsi [Grange Stone circle] and Pol na Brón [Poulnabrone] and we worked in locations including Caiseal Chaoilte and Gougán Barra [Gougane Barra]. On our Gougán Barra day we were lucky enough to have Lora O'Brien as our guide, facilitating for us, and her talk about the peist in the lake and the layers of pagan and Christian belief are things I am still contemplating.
Going to places that are more 'touristy' so to speak presents a challenge for those seeking to do spiritual work, as all of these places were naturally full of other tourists as well. I found that it became a theme as we went along to learn to accept the various challenges coming our way – including noisy tourists – and to realize that part of the lessons of this tour were that it was the journey not the destination that helped us understand what connection really was and that with Ireland you work for anything worth having.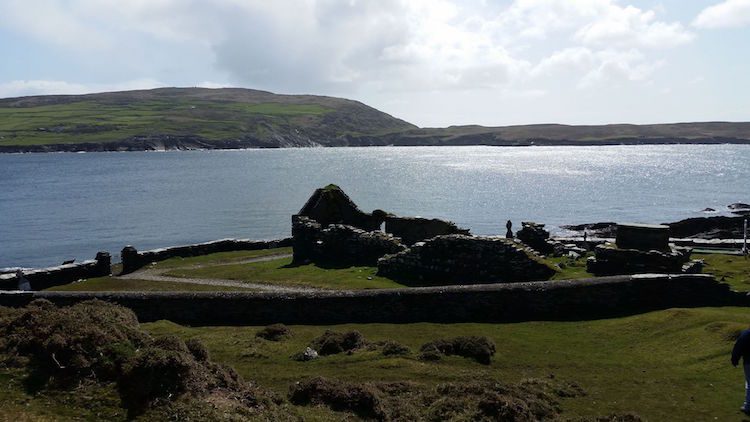 Working in the Margins
We also did things that people might not have expected but that were profoundly impactful in their own ways. I tend to think of this as working in the margins, that is doing spiritual work at the edges of mundane spaces and activities. We went to the Burren Bird of Prey Centre and were able to see the birds there and learn about birds of prey in Ireland, as well as corvids.
We visited the Derreen Garden and not only experienced the wonderful hospitality there but also were able to walk the grounds which are quite amazing. We went on a whale watching day which was truly an amazing experience, and not only did we see whales but I at least felt like I came to understand Manannan much better in our hours out on the waves. We were also able to spend time around the town we were staying in, Gleann Garbh [Glengarriff] over the course of the week we were there, which was an experience in itself. That town has a lot to offer and I personally got a lot – spiritually speaking – out of my time there wandering woods and shoreline.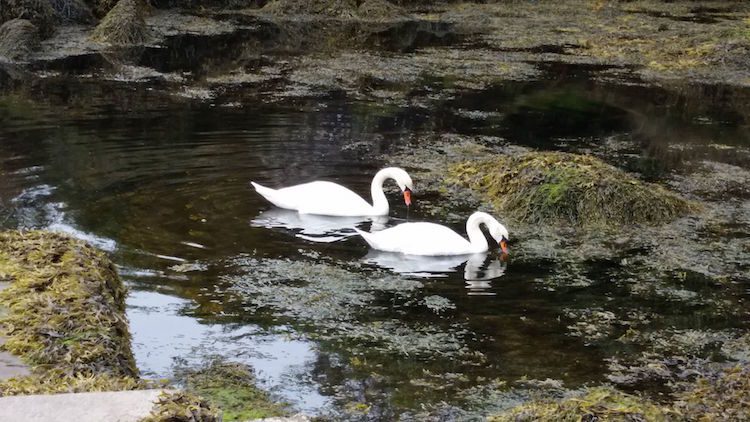 Priestessing for the Daoine Sidhe
Aside from the work of the tour itself I found that I had personal work to do in my role as a priestess of the daoine sidhe and that was also challenging. I am always keenly aware when I am away from home that I am a guest and need to behave as such, yet I found myself in situations were I was forced to balance the need to be respectful of other people's places and my own spiritual imperatives. This manifested in one way by a compulsion to care for the fairy thorns I kept finding, many of which were being damaged by inappropriate rag tree practices. I removed – yes, removed – everything from nylon straps to boot laces that had been tied to these trees and were killing the branches.
I found myself in the position of aiding a good friend while I was there with an ongoing issue relating to the Otherworld; fasting and doing some serious magical work in-between the daily facilitation of the tour itself. I brought someone down to the sea's edge and initiated them as a priestess of their goddess in the shadows of twilight, under the watchful gaze of a wild owl. I worked to listen to where the spirits were speaking to me and where they weren't and to really listen to what they were saying.
There were also aspects of the trip that hit me on a more personal level. Several times I was in places where Themselves were very present for me, with an overwhelming urge to just stay or perhaps more accurately to go. To lay down there and let the earth and water take me. I heard their music on the wind and waves. I heard their voices speaking to me of welcome and home and rest. It's dangerous to hear that music, to hear their voices, because you come to want an Saol Eile more than anything in this world. They invite you in and you want to answer even though you know you shouldn't. I also struggled to balance a personal geis* relating to my priestessing with the needs of the tour and it's participants; the bright side of that though was that I gained a deeper understanding of my own particular prohibition and that will serve me well going forward.
This was the first time I have been back to Ireland since my profound experience there in 2016, indeed since I became a priestess of the Othercrowd and my entire spiritual life took a sharp left-hand turn. I went into this second pilgrimage perhaps expecting more profound things, and that didn't happen – this time wasn't about huge shifts and initiations. This trip was about work for Them and dedication to Them.
Work, Sea, and Salt
My first trip to Ireland I joked that I buttered my way across the island, and it was as much truth as humour. That visit was about offerings. It was about finding where my spirit belonged and giving myself over to what that meant. This trip had it's butter as well, but when I left I found my bag was full of salt and that was indicative. This trip wasn't about connection for me – I already have that now – it was about working, and being reminded that I do indeed have work to do.
The sea feeds my soul and calls to me, but the salt in my hand reminds me that I am not done serving Them here yet.
*I'm choosing here, as I prefer to do generally, to use the Irish place names. I will however offer the anglicized names in parentheses.
*for more on geasa in general you can read my blog here. The short version is they aren't something I encourage people to run out and look for but they do sometimes happen.