Some of you may have read Brianne Raven Wolf's powerful blog post about TERFs and Transphobia in the Pagan Community. Toward the end of the piece, she writes: "I was really happy when a transwoman went through the Croning Rite of Passage at this year's PSG. The first one that I'm aware of, ever."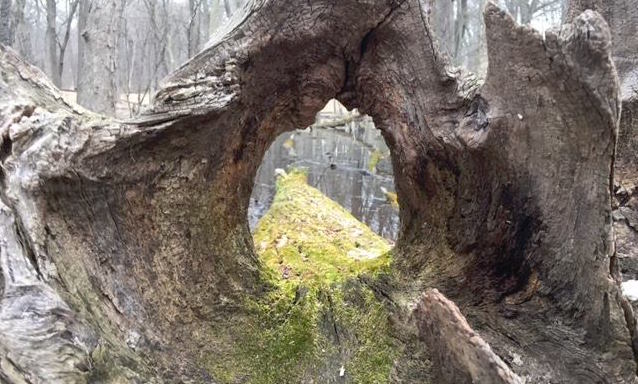 As it happens, Elaine Coffey, the woman Brianne refers to, is a friend of mine and a sister-member of our Kindred, which she is co-leading while I am on a short sabbatical. She and I were first-timers as this year's PSG, having been encouraged by our friend Andrea's positive review from her own first attendance the previous summer.
As soon as the information was available, we each pored over all of the workshops and rituals. At 60, I was drawn to the Crone Rite of Passage and Ritual and made sure to contact the Leader (Ana) well before the week of PSG to ensure I would have a spot in the Crone Temple. Elaine wondered if she, as a transwoman, might be welcomed into the Temple. I told her I didn't see any reason why she wouldn't be and put her in touch with Ana.
After reading Brianne's article, I thought I'd ask Elaine a few brief questions about her experience of the Croning Rite of Passage and Ritual. She graciously agreed to share her thoughts.
CC: What were your thoughts/feelings as you considered approaching Ana about participating in the Crone Class?
Elaine: As soon as I heard there was going to be a Crone Rite of Passage, I knew I wanted to participate. I had decided some time before that I am a Crone. My criteria for that was that I'm of retirement age and my child is grown. The fact that I am now a grandmother adds to that feeling that I am in the crone stage of life.
I had some qualms however, based on my being a trans woman. I was new to PSG and, although I had been told that it's a very accepting event and I've found pagans to be very accepting of gender minorities in general, I didn't know how accepting they'd be from first-hand experience. Also, I wasn't sure how much emphasis there would be in the Rite upon having given birth or having menstruated in the past. Of course, both of those circumstances have been physically impossible for me. I was afraid that the crone class might accept me as a matter of general principle, but I might not quite fit in.
CC: During the week, did your thoughts/feelings evolve/change?
Elaine: I quickly realized that I was completely accepted as a woman, both by the people participating in the Crone Ritual, and by PSG in general.
To be eligible for the Crone Ritual, one must be a woman who has not menstruated for at least two years. My womanhood was accepted without question, and of course I had never menstruated.
I also felt completely accepted as a woman by the participants in PSG in general. For example, when the Woman's Ritual was mentioned at the morning meeting, the woman making the announcement was considerate enough to say that it was for women, meaning anyone who identifies as such. That instantly relieved any fears I had that my presence at that ritual would be resented. And of course, I did feel completely accepted.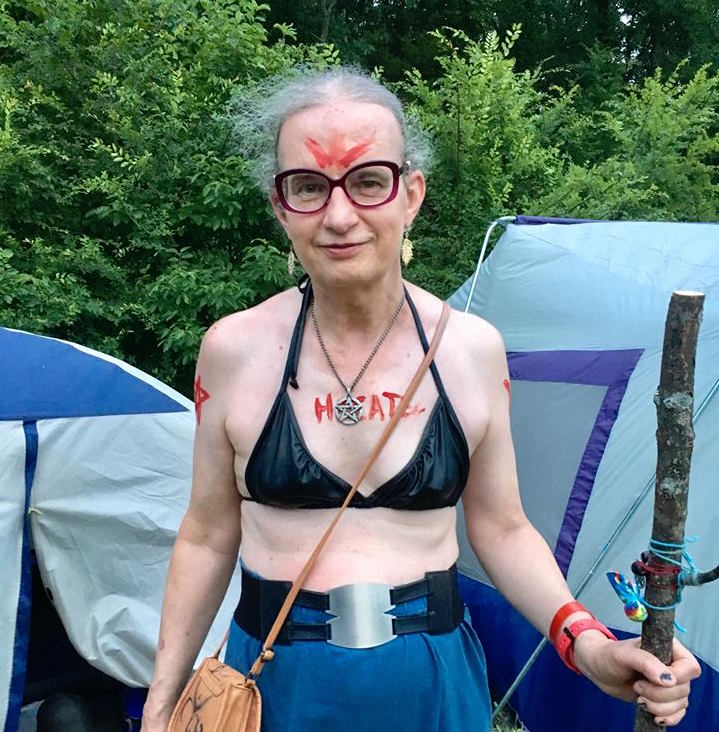 CC: What was your experience of the Croning Ritual at the end of the week?
Elaine: The Crone Rite of Passage as a whole was a wonderful experience for me. I feel empowered to move through this final stage of this life with confidence that I have a role to play. I will carry my crone staff with pride!
I also feel that the women who went through the ritual with me have become friends for life. They're my "cronies". (Sorry! You know I can't resist a good pun!)
The Ritual at the end of the Rite was very moving for me. I feel it was an absolutely essential element of the whole Rite. I got to sit in front of the community and be identified as a Crone. It was an honor I'll never forget.
————
The Leader of our Rite of Passage, Ana, offers these wise and affirming words:
Women who embrace the power of the Crone have come to this stage of life full of goals, challenges, and experiences that have formed and shaped who and what we are as human beings and Spiritual beings. If physical boundaries and limitations decided who and what we are there would be few who could jump the broom as age takes away strength and agility. We know what is important is inside – our hearts, knowledge, and Spirit. Physicality just comes along to hold our hearts inside our bodies. LOL. To be a Crone is to know what is truly important in this life
I have to say that going through the Crone Rite of Passage and Ritual with Elaine was such a blessing. As campmates, we were able to share some of the thoughts we had in response to some of the work we did in the Temple. It's my firm belief that all of us who participated in the Rite of Passage were enriched by Elaine's experiences and perspectives.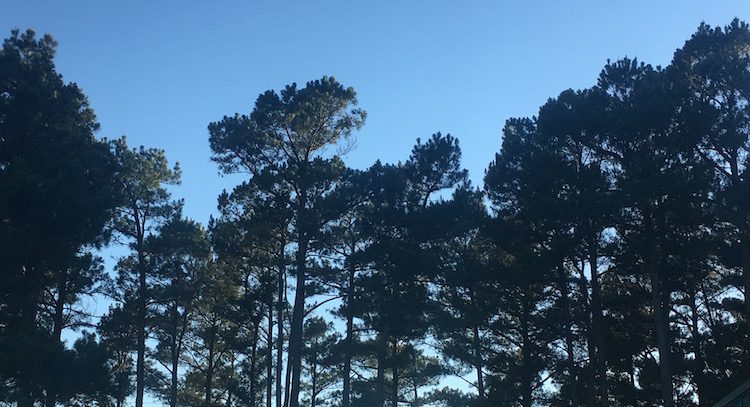 More than a few people, myself included, grew teary-eyed as Elaine stepped over the broom and spoke the name by which she would be known as Crone. I watched as Selena, with the bone-deep generosity and joy that is so unique to her, honored Elaine's passage into the Crone stage of her life. It was a powerful, magical moment.
e e cummings wrote, "It takes courage to grow up and become who you really are." To that I would add that it was an honor and a privilege to spend a week in Crone Temple with Elaine and watch her become who she really is in the company of a people—not only in the Temple but in the wider PSG community—who had never met or known her yet welcomed and loved her just as she is.
Blessings of Harvest be upon you,
Elkwoman