Indigenous Peoples' Day is a holiday contested by many, but it is one that should be recognized and respected by all. The reality of the human condition is that bad things happen, and while we shouldn't ignore the dark periods in human history, we sure as hell shouldn't celebrate them.
There is a huge difference between having a realistic and intellectual discussion about Christopher Columbus in a classroom setting and heroizing him with an annual holiday celebrated by hundreds of millions of people.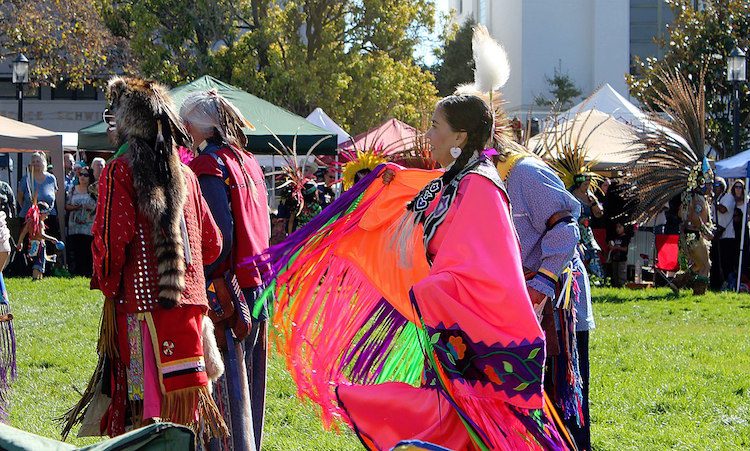 History is written by the victor, and this unfortunately often distracts from the truth. An article by Dylan Matthews at Vox shines a harsh light on this truth by outlining 9 atrocities committed by Columbus. This list includes enslavement, beheading, and allowing the selling of children into sex slavery.
It is almost inconceivable that hundreds of millions of U.S. citizens are blatantly okay with or either unaware of a holiday celebrating a mass murderer. No one who has incited, perpetuated or advocated for genocide deserves their own holiday and the narrative of Columbus being an innocent explorer has allowed for the continued celebration of his deeply problematic accomplishments.
Beyond this faux history, many modern U.S. spiritualists are quick to appropriate elements from Native American culture without even acknowledging and respecting actual Native people.
It's time for a change in U.S. perspective; it's time to dissect the whitewashed and oversimplified narratives of history we have been told and to replace them with accurate information and reparations for historically marginalized communities.
This is exactly why many people are advocating for replacing Columbus Day with Indigenous People's Day, a holiday that celebrates people actually worthy of recognition and respect. The idea to replace Columbus Day with Indigenous Peoples' Day came about in a 1997 U.N.-sponsored conference on discrimination against indigenous people in the Americas, according to the Unitarian Universalist Association.
A Time article by Jennifer Calfas explains that while the United Nations named August 9 International Day of the World's Indigenous Peoples in 1994, dozens of other cities celebrate the holiday on the corresponding day of Columbus Day in place of Columbus Day. The article includes a list of cities and universities that celebrated the holiday as of Oct. 9, 2017.
Canada's Indigenous Peoples' Day was on June 21,
and Huffington Post put together a video
that showcases some of the colorful celebrations that took place.
The U.S. festivals, however, are just now taking off.
The Native American Community Development Institute is holding an Indigenous Peoples' Day Festival in the American Indian Cultural Corridor in Minneapolis, Minnesota on October 6 & 7. Santa Fe will hold its Indigenous Peoples' Day Celebration at the Sante Fe Plaza on October 8. Los Angles' celebration will be at the Civic Center on Monday, October 8.
Those who don't live in a city that officially recognizes the holiday and those that like to stay at home shouldn't be discouraged from celebrating!
Native Americans Yonasda Lonewolf and Nicky Eagle Eye Banks discussed Indigenous Peoples' Day and Indigenous struggles on The Breakfast Club, a popular radio talk show featuring Charlamagne Tha God.
Lonewolf discussed the importance of respecting Native American and Indigenous cultures by pointing out the disrespect Native people often have to face, like when people reduce Native Americans to a stereotype by appropriating popular elements of native cultures. She said she believes that if someone is going to claim Native American heritage, then they should learn about the specific culture that is in their bloodline.
Lonewolf also touched on the Indigenous struggle to fight pipelines and environmental destruction, which led Banks to bring up the importance of divesting in financial institutions that support companies who construct oil pipelines.
On the issue of Indigenous Peoples' Day, Lonewolf acknowledged the importance of highlighting the diversity of native cultures and the fact that those cultures are still alive and strong.
"We're talking about the entire Caribbean, South America, North America, and those that are coming from other continents," Lonewolf said. "We're celebrating the original people of the world."
When asked how people can celebrate Indigenous Peoples' Day, Lonewolf encouraged people to organize their local communities and push for recognition of the holiday at city council meetings and to learn about native cultures.
The Unitarian Universalist Association provides a list of 10 ways to honor Indigenous Peoples' Day. Some suggestions include crafting a special service that includes and focuses on the experiences of native people, learning the native history of the land you worship on, reaching out to form relationships with nearby Indigenous groups, holding movie and book discussions, and acting to rename Columbus Day "Indigenous Peoples' Day."