The backspace, the powerpoint slides, and my terrible habit of wrongful use of punctuation marks (I love using the semicolon!); all have been done in preparation for a forty five minute lecture that took place over the weekend as part of an interfaith conference. The conference that I chose as my first-ever public speaking forum for interfaith dialogue was the Parliament of World's Religion (hereinafter referred to simply as "Parliament"). This interfaith conference draws hundreds of people each time it convenes, and this year the organizers expected over three-hundred speakers over the course of a four days!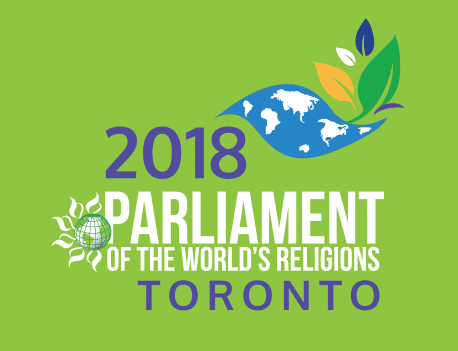 The first parliament convened on September 11th, 1893 in Chicago and since then and including its debut there have only been six Parliaments that convened; each one had an overarching theme centered around interfaith or global ideals. This year's Parliament was the 7th conference and was hosted in Toronto, Canada and its theme was: "The Promise of Inclusion, the Power of Love: Pursuing Global Understanding, Reconciliation, and Change".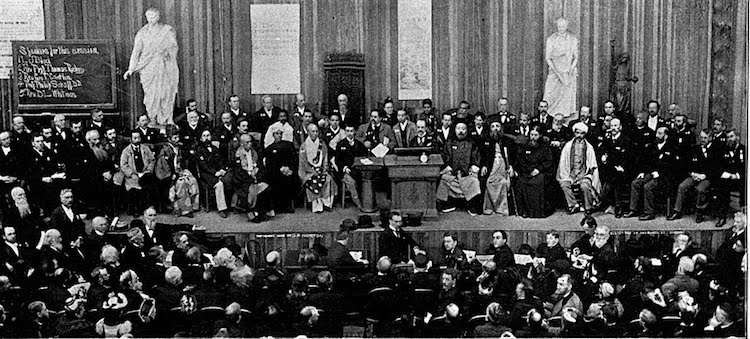 My attendance in this year's Parliament was owed to my work with Heathens Against Hate, an independent branch of the Troth and advocacy group for inclusive Heathenry. Along for the ride are my fellow HAH administrators as well as guest panelists, and boy what a ride it was – starting off with a drive from New Jersey to Toronto, 8 hours in total! We stayed in the Strathcona Hotel, which in pun-loving Heathen fashion we called the "Seidhkona" (a Heathen sorceress who practices the art of Seidh, also a by-name of Freyja).
This conference was immense! The joke on everyone's lips was that there were six things to do in any given time and that one had to choose a singular one to attend. With hundreds of booths and hundreds more workshops, sessions, concerts, and plenaries all coinciding with one another; there was no way I was to see everything. So I decided to relinquish any sense of control and just wander and see where I would be taken and to whom I would speak to. The important thing was that I had to leave the booth and speak with other people or at least speak with those who do stop at the booth. After all, this was the reason why people go to interfaith functions. I have had the pleasure of speaking with wonderful and interesting people from a myriad of religions and spiritual backgrounds from Sheikh Ghassan Manasra, international director of the Abrahamic Reunion, to notable neo-Pagan author Oberon Zell-Ravenheart.
We were a part of a larger Heathen delegation under the banner of the "Alliance for Inclusive Heathenry". Our booth (#411) was beautifully decorated with interchangeable banners for the deities of the day, and as expected from Heathen tables, every surface was laden with books upon books upon books with enough room for ritual items and effigies.
The greater Heathen delegation consisted not only of myself and Heathens Against Hate, but also boasted those who have dedicated much of their lives toward the advancement of Heathenry such as insightful and prolific author Diana Paxson, whose books on the Heathen faith will always be found in any practitioner's library; and John Mainer, an intense storyteller and army veteran to whom much is owed if you are a Heathen in the military.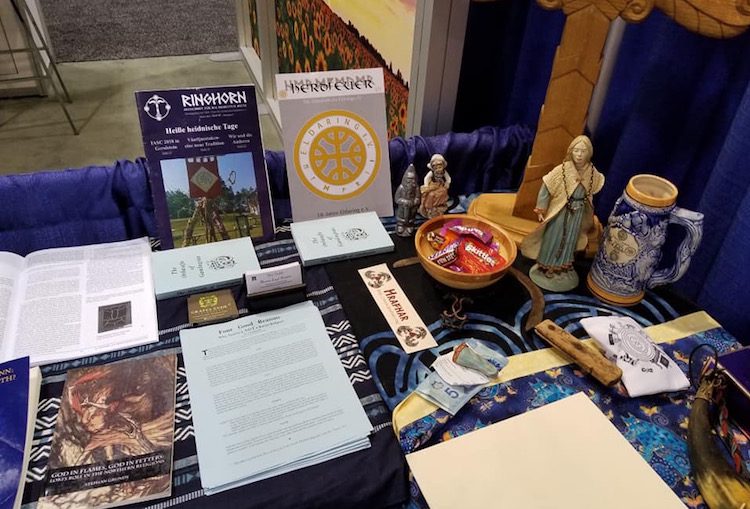 In addition to experiencing the myriad of cultural and religious activities happening all around Parliament, both myself and the rest of the Heathen delegation were fortunate and honored to represent our own. On Saturday evening we hosted our Ancestor sumble in one of the Faith Spaces provided by Parliament. Led by Diana Paxson, this room was packed to the gills by what seemed to be nearly the entire pagan attendance of that day including those of other faith backgrounds.
The space was consecrated by Robert Schreiwer, the steer of the Troth, and Ziewer (Godman) of Distelfink Sippschaft in the Urglaawe tradition of Heathenry. Two horns were then blessed to which I had the honor of blessing one of them, and the other was blessed by Lisa Morgenstern of Hrafn Skjoldr Kindred. Each person in attendance called on one or several of their ancestors in turn, and after each call a resounding "HAIL!" boomed the room. My nerves for the following day quelled a bit when I focused on the ancestors I had called; hoping that they would lend me some degree of courage for tomorrow's big day.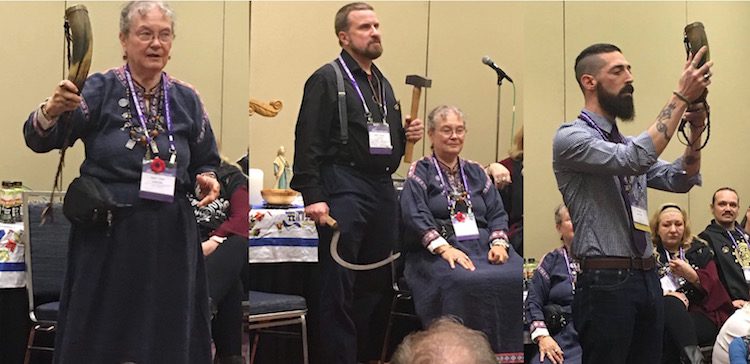 The big day now approached – Sunday, November 4th. I was scheduled to present our Heathens Against Hate panel at 3:15pm. Our session was titled: "Striving to Save a Religious Identity from Extremists" where in forty five minutes I was to discuss what Heathenry was, our symbols, the rise of folkish and extremist elements within it, and how we are fighting back by reclaiming our symbols and faith from appropriation. Joining me were some exceptional people, including Robert Schreiwer, steer of the Troth; co-manager of HAH and my good friend Eric Thorpe-Moscon; and Brian Weis, an interfaith Heathen minister and administrator for the School of Sacred Ministries.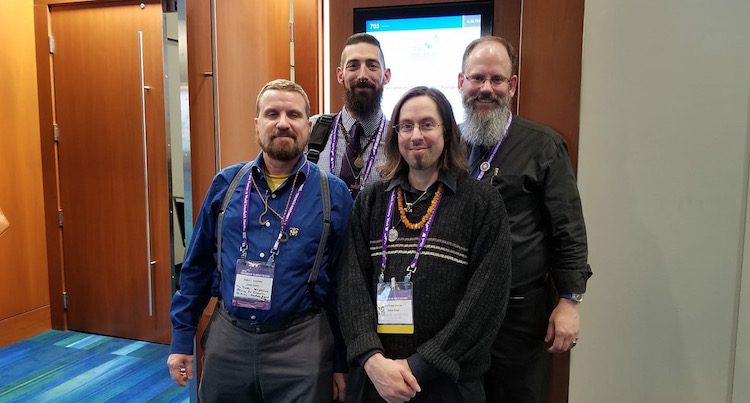 My nerves rose once again, my big dumbo ears felt hot and I know were red. I was blushing from doubt and uncertainty. I have not even begun to speak, it only stemmed from watching the room fill up. My nervousness was not merely to speak in front of those whom I did not know, but those whom I knew were far more knowledgeable than myself. As I began to speak and go through my presentation, not all was as I had rehearsed in my head; though I did manage to get some hearty laughs (a ridiculous slide of myself purposefully inserted for that).
After the final slide and a brief summation the panel was then open for questions and the pressure officially of myself. The panel had done a terrific job answering questions, and after all was said and done I was glad all the weight had been alleviated. But after months of work now complete, I was not quite sure what to do with myself.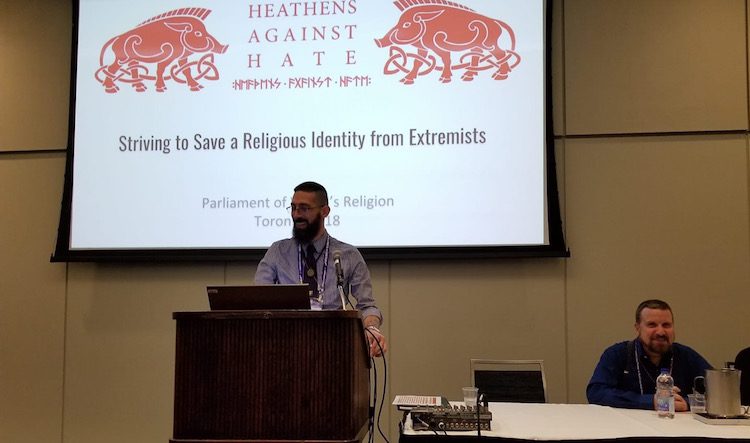 So to close out my time in Parliament and destress, I headed to a Sutartines workshop lead the by the foremost authority on Romuva, Inija Trinkūnienė; who taught all in attendance the art of the ancient Baltic form of polyphonic singing. At first it was difficult to remember the tone and pronunciation of Lithuanian words and phonemes. "Rimo, Rimo, Tūto…Sutarjiela", Inija explained to the attendees that the final word is similar in root to that of "Sutartines" meaning "Harmony", and this rang true (figuratively and literally) as we danced in expanding circles. Chanting away, I began setting into a trance-like state; not even sure whether or not I was singing the proper words or whether or not it was properly rhythmic. This rather communal euphoria was something that my kinsman had imparted to me once, and a feeling I gave into wholly as the 72 hours of cultural exchange and learning melded into a melodic culmination.
Leaving Parliament exhausted from the immersive cultural experience, we drove back down (another 8-hour drive). As we drove down past the border I reflected on the nature of religion, and on how different many of us are; even within our own faith. Hours went by and outside the car window were the darkening mountains and folklore-filled forests of rural Pennsylvania, which shifted my mind to contemplate the size of the terrain in relation to that human being peering from a moving vehicle. We are all dwarfed by things that matter beyond our own selves. Accepting this as an equalizer could potentially lead us together toward common ground as a species. The desire to live a full and harmonious life. This got stuck in my head like the rhythm of an unknown and ancient song: "Rimo, Rimo, Tūto…Sutarjiela".