This review really can be distilled into three words:
GET THIS BOOK!
Three words do not a blog post make, however, so let me tell you a little bit about Thorn Mooney's The Witch's Path: Advancing Your Craft at Every Level without giving anything away—because you deserve to have the same sort of revelatory moments and aha! experiences I had when reading this terrific book.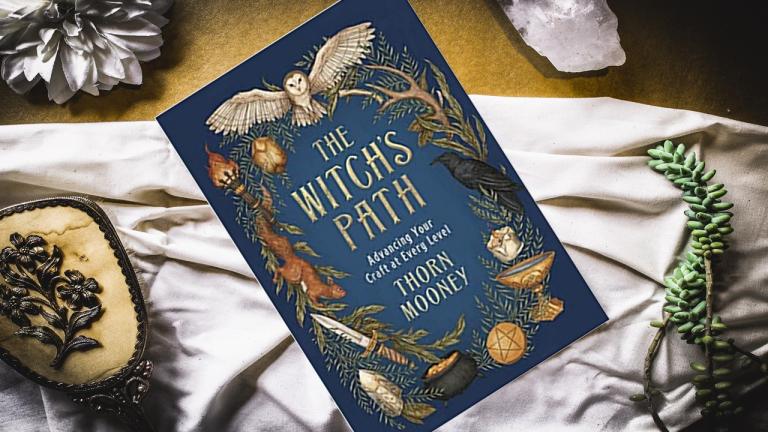 The first print run of The Witch's Path has already sold out prior to its initial publication, and with good reason. Thorn writes that this book is her "answer to the cries of 'Where are the advanced books?' and 'Where do I go next?' and also 'I'm overwhelmed or burned out…send help!'" And send help is exactly what she does.
I'll be brass-tacks honest with you: I usually skim the exercises presented in most witchcraft books and move right along to the next section of text. But these exercises, designed for four different types of readers, caught and held my attention because among them are ones that are specifically tuned not only to where I am in my individual path, but to my particular learning style as well. The exercises are most definitely not one-size-fits-all (or most) which in turn makes The Witch's Path evergreen, a book you'll return to for fresh insights and inspiration over the years as your witchcraft develops and expands.
Thorn has been intentional about providing "alternatives to visualization and lengthy periods spent in sitting meditation, to accommodate Witches with aphantasia, ADHD, and other cognitive needs [..]" (p. 5). This expanded approach results in activities that are widely accessible. As well, the final exercise in the book is quite simply brilliant.
While I'm busy stanning Thorn, let me also include how very much I appreciate her thoughts regarding mindfulness around cultural appropriation, including the appropriation of Jewish traditions by occultists. Also, as a still relatively new transplant to my current location, I found her tips for developing a devotional practice to the land (pp. 74-5) to be a deeply empowering exercise, one that I'm eager to dive into.
There's a well-known aphorism about teachers arriving when students are ready that I'm sure readers are familiar with. It catches my attention that The Witch's Path unexpectedly entered my life at a time when my own practice has been transitioning through something of a low ebb. I've been at this long enough to recognize that this is part of a cycle, but—as those of you who have also gone through the same thing can attest—feeling stuck in your practice is no fun. Thorn's book met me where I was and offered me several ways forward through my spiritual lacuna, and already I can feel that my practice is better for it. For this she has my profound thanks.
The Witch's Path: Advancing Your Craft at Every Level is available through Amazon, Barnes & Noble and Llewellyn Worldwide.
You can hear more of The Corner Crone during her Moments For Meditation on KPPR Pure Pagan Radio on TuneIn or on YouTube. Follow her on Twitter and on Instagram.