The Transgender Day of Remembrance (TDoR) is an annual observance on November 20th of every year that honors the memory of those whose lives were lost in acts of anti-transgender violence. To remember until we all get accepted for just being us, human beings.
The 20th of November each year is a very solemn reminder of that. I write about this every year, and participate in an observance every November 20th at Circle Sanctuary. This year, again, because of the pandemic, it will be online.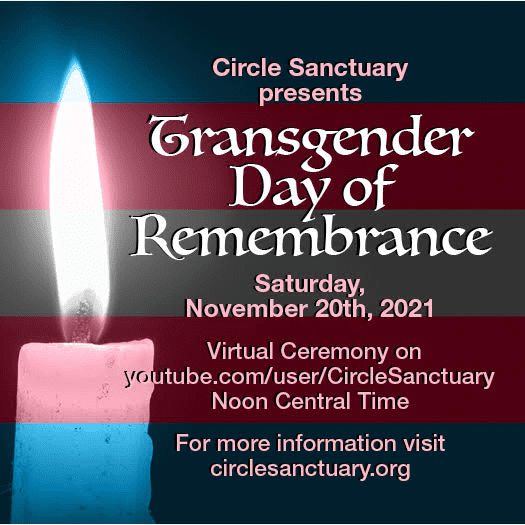 What is the Transgender Day of Remembrance? Quoted from Wikipedia:
"The Transgender Day of Remembrance (TDoR) was started in 1999 by transgender advocate Gwendolyn Ann Smith as a vigil to honor the memory of Rita Hester, a transgender woman who was killed in 1998. The vigil commemorates all the transgender people lost to violence since Rita Hester's death, and began an important tradition that has become the annual Transgender Day of Remembrance."
This year is the 23rd anniversary of TDoR.
"The Transgender Day of Remembrance seeks to highlight the losses we face due to anti-transgender bigotry and violence. I am no stranger to the need to fight for our rights, and the right to simply exist is first and foremost. With so many seeking to erase transgender people – sometimes in the most brutal ways possible, it is vitally important that those we lose are remembered, and that we continue to fight for justice." Transgender Day of Remembrance founder Gwendolyn Ann Smith
The data is collected from the first day of October to the last day of September each year. That way the data is accurate for the vigil on November 20th of each year. I want to publicly thank admins Mika Ellen Orzech, Anna-Jayne Metcalfe and Corrine Jutz for their work in the Facebook group Trans Violence News. I'd also like to mention Kelli Anne Busey of planettransgender.com, for her help in posting a lot of these deaths.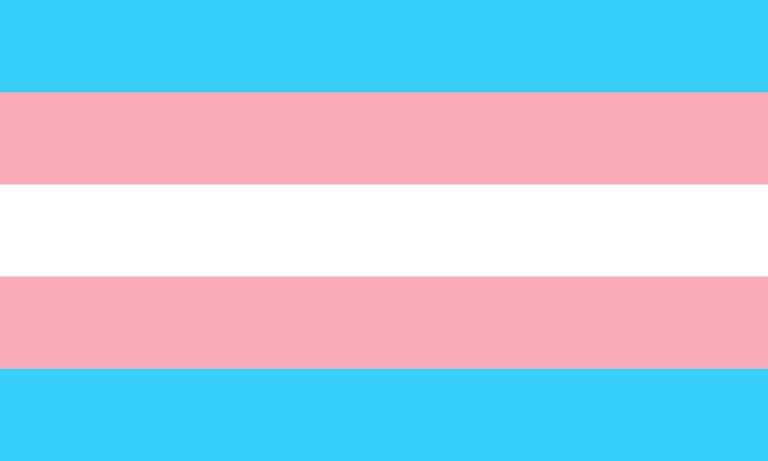 This reporting period there were 409 reported deaths of transgender people worldwide. Only the deaths that are reported are used. There are many, many more that go unreported each year.
Range October 1, 2020 – September 30, 2021
Data is from TransLivesMatter
Argentina: 17
Australia: 2
Azerbaijan: 1
Belgium: 1
Bolivia: 3
Brazil: 143
Canada: 1
Chile: 4
Columbia: 27
Costa Rica: 1
Ecuador: 7
El Salvador: 4
France: 7
Germany: 1
Greece: 1
Guatemala: 2
Haiti: 1
Honduras: 5
India: 10
Italy: 5
Japan: 1
Malawi: 1
Mexico: 59
Netherlands: 1
Nicaragua: 1
Pakistan: 8
Peru: 5
Philippines: 3
Portugal: 1
Russia: 2
South Korea: 1
Spain: 1
Turkey: 4
United Kingdom: 5
Uruguay: 1
United States: 69
Venezuela: 3
USA Deaths:
69

Felycya Harris 33, shot in Augusta, Georgia 3 Oct 2020

Brooklyn DeShauna Smith 20, shot in Shreveport, Louisiana 7 Oct 2020

Sara Blackwood 29, shot in Indianapolis, Indiana 11 Oct 2020

Angel Haynes ("Angel Unique") 25, shot in Whitehaven, Memphis, Tennessee 25 October 2020

Skylar Heath 20, shot in Liberty City, Miami, Florida 4 Nov 2020

Fendi Monezah Armstrong ("Peaches") 39, shot in Lithonia, Georgia 12 Nov 2020

Yunieski Carey Herrera ("Yuni") 34, stabbed in Miami, Florida 17 Nov 2020

Asia Jynae Foster 22, shot in Houston, Texas 20 Nov 2020

Kimberly Susan Fial 55, stabbed in San Jose, California 22 Nov 2020

Chae Meshia Simms ("ChaeChae") 30, shot in Richmond, Virginia 23 Nov 2020

Myliah Monae Mullen no age given, suicide in Baltimore, Maryland 20 Dec 2020

Courtney ("Eshay") Key 25, shot in Chicago, Illinois 25 Dec 2020

Alexandria Winchester 24, shot in the Bronx, New York 26 Dec 2020

Kimberly Patricia Cope ("Kim") 40, not reported in Athens, Georgia 27 Dec 2020

Bonaire Black ("Bonni") 18, not reported in Atlanta, Georgia. 31 Dec 2020

Tyianna "Davarea" Alexander 28, shot in Chicago, Illinois 6 Jan 2021

Samuel Edmund Damian Valentin no age given, shot in Trujillo, Puerto Rico 9 Jan 2021

Natasha Kieanna 37, not reported in Detroit, Michigan 12 Jan 2021

Bianca Bankz ("Muffin") no age given, murdered in Atlanta, Georgia 17 Jan 2021

Dominique Jackson 30, shot in Jackson, Mississippi 25 Jan 2021

Sandie Crisp ("Goddess Bunny") 61, COVID-19 in Los Angeles, California 27 Jan 2021

Fifty Bandz 21, shot in Baton Rouge, Louisiana 28 Jan 2021

Alexus Braxton (Kimmy Icon Braxton) age 45, murdered in Miami, Florida 4 Feb 2021

Alexander Blake VanDalsen 21, not reported in Lafayette, Indiana 9 Feb 2021

Chyna Carrillo 24, beaten and stabbed in New Wilmington, Pennsylvania 18 Feb 2021

Jeffrey Bright ("JJ") 16, shot in Ambridge, Pennsylvania 21 Feb 2021

Jasmine Bright ("Jazzy") 22, shot in Ambridge, Pennsylvania 21 Feb 2021

Jenna Franks 34, murdered in Jacksonville, North Carolina 24 Feb 2021

Kimberly Wirtz ("Tova") age unknown, died in custody in Baltimore, Maryland 26 Feb 2021

Diamond Kyree Sanders/Diamond Nicole 23, shot in Cincinnati, Ohio 3 Mar 2021

Rayanna Pardo 26, run over in Los Angeles, California 17 Mar 2021

Aidelen Evans 24, not reported in Port Arthur, Texas 18 Mar 2021

Piper Autumn Rivers (Tegan Toxik/Tegan Last) 35, suicide in Las Vegas, Nevada 22 Mar 2021

Kim Ramirez 20-25, not reported in New York, New York 28 Mar 2021

Krys Brandon Ruiz 26, shot in Lompoc, California 28 Mar 2021

Jaida Peterson 24, shot in Charlotte, North Carolina 4 Apr 2021

Dominique Lucious 26, shot in Springfield, Missouri 8 Apr 2021

Remy Fennell 28, Shot in Charlotte, North Carolina 15 Apr 2021

Tiara Banks 24, shot in Chicago, Illinois 21 Apr 2021

Natalia Smut Lopez 24, shot in San Jose, California 23 Apr 2021

Iris Santos 22, shot in Houston, Texas 23 Apr 2021

Tiffany Thomas 38, shot in Dallas, Texas 24 Apr 2021

Keri Washington ("Bobo") 49, murdered in Clearwater, Florida 1 May 2021

T. Hardin 35, shot in York, South Carolina 2 May 2021

Jahaira DeAlto Balenciaga 42, stabbed in Boston, Massachusetts 2 May 2021

Whispering Wind Bear Spirit 41, shot in York, Pennsylvania 3 May 2021

Sophie Vasquez 36, shot in Brookhaven, Georgia 4 May 2021

Danny Henson 31, shot in Baltimore, Maryland 4 May 2021

Serenity Hollis 24, shot in Albany, Georgia 8 May 2021

Danielle Boachie ("Dani")/Mistress Velvet 33, suicide in Chicago, Illinois 8 May 2021

Nona Moselle Conner 32, not reported in Washington, D.C. 13 May 2021

Giselle Hartzog/Giselle Hilton 30, not reported in Washington, D.C. 18 May 2021

Oliver Taylor ("Ollie") 17, shot in Gervais, Oregon 19 May 2021

Haven A Bailey 25, suicide in Villa Park, Illinois 24 May 2021

Poe Black/Oliver Jackson ("Legion", "Tommi") 21, stabbed in Slab City, California. 26 May 2021

KC Wilson no age given, murdered in Washington, D.C. 30 May 2021

Dee Dee Thomas 42, not reported in New York, New York 6 Jun 2021

Tierramarie Lewis 36, shot in Cleveland, Ohio 12 Jun 2021

Novaa Ru Watson (EJ Boykin) 23, shot in Lynchburg, Virginia 14 Jun 2021

Rubi Dominquez 29, run over in Arlington, Texas 16 Jul 2021

Taya Ashton 20, shot in Suitland, Maryland 17 Jul 2021

Shai Vanderpump 23, shot in Trenton, New Jersey 30 Jul 2021

CoCo Chanel Wortham 44, shot in Dallas, Texas 7 Aug 2021

Pooh Johnson ("Titanizer Mua") 25, shot in Shreveport, Louisiana 23 Aug 2021

Claire Monserrat Jackson 45, COVID-19 in Troy, Ohio 27 Aug 2021

Zoella Rose Martinez ("Zoey") 20, murdered in Seattle, Washington 1 Sept 2021

Disaya Monaee Smith 23, shot in Dolton, Illinois 6 Sep 2021

Brianna Ulmer/Brianna Hamilton 25, shot in Chicago, Illinois 17 Sept 2021

Kier Lapri Kartier 21, shot in Arlington, Texas 30 Sep 202
Transgender Day of Remembrance Ceremony
Join us on Saturday, November 20 at Noon Central Standard Time for a special online ceremony honoring Transgender Day of Remembrance. This bilingual (English & Spanish) ceremony will be facilitated by Rev. Selena Fox, Brianne Ravenwolf, and Rev. Laura Gonzalez and live-streamed to the Circle Sanctuary YouTube Channel.