The Witch's Guide to Wellness: Natural, Magical Ways to Treat, Heal, and Honor Your Body, Mind, and Spirit by wellness writer Krystle L. Jordan, who is certified in holistic nutrition, connects magick to healthy living. Her goals are to help the reader to understand their body's cycle and develop a positive relationship with their body and mind.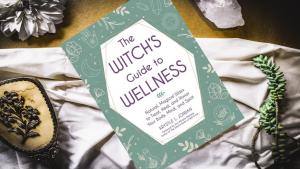 Jordan, who describes herself as a part-time forest fairy, is a survivor of breast cancer and has training in herbalism and body detoxification. She is the creator of The Wholesome Witch, a resource-rich website filled with information about the use of crystals and essential oils to boost health. The site also features several vegan recipes and seasonal spellcraft guides.
The Witch's Guide to Wellness contains over 130 recipes, rituals, and activities in support of magickal wellness, including movement rituals to strengthen the body, whole-food recipes such as a gut-repairing turmeric latte concoction, and herbal remedies to augment physical and emotional healing. If you are one of the many of us looking to prioritize our health after these last few years of a global pandemic, this book focusing on healing from within might be just the thing to get you started on your path toward holistic wellness.
Jordan's practice of over 20 years is deeply rooted in nature and natural cycles. She believes everything carries its own energy, including the foods we eat. After her experience with triple-positive, stage 2 breast cancer, her personal mission is to live into a new level of wellness. Her book leads readers toward a cleaner, greener lifestyle.
Should you wish to learn more about Krystle, check her out on social media. In addition to her Instagram page, you can find her on Facebook, Twitter, and Pinterest. The Witch's Guide to Wellness releases on March 8 and is currently available for pre-order via Amazon, Barnes & Noble, and other book retailers. If you pre-order through the author's website you can receive some digital goodies as a thank-you.