"May, with alle thy floures and thy grene, Welcome be thou, faire, fresshe May!"
-Chaucer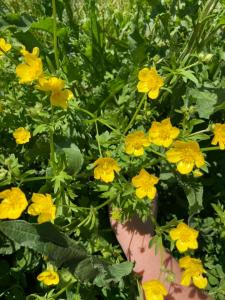 May in Green Ridge is spring pressed down, shaken together and running over. The fields are crowded with buttercups. Purple dame's rocket and wild asparagus shoot up on the sunny roadsides. Grass and weeds seem to grow inches overnight, as do the regal irises standing tall in the yard of every old house. The bugs are back: small green grasshoppers, mosquitos, and the misnamed June bugs. Toads keen loudly at night, and barred owls court in the darkness. The hummingbirds have arrived, buzzing and fighting greedily at the feeder.
The farmers and gardeners are busy planting. Breakfasts are early, suppers are late, lunch is in the tractor. This time of year, they will not be deterred — by hobbies, holidays or hell itself. The corn and beans will not wait!  Rain and equipment failure are the only forces with the power to stop the mad dash to get the crops in.
I have been busy too, so busy I have not kept up with a regular Cork Board update. So between planting my garden and doing my spring cleaning, here's your news and notes!