"May, with alle thy floures and thy grene, Welcome be thou, faire, fresshe May!"
-Chaucer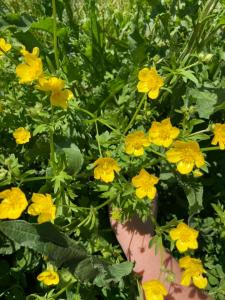 May in Green Ridge is spring pressed down, shaken together and running over. The fields are crowded with buttercups. Purple dame's rocket and wild asparagus shoot up on the sunny roadsides. Grass and weeds seem to grow inches overnight, as do the regal irises standing tall in the yard of every old house. The bugs are back: small green grasshoppers, mosquitos, and the misnamed June bugs. Toads keen loudly at night, and barred owls court in the darkness. The hummingbirds have arrived, buzzing and fighting greedily at the feeder.
The farmers and gardeners are busy planting. Breakfasts are early, suppers are late, lunch is in the tractor. This time of year, they will not be deterred — by hobbies, holidays or hell itself. The corn and beans will not wait! Rain and equipment failure are the only forces with the power to stop the mad dash to get the crops in.
I have been busy too, so busy I have not kept up with a regular Cork Board update. So between planting my garden and doing my spring cleaning, here's your news and notes!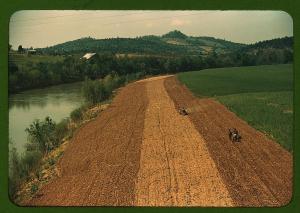 A Farmer Moved a 200-Year-Old Stone, and the French-Belgian Border, Anna Schaverien, New York Times

You know those surveyor's stones, single trees, hedgerows, or old fence posts that mark the border between properties? Yeah. Those are kinda important.

The Hillbilly Thomists' second album hits it out of the park, J-P Mauro, Aleteia, via @RehumanizeMaria on Twitter

If you like bluegrass, or old country hymns, or monks, you will love the Hillbilly Thomists. This group of Dominican Friars (originally from Washington D.C) look and sound like they'd be right at home as supporting characters in O Brother, Where Art Thou? Their wholesome, pining music will make your soul feel like you just stepped into an old clapboard church in the Smoky Mountains. Get ready to praise the Lord.

Farmers Are Using Their Stimmys To Grow Free Food for Their Communities, Ella Fassler, Vice, via Darrell the Farmer (@farmerdarrell) on Twitter

Urban farmers, community gardeners and even radical political groups are using their stimulus money to practice "food autonomy."

Virtual Novena to St. Isidore, Catholic Rural Life

We are approaching the May 15th feast day of St. Isidore, patron of farmers! I'm a day late and a buck short posting information on this novena, but it is never too late to begin to pray. Follow as bishops from farming dioceses across the United States bring their intentions before the Saint. You can also submit your own intentions, learn more about St. Isidore, and even request a holy card.

Why Many Farmers Eat Like Crap, Leah Koenig, Modern Farmer

This article is old (2014) but the question it addresses is perennial. Why aren't the families who grow our vegetables, harvest our whole grains, and raise our meats the healthiest of all of us? To quote an old and rather morbid phrase, "shoemakers' wives go barefoot and doctors' wives die young."
"When push comes to shove, a doughnut or a Snickers Bar win out by offering unparalleled convenience when farmers need it most."

Gathering Wild Asparagus, Hank Shaw, Hunter-Angler-Gardener-Cook

It's not native to the United States, but it proliferated with the pioneers and is now present in sunny wild spots all across the country. Yes, wild asparagus exists, and yes, you can find it and eat it! To learn even more, get to your local library and check out famous forager Euell Gibbons' Stalking the Wild Asparagus.