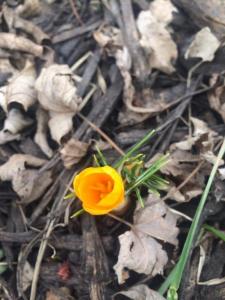 Spring is sprung here in Green Ridge!
In the past week, we heard the first spring peepers and spied the first fat robin. Mourning doves are nesting, and red-winged blackbirds are singing again. Early flowers are sprouting and blooming. The maples are heavy with fuzzy buds. Radishes, spinach, lettuce and mint are beginning to grow. Our first spring thunderstorm rumbled through in the night, and the next morning, the world turned green right before our eyes. This week on the homestead, we planted peas and pansies and pruned our rosebushes.
"Behold, the winter is past, the rain is over and gone. The flowers appear on the earth, the time of pruning has come, and the voice of the turtledove is heard in our land." -Song of Solomon, 2:11-12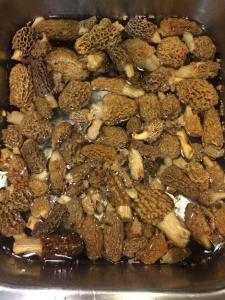 This week's news and notes:
Missouri Morel Hunting

Morel mushroom hunters across the Midwest are more excited than kids waiting for Christmas presents. Now is the time to find a comparable mushroom hunting group in your state, and gleefully (impatiently) watch soil temperatures rise until it's time to head out into the woods in search of mycology gold.
Is My Neighbor Dispensable? Ryan Kemp, Plough, via J. Daniel Sims (@jdanielsims) on Twitter.

What is "neighbor love" and what is our duty toward the neighbors who make up our community? This reflection is especially important for anyone attempting to put down roots in a new community or contemplating pulling up stakes.
"Can one call it love if one is always prepared to break with a friend when she disappoints or when a better opportunity arises? If I moved to greener pastures, could I remain faithful to my current neighbors while living apart from them?"

June 2021 Thriving in Rural Ministry Retreat

This opportunity is for priests serving rural areas, but Catholic Rural Life is an excellent resource for all Catholics in the country

Discovering Le Sainte Suaire: Cajun Spirituality and an Unauthorized Devotional. Anne Frugé, Folklife in Louisiana.

Every rural culture has its own rich traditions of folk spirituality. This is a fascinating look at the ebb and flow of Catholic folk devotion in rural Louisiana.