As a child, I loved old cemeteries. In order to get to a local shopping area, my mom and I would walk through the cemetery and wonder about their life stories, sometimes making it up as we went along. When I was older, I took a job near several old cemeteries, and would spend most all of my lunch hours sitting in the graveyards, meditating, listening to the birds sing their songs as the dead rested. In one of my favorite cemeteries, I knew every name and every headstone as if they were family. I have traveled around the United States in pursuit of the most unique grave markings and friending forgotten ghosts.
When Johna and I met, one of our outings was to a cemetery where we bonded over our love for grave art. Today, Johna is my guest blogger.
~Kristy
"Those who cannot remember the past are condemned to repeat it."
~ George Santayana ~
In the spring of 2005 I was taking an art history course at BGSU as part of my degree requirement. It was American art before the Civil War and I wasn't exceptionally enthusiastic about it because I was in a phase of obsession with Artemisia Gentileschi and the Italian Baroque. Early America was just going to be a thorn in my side. Or so I thought.
As it turns out I had a wonderful professor, Dr. Jeffrey Schrader, who made the class interesting and enjoyable and my pal E was there to learn with me. Art history, while fascinating to me in general, can be really dry and tedious in a lecture hall. This wasn't the case in Dr. Schrader's class that semester. An interesting non-studio art class with a good friend taking notes next to me was a rare thing in my college experience and it's fair to say that this particular class changed many things for me.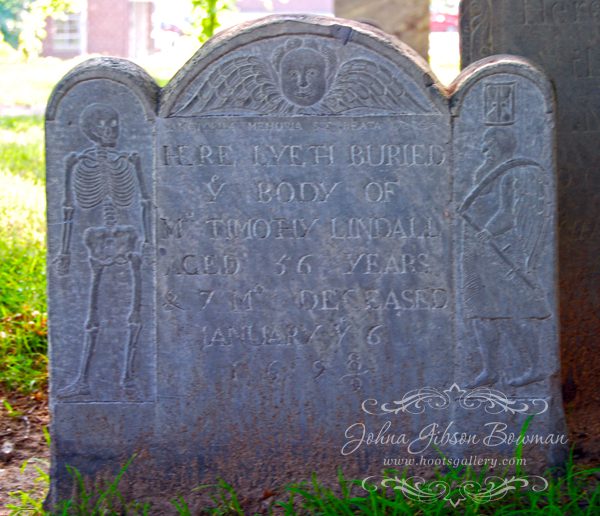 One of the slides in a lesson was the gravestone of Timothy Lindall who is interred at Old Burying Point, Salem, Massachusetts. The suspected carver of this particular stone is William Mumford. The carving is breathtakingly detailed, the lettering is pristine and the stone itself is in phenomenal condition for something 300+ years old that endures the weather of the east coast. There is also a fabulous representation of the transition from the Julian to Gregorian calendar. The Lindall gravestone, like so many others belonging to our ancestors, is both a piece of art and a lesson in history.
There are many places in which you can read about Lindall's grave and the early American stonecutters. I wrote my term paper about them and maybe I'll publish that one of these days, but that was that slide that changed the way I thought about art and history and how they commingle. I've always been drawn to cemeteries and gravestones, but thought they would only be a part of my genealogical interests and not a part of my art and other writing.
One of my other passions is genealogy and my enthusiasm for art, sepulchral sculpture, cemeteries and the death practices of early Americans has become a way for me to bridge those interests. Unfortunately, it isn't always easy to make public an interest in these subjects. I've been called names by people who think my work is disturbing or even sacrilegious. I've also been attacked by a person who sent me scathing and grammatically horrifying emails for using a word figuratively – never mind that my usage of the word is correct. Things like that used to bother me, but I believe that everyone – good and; bad – should be remembered. If enduring a little crap from the narrow-minded and ignorant has to come with trying to help do that, I'm cool with that.
I have a lot of photos to go through from trips I've taken to cemeteries. I'll post them on my website as I get to them.
Meanwhile, the Higher Intuitions Oracle Deck that Kristy Robinett and I have created is about a month from release and a there is a very good price on Amazon.com. I also have several new paintings that I'm working on along with all of the Hazel Fern Soap and Candles products. There will be many new fragrances released including Lord of the Manor, Blue Moon (not the beer!), Clarity – Higher Intuitions scent, a line of coffee house scents in sturdy ceramic cups and new handcrafted hot process soaps.
For Johna Gibson Bowman it was the childhood spent surrounded by emerald woods, cerulean skies and tanned patches of shaded ground that ignited the pursuit to the path as a painter of abstract, fantasy, whimsical, macabre and ancestral works.
Johna was born in Ohio on a ridiculously hot July day a few decades ago and currently lives there with her husband, Jason, and their cats. She spent most of her school years in the art room before moving onto Bowling Green State University and graduating with a BFA in Fine Art/Painting. Her work has appeared in both online and brick and mortar galleries.