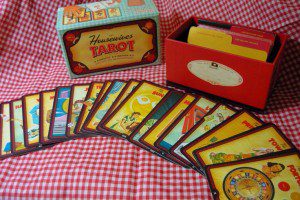 We all have intuition. Every single one of us. It doesn't mean that you have to hang up a flashy 'Psychic' sign on your office door, but you can if you want. Intuition comes from within us, around us and from past experiences. It is supposed to teach us what to do and where to go and who to trust even if you don't have the complete road map in front of you. It is that turn-by-turn direction that we all have, but we doubt and create false scenarios in our head, especially if there is a lot of grey around us. It makes it easier to point fingers at others than to own the burden of responsibility. And yet when we get burned, we punish ourselves because we knew. When a knowing can't be explained, we instead attempt to rationalize it.
And so people go to see mediums, psychics and life coaches to validate the knowing. Most all of the time my clients don't need me. Yes, I said it. They don't. They merely need to trust that their inner GPS is synced and giving them correct directions, yet hearing it from another source helps to inspire and (as I mentioned above) lessons some of the responsibility through the decisions. I become the scapegoat. And it's okay because I don't own that anymore. I used to, but I discovered that I have my own decisions to make in life. We each have free will. We each have free choice. The choice is up to you to embrace your knowing, but it is also your choice to follow through on your knowing.
On this snowy Michigan Monday I thought it would be fun to do something a little bit different. Normally I do an Oracle, but a few months ago a sweet friend of mine gifted me this Housewives Tarot. They come in a recipe box and are a hoot! So below are 5 Tarot Cards (all the same backs). By choosing your INTUITION, ask your guides and/or angels to help you choose the card that you are most drawn to. The card that will help answer a question that has been on your mind or a life decision that you have been wanting to make. Or simply ask what you need to know. Which one speaks to you…..?

Which one speaks to you? See below which one you chose………
.
.
.
.
.
.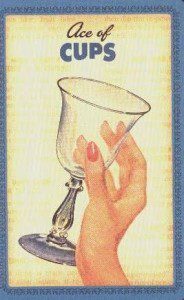 If you chose the 1st card (the far left card), you chose: ACE OF CUPS represents the beginning of something lovely and happy. It can indicate the start of a new relationship, be it a friendship or a romance, or even the start of a new job that you will love.
This card says to find peacefulness in your life, in your heart and around you. You might have stopped looking at simple things as beautiful and been caught up in the silly things that can bring you down. It is a 'don't sweat the small stuff' message.
The Ace of Cups is also about creative expression. It is time to be comfortable with you you are and express it. The creative juices are flowing! Want to take a belly dancing class? Do it! Always wanted to try your hand at making pottery? Sign up for a class. Through these new opportunities that you take, you will find new friends, new joys and a new love within yourself.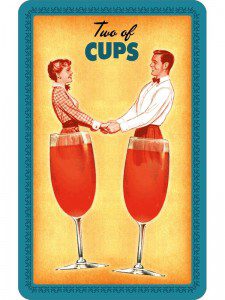 If you chose the 2nd card (the second card to the left), you chose: TWO OF CUPS typically points towards a relationship that is based on mutual attraction and romantic attraction. This relationship is clear, nurturing, supportive and heartfelt. If you aren't in a relationship then there is one coming soon. Two of Cups can refer to marriage, proposals and engagements. If you are in a relationship, this is the one.
Outside of love, the Two of Cups reflects a partnership of sorts, be it a business partnership, friendship or even a relationship between a person and their pet.
If you chose the middle card, you chose: PAGE OF WANDS. If you are passionate enough and determined enough, you can do it. Remember when you were a kid and had all those aspirations and dreams? Where did they go? It is time to get them back out of storage. There are new opportunities presenting themselves to you and it is time to think long and hard on what you want to do and start doing it. But only those things that call to you. If you are feeling 'ugh' about it, take a step back. This is often the card for a new job. This can also be a fertility card, but that doesn't always mean baby (but can). It is fertility within your life. Plant the seeds and keep on fostering those seeds – blooms will appear. An old friend, or new friend, might appear that will help with your passions.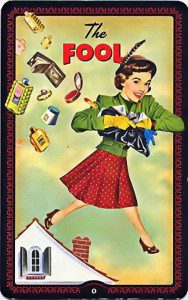 If you chose the 4th card (from the left), you chose: THE FOOL. The Fool isn't a fool, and is actually just the opposite. That excited innocence at life is what will help you through. You have been burned, but don't focus on that. Instead there is a new journey ahead with all that you have learned. Take a leap of faith! Focus on the now and don't worry so much about when or how you will get to where you want to be. Trust in the process of life and not the cynicism of what could happen. Put one foot in front of the other and the path will start to show itself.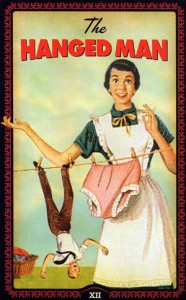 If you chose the last card from the left, you chose: THE HANGED MAN. Things might feel as if they are in limbo right now for you, but don't fret. The Hanged Man is here to remind you that through your struggles comes a new and better path. This isn't the time to make huge changes, except for those within you. Change your attitude and change your life. It is instead time for you to hang around and contemplate all that you have experienced and look at ways you can make those changes. Don't take action yet, but get everything prepared because the time won't be long.