When I was first booked to do workshops and intuitive sessions at Red Mountain Spa in St. George, Utah, Chuck and I thought we would just fly right in to St. George, I would work, and we would go home. And then we got the crazy idea to fly into Vegas, which is only two hours away from St. George, spend some time in Vegas and drive to St. George. The idea stuck and so we booked our flight, our rental car and two nights at Planet Hollywood. A week before we were to leave, friends of ours asked if they could join us in Vegas, and of course we were super excited to have company. I hadn't been to Vegas in probably ten plus years and it was over thirty years for Chuck. And being that we weren't gamblers, drinkers, clubbers or anything else Vegas was – we were going for the experience (and because the hotel, flight to Vegas and rental car together was cheaper than the flight to St. George!). Before we left we perused the shows, but unfortunately many of the shows were off at the time we were there, but Penn & Teller was playing at the RIO and there were tickets available, so we and our friends decided that on our second night there we would attend.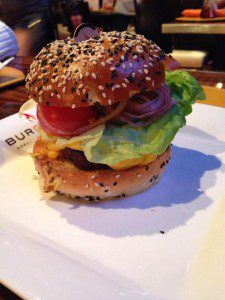 The first night in Vegas we were exhausted from the flight, but we met up with the other couple, along with another friend who was there and headed out on the town to be tourists. We walked around Planet Hollywood's mall and decided that we would eat at Gordon Ramsey's BURG R. My mood was dampened when I received a call from my son, who was at home with my dad, informing me that he injured his elbow/arm and probably needed to go to the Urgent Care/Hospital. And so after texts and calls, my sister graciously took him in, but I couldn't enjoy as much as I would have liked. The food WAS fabulous, though, as were the fries and the onion rings. We all toasted to friendship with our iced tea, water and pop. Despite my worried mood, we laughed and laughed more. And Connor's arm ended up being okay – just badly bruised.
After dinner we walked to our friend's hotel, Paris, which was next door and marveled at how 'Parisy' it was. Chuck had run back to our room to change into warmer clothes and was to meet us, but he got lost in the hotel and we went in search of him. As we entered the lobby, a kid diagonally cut in front of me with his suitcase, making me trip over the wheel and then tumble on to the ground. I found myself flat on the floor with several people staring down at me. My knee badly bruised (still a week later), along with most all of the right side of my body. But I think my pride was the most bruised. And I felt badly for everyone having to hang around with me being limpy. We slowly walked around, though and took in the sights at the different casinos, watched the Bellagio fountain (which we both could see from our rooms too) and then to the Coke and M & M store. We laughed at people dressed up in different costumes – Minions, M & M and screamed and giggled when an Elvis statue came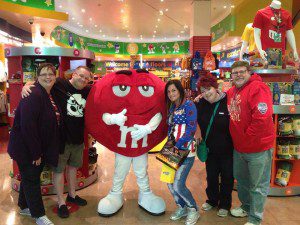 to life and chased us down the street. We pushed escort cards away, shook our heads at the many prostitutes and pimps that blatantly walked the streets, threw some dollars into the slot machines and laughed when clubs tried to give us free tickets into their venue. Finally, exhausted from the time change and jet lag, we called it a night.
The next morning we met at Pink's hotdogs for lunch and loved it, however Pink's didn't love Chuck. We stopped at a Basin Whitein the mall. They had sugar scrubs that we smelled, fell in love with, and then started washing our hands and trying out new products with the sweetest employee who probably thought us absolute nuts. Probably after an hour, several oohs and ahhs over how our hands felt and several dollars thrown on the table for their products we grabbed our car and headed out to explore Vegas via vehicle. And to get our tickets for that night's 9 p.m. show of Penn & Teller from RIO's will call. We ended up at Mandalay Bay (where we all won a bit on the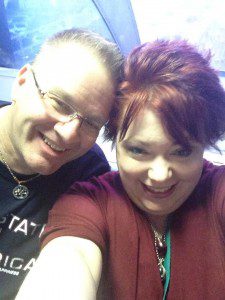 slots) and then took the monorail to the Excalibur (and Mikey and I thought it more fun than a rollercoaster). Before we knew it, it was dinnertime and this time we decided on Cabo Wabo where we laughed more, butted in on other table's conversations and met a new contestant on The Voice who just so happened to be from Michigan! We headed back to our hotels to nap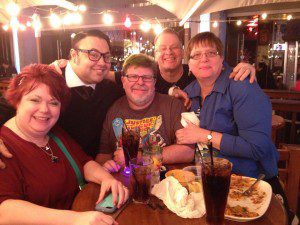 before the show. What felt like mere minutes, we were back on the road to RIO, and excited.
The Penn and Teller Theater
is small, but very pretty. We had mezzanine seats, and they opened the doors on time and were efficient with checking us in. Before going up we bought an overpriced non-alcoholic drink, although it was delicious. A jazz pianist was off to the side of the stage and although I love piano music, the music was like nails on a chalk-board. In between pieces, he would ask that audience members come to the stage to look at the box that they would be using and to sign your name on a piece of paper. Because my knee was bothering me, I didn't go up, but our friends went up and took photos on stage.
The show began right on time. I did appreciate the promptness. But everything went downhill from there and left me a horrible taste in my mouth. For me anyhow. Now, to back up and to be fair, I previously knew that Penn and Teller were atheists. I knew that they didn't like the metaphysical or spiritual community. I also knew that they were Libertarians. But I didn't know, and never imagined, that the show would be Penn blabbering about our loss of freedom, how ALL psychics and mediums were frauds and were criminals, and that if anybody believes in them or goes to them they should have their head checked. He preached that quantum physics was bull and for most all of the show he continued to preach his views. At one point I caught Chuck, who was on my left, and my friend, who was on my right, both snoozing. The illusions/magic that we did see was wonderful and made you scratch your head, but it was far and in between. And even though we did find tickets at a steep discount, it wasn't worth what we paid.
After the show ended, I sat there for a moment taking it all in. I was a 'fan' of Penn from Celebrity Apprentice. I knew that he was outspoken, but I found what he said to be horribly hypocritical. So, they make millions of dollars doing illusions and magic, and entertaining and fooling people – but it is okay. And he makes this amount of money and although he says that they rarely fly because they refuse to be checked by TSA because they will not give up their rights, so instead they use the money that people are paying them (to entertain and to trick people) for their private jet. But that is okay.
"I understand if you don't want to meet them," my friend said to me. "We still believe in you."
All my life, and it will continue on, I have no doubts, I have been judged for being a Medium. I didn't ask for this gift, that which I referred to as a curse. I was born this way. I don't ambulance chase. I run a business. I help people. I volunteer. I earn money. I have to so that my bills can be paid. For years I fought back from who I was. And I had just paid oodles of money for a man on stage to berate me. No, not personally. He berated Sylvia Browne and John Edward. He also made fun of Chriss Angel and others. So as I sat there taking it all in, I felt more sorry for this man than angry. Did he think everybody was out to get him? Was he so closed minded that he couldn't or wouldn't allow another to share their point of view and to maybe realize that he didn't have all the answer? That none of us do? Penn, a James Randi groupie, has been 'brainwashed' to be closed off. His views come from Randi's.
"Let's meet them…," I said, deciding that I wouldn't share my views. It was their theater and not my place.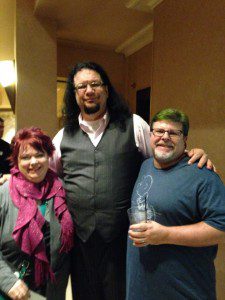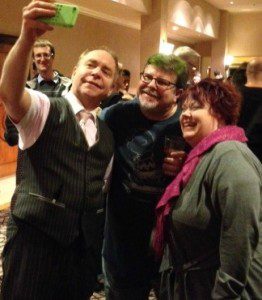 We first met Teller, who had an amazing energy. He was soft spoken and very cordial and gracious to the fans. And then we met Penn. He is a giant – 6'7" and massive. He didn't look anybody in the eye, called everybody 'boss', and although he was polite, there was some strange, maybe even dark, energy that wrapped over him. Interesting, I thought. It made me wonder if he had made a deal with the Devil, in a way (speaking poetically, mind you), to become rich and famous. I told him that I was a fan and he didn't say anything, we got our picture taken and that was that. Our friends also got their photo taken and as they walked away, my friend said 'God bless you', and high-tailed it out of there.
I try to take the adventures, both negative and positive, in our life as a lesson and find the meaning with it. I know that I would never see another Penn and Teller show, nor would I ever suggest it to friends or family. Although I am not regretful for going, like I said, it left me feeling sad. My husband asked me if I thought if Penn had an experience that wasn't a so-called cold reading, that he might budge. And I don't think so. But as we made our way through the Red Mountains in Utah, and marveled at nature, I was reassured that a higher energy exists and am very happy and secure in my own beliefs and in who I am, what I see and what I do. May God bless, Penn.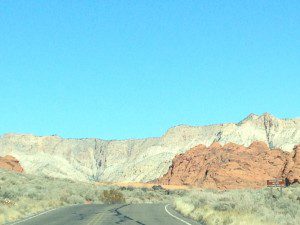 Believe,
Kristy Robinett
Psychic Medium – Author – Intuitive Life Coach