Ready to receive a message from your Angels/Guides? We all have intuition, you just have to quiet your mind and trust the whispers.
Ask for the message that you most need to see and choose a card (I've chosen a card from 4 different Oracle decks). Below is the meaning of each card.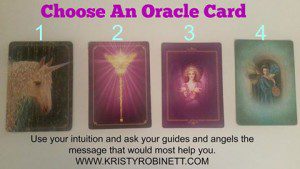 And your message is
.
.
.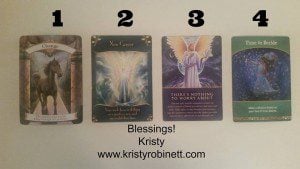 #1 – CHANGES – Change is hard and scary, but the changes you are experiencing right now will bring a positive outcome. This is a period of significant change in your life. Whether it feels huge or not, you will get through this intense period of your life and become even stronger because of it. Let go and trust. Everything will be okay.
#2 – NEW CAREER – "You've prayed for help with your career, and it's now occurring. Sometimes change is perceived as stressful, yet I'm helping to clear the old from your life to make way for the new. Pay close attention to your repetitive ideas, dreams, and visions, as these are Divinely inspired road maps pointing the way along your desired path. You may not see the entire road (or where it's leading), but each step will be lit along the way."
#3 – THERE'S NOTHING TO WORRY ABOUT – "The angels send this card to you because you've been needlessly worrying. Worry is a form of prayer that draws to you that which you do not desire. Release your worries to your angels, as there truly is nothing to worry about. In fact, your worries could create a self-fulfilling prophecy. Additional meanings for this card: Everything's much better than you imagine • Ask the angels to release you from worry • A happy outcome is inevitable • Avoid worrying, lest the negative emotions pull you and the situation down.
#4 – TIME TO DECIDE: "The angels bring you this card to help you admit to yourself that it's time to decide. You already know the situation they're referring to. You've hesitated making any decision because of loyalties and fears, yet the angels assure you that it's the best way. Work very closely with your angels during this transition to ensure its harmony for everyone concerned. Surrender any guilt or other negative emotions to heaven, as your energy needs to stay high right now. Additional meanings for this card: Completion and the end of a cycle are at hand • The purpose has been served in this relationship or situation • Surrender and release •
****
Have a blessed day and always remember to believe in YOU!
Kristy Robinett
www.kristyrobinett.com