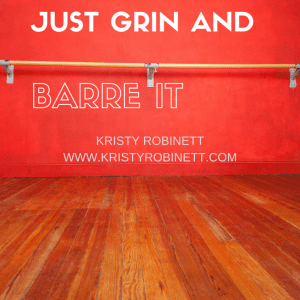 Six or so months ago I saw an advertisement for a new fitness class called Barre. Essentially Barre mixes pilates (read about my love for pilates here), dance, yoga and calisthenics to music, and it can include weights, balls, and bands all the while using a dance  barre. When I was younger I took every dance lesson there was, and although that was thirty-five years ago, I am drawn to dance studios and ache to have my dancer body back. It took me half a year to find the courage to attend a class after hearing horror stories from others on what an excruciating workout it is. With my twenty-two year old daughter in tow I sashayed into the studio on of the hottest days of the year.
We began bare feet (although you can wear socks, but they must have grips on them), with weights by our side, and standing we did a variety of ballet moves and then added the weights for arm exercises with the different ballet positions. I chose 2 lb weights and sort of got yelled at by the teacher for being a weakling, but hey it was my first time and I do have a rotator cuff injury – so there.  We moved to the floor where we did a variety of planks. Not easy and not fun and then moved to the barre and added the bands. Half way through the band workout I started to get light headed and had an overwhelming I'm going to pass out right here right now if I don't sit down came over me. So I listened to my body and sat. Up until that moment the instructor seemed a bit tiffed at the class, including me. Everyone had some sort of injury or issue, but when she was kind to me when I felt like I was going to die, and so taking pity on me the class moved to the floor and we finished with crunches, some more planks and then a cool down. When you watch videos it doesn't seem as intense as it is. The small movements, squeezes and tucks certainly tease the muscles and if you are shaking in some fashion, this is something good. I'm now sitting on the couch and I'm not sure I can move. Will I do it again? Sure, see you next week in class.
For a home workout check out this video.
Kristy Robinett (Livonia, MI) is a professional psychic medium. In addition to giving readings and teaching workshops, she uses her psychic skills to assist with police investigations. Kristy lectures across the country and has appeared on Fox News, ABC News, and Coast to Coast. She is also the author of It's a Wonderful Afterlife, Forevermore,  Messenger Between Worlds: True Stories from a Psychic Medium, Higher Intuitions Oracle, Ghosts of Southeast Michigan and Michigan's Haunted Legends and Lore. Visit her online atKristyRobinett.com.