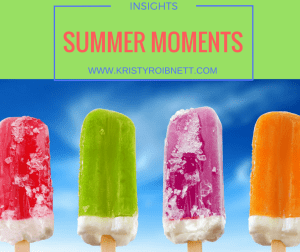 When I was a kid I craved to have family vacations, weekends at the cottage, and lounging by the lake time.  I would look outside my bedroom window and see life rush past me, believing that everyone was having fun besides me. Of course that wasn't true. When my kids were smaller I tried to do my best to schedule some summer fun. There was never a Disney vacation, cruise, or tropical trip – it was more like a picnic at the local park. That to me, was still never enough. I wanted to give them more. For them, they honestly would've preferred to sleep in, watch television and just chill out in the house. It's funny the unrealistic expectations we put on ourselves, isn't it?
On Saturday we welcome a New Moon in the astrological sign of Cancer that wants to try and melt the promise of summer fun with the moody energy. When we are in Cancer, we often 'feel' everything and seeing that Cancer rules Motherhood, you may feel very emotional during this time. If your mom has crossed over, there may be an aching to talk to her. Or if you are lucky to still have mom here, you may be urged to call or spend time with her. Note that this time does in fact effect everyone, not just those born under the Cancer sign.
This moon in CANCER is great for:
• Home projects
• Being honest with yourself and others with regards to your relationship
• Beginning new hobbies or an artistic study
• Starting a family
• Napping
• Exploring your ancestor
• Spending time with family
• Signing up for school
• Spending time around water
• Embracing the emotions that you feel by:
Saying exactly what you mean
Trusting your intuition
Not being afraid to say yes
Not being afraid to say no
For the next couple days be careful of your unrealistic expectations and unresolved business that may be hiding your true path. We can overcome anything if we allow ourselves to get out of our own way. Read more about overcoming in my blog here.
Believe,
Kristy Robinett
www.kristyrobinett.com