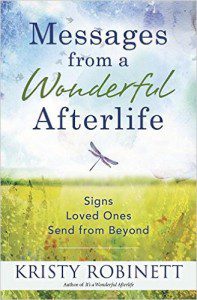 "Just as we communicate differently with those on this earthly plane, it is the same for those on the Other Side. We also have to take into account that we don't change our personality when we cross over. So if your dad was a loudmouth on this side, he will be the same on the other. If your mom was quiet and timid, it may take a bit more to catch her communication." <Messages from a Wonderful Afterlife from Kristy Robinett>
We all receive Heaven hellos from our loved ones, but life happens and we become consumed by it, missing what may come in a subtle way. My hope is that by becoming aware of the different signs I outline in my newest book out August 8th – "Messages from a Wonderful Afterlife" that you can find your signs. Then the visiting hours with your loved ones on the Other Side will become more frequent and clearer each time.
Heaven isn't some faraway place where you will only meet your loved ones when you pass away. Everyone has a direct line to heaven you just have to learn the right number.
Learn more about the afterlife and how to clear up your connection. Pre-Order Messages from a Wonderful Afterlife. 
Your Loved Ones Want You to Know that You Are Loved and They Are at Peace in the Afterlife
Expanding on her previous book, 
It's a Wonderful Afterlife
, psychic medium Kristy Robinett shares more personal experiences and stories from clients of how our loved ones—including treasured pets—are communicating from the other side. This heartwarming book teaches you how to identify "heaven hellos" from those in the afterlife and interpret the different signs and symbols that often appear, such as:
Finding coins or feathers · Feeling an invisible touch or shiver down your spine · Seeing a shadow out of the corner of your eye · Smelling a familiar scent · Hearing your deceased loved one's voice · Being visited by a special animal or insect
Messages from a Wonderful Afterlife also provides advice on taking care of yourself while you're grieving and supporting others through times of hardship. With Kristy's guidance, you'll become more aware of your loved ones in spirit and be assured that they're always with you.
Believe,
Kristy Robinett
I have used my unique gift of psychic mediumship since childhood. Whether it is to connect those that have lost loved ones or to assist in getting your life back on track, I'm here to help with direction, in nothing but a positive light. My ability to use several of my gifts helps me give variance to my clients.
Becoming comfortable with my gift has taken an awful long time and still when I speak with someone who doesn't know "what" I am, I begin – "Now, I am perfectly sane, but….I see ghosts…." I am not different than you. Everybody has the ability to "see", you just have to open yourself to it.
Visit www.kristyrobinett.com for more information.