Below are 4 cards from the Miracles Now. The backs are all the same, but by using your intuition choose one of the cards that calls most to you. Take a deep breathe in and out. Don't second guess yourself – just choose.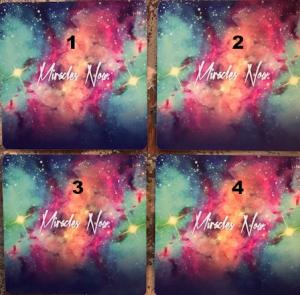 What card feels right to you?
No cheating….
.
.
Your cards are: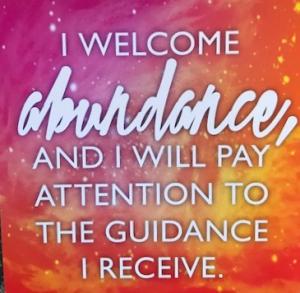 Card #1 – I welcome abundance and I will pay attention to the guidance I receive. It's time for you to recognize that wealth is attainable and you are receiving signs along your journey. Want another job? It's yours if you look. Want the abundance of love? Okay. More financial freedom? Got it. Abundance of health? Yep. The thing about abundance is it's within everyone. Being clear about your goals and your desires is the first step to gain abundance. Take a few moments each day and envision abundance all around you.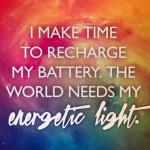 Card #2 – I make time to recharge my battery. The world needs my energetic light. Have you been feeling stressed and/or exhausted? You don't have to be constantly on the go. Spend a little time each day or each week doing something you enjoy that is completely frivolous and fun. It could just be an afternoon laying in the hammock, reading a book, watching your favorite old movie or playing with the kids. This is the time to restore your spirit.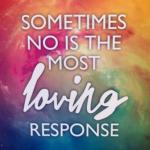 Card #3 – Sometimes NO is the most LOVING response. Many people pleasers have a difficult time saying no, fearing that the other parties will be hurt, disappointed, angry, or feel less of us. Saying no, however, is saying yes to yourself. By saying no in love helps to pay respect to your own soul and helps you conquer the constant fear of disappointment, rejection, and most of all – that lovely thing empaths hate – confrontation.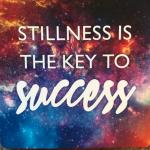 Card #4 – Stillness is the key to SUCCESS.
You don't have to take a hour long yoga class in order to find stillness in your life. To begin, simply start with five minutes a day, closing your eyes, and taking some deep breathes.
Meditation
is known to clear away the stress, de-cluttering your mind.
None of these messages are complicated, but they aren't always easy to execute, that is unless you believe. You deserve the highest good. You deserve miracles.
Believe,
Kristy Robinett
www.kristyrobinett.com
Kristy Robinett (Michigan) is a revolutionary psychic medium, international author, and inspirational speaker. In addition to giving readings and teaching workshops, she uses her psychic skills to assist with police investigations. Kristy lectures across the country and is a frequent media commentator, appearing on the ID Channel's Restless Souls, Fox News, ABC News, Coast to Coast, and more. Kristy Robinett is also the author of several books, including Tails from the Afterlife: Stories of Signs, Messages, and Inspiration from your Companion Animals (Llewellyn, March 2018); Messages From a Wonderful Afterlife: Signs Loved Ones Send from Beyond; It's a Wonderful Afterlife: Inspiring True Stories from a Psychic Medium; Forevermore: Guided in Spirit by Edgar Allan Poe; Messenger Between Worlds: True Stories from a Psychic Medium; Higher Intuitions Oracle; Ghosts of Southeast Michigan; and Michigan's Haunted Legends and Lore.Visit her online at KristyRobinett.com.