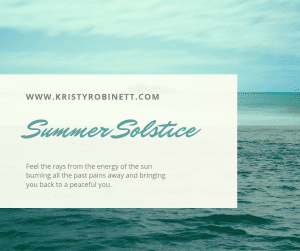 The cottonwood falls like snow in the light of summer's sunshine. The laughter of children playing on the nearby lake echoes through the oak clearing. A woodpecker calls out in rhyme while the crow caws in answer. The chimes softly sing in the gentle wind. Colorful dragonflies and large butterflies dance to the band of bullfrogs. Today is summer.
Be full of bright ideas | Pulse with excitement | Have a healthy glow | Delight in summer evenings | Keep a childlike sense of wonder | Set a shining example | Lighten up!
As the wheel turns into summer, feel the blessings of the sun coming into your life and use this Mantra – I AM free. I am freedom. I AM peace. I am unlimited. I unleash my inner power. I am in tune with my inner power. I AM a goddess of my own life. I believe in me.
Feel the rays from the energy of the sun burning all the past pains away and bringing you back to a peaceful you.
Happy Solstice!
Kristy Robinett
www.kristyrobinett.com