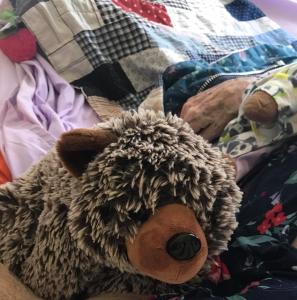 The blue parakeet sang to mom outside of her new cheery yellow room. Cooler temperatures on Sunday with a light breeze blowing in soft music all the while the Monarch butterflies dancing along the gardens outside her bedroom window. She was calmer. She was happier. Wrapped up in comfortable vintage flowered sheets, holding her baby doll, and fidget blanket. Her stuffed grizzly bear watched over. Pictures of her family surround her. She looked comfortable. Chuck and I sat listening to her giggle and watched as she smiled with the parakeet's song. Happy tears fell from our eyes knowing we made the right decision so her last days would be met with more of these kinds of days and her heaven filled with a forever of the same.
Monday the fresh scent of laundry detergent greeted us. Mom laid on lilac colored sheets clutching her stuffed bear.
"Mom, they are waiting for you to show up for your party in Heaven!" Chuck comforted her.
"Tell me who will be there!" she exclaimed.
"Well, your mom and your dad. Your brothers and your sister."
"Who else?" she giggled excitedly.
"Your ex husbands," Chuck laughed. "Remember them?"
"I do," she grumbled and then giggled again.
"Are you excited?!" I asked her.
"I'm ready," she responded and closed her eyes. It would be the last thing she said to us.
We always think we have more time even when we know time is precious. On Wednesday I awoke to a random white feather beside my bed and found another two outside my front door. It's a sign that I see both in mind's eye and in the physical – a sign that the journey to the other side is near. So, it shouldn't have been a surprise when Chuck and I received a phone call soon after our morning routine that mom's status had changed. She was spiking a high fever and she had what is called the "death rattle". We thought we were prepared. We weren't. When we got there, she was unresponsive, with shallow breathes. Her spirit felt silenced. But the parakeet still chirped and the hands of the clock continued to move.
We played her favorite songs on our phone. We gently washed her with cool washcloths to try to help the high fever. We watched Ben, the facility's house cat, get comfortable next to mom's bed. "He knows when it's near and stays with them until the end," the nurse shared. We observed the parakeet hanging on to his cage, as close to mom's room as possible. The butterflies continued to dance outside her bedroom window and an unusual bird hung on the screen, staying there for the longest time.
"You are free to go. You've been strong. You've been a wonderful mom and grandma. We will be okay and we will miss you, but it's time for you to take your journey," Chuck and I continued to tell her over and over.
Hospice told us to go home and rest, it would probably be later that night or in the morning, so we kissed mom goodbye. "We'll see ya when we see ya," Chuck said. "Be good. I love you." It was his usual goodbye whether on the phone or in person. An hour after leaving we received the call that she left the way she lived – on her own accord. She was a stubborn Taurus and didn't meet any of the usual markers end of day manuals give you. She did it her way.
Today we are numb. I met Mary Lou (mom) 15 years ago and we immediately bonded. I was often mistaken as her biological daughter and not the daughter-in-law, and she never corrected anyone. It was our red hair and our matching green eyes, and our strength, she'd say. She would call on every birthday and leave a voicemail with her singing. Every birthday card had $20 in it. Every Christmas card had $50. Except this year. This Christmas she went shopping for me. She bought me perfume, lilac, my favorite scent. She bought me iced tea, my favorite drink, and other little dollar store trinkets that she thought I'd love. And I did. I loved them and will forever treasure the thought of everything. It's as if she knew it would be her last one. After my mom passed, I loved Mary Lou even more – grateful for the time I had with her. Our every other weekly lunches. Our shared love of ice cream, the mystical, music, and American fries. I'll miss her.
Grief is a funny thing, really. It hides until it jumps out and makes you face it. The corporate world gives you three days. Your soul will tell you the grief is forever. Nobody should tell you how to grieve, or if to grieve. It's a personal experience.
Believe,
Kristy
Mary Eloise Robinett
April 25, 1930 – July 10, 2019
Mary Eloise Robinett of Clinton Township, Michigan passed away on July 10, 2019 at the age of 89.
Mary Lou was born on April 25, 1930 in Flint, Michigan to Victor Van Etten and Doris (Butler) Van Etten. Sister to Victor Jr, Jackie, and Ronald (Gail), all deceased. Survived by her only son Charles Robinett and his wife Kristy, four grandchildren, Cora (Brian) Kutnick, Molly Robinett, Micaela (Caleb) Kempf, and Connor (Serenity) Even, proud great grandma of soon to be Baby Kutnick, and aunt to several nieces and a nephew.
Mary Lou worked as a barmaid in Detroit for most of her life where her feisty personality, quick humor, and contagious laughter made her well loved and respected. She met many celebrities and loved to talk about her adventures of the 'good ole' days. Music was her passion, the radio playing one of her favorites, Sara Vaughn, Frank Sinatra and Billy Eckstine. Whether win or lose, she stayed a faithful fan to the Detroit Tigers, and you didn't dare call during a game. She loved classic cars and was a member of the Lincoln Club of Dearborn for many years. Mary Lou loved an ice-cold Pepsi, her morning buttermilk, American fries, Flint Coney Islands, Frankenmuth, and reading non-fiction novels. She was proud of her hometown of Flint and although she came from humbling beginnings, she demonstrated constant perseverance even until her last breath.
Burial will be at Woodlawn Cemetery in Clio, Michigan. A Celebration of Life will be held in the near future.