Since I was a child I've been visited by spirits that share  glimpses of their stories, their unfinished business, or simply a heaven hello. I do gallery readings to offer these glimpses, but I'm often left sad afterwards because not everyone gets a reading. I feel awful that participants leave sad because they didn't get a message. Yes, I forewarn everyone that will happen, but it makes me sad nonetheless. Then there's the lack of sleep for several nights after as if the spirits sense my vulnerability to people pleasing and take advantage of that by standing in line for a roll call. I much prefer one-on-one sessions, but I do gallery sessions to help give a taste of heaven. It's never for entertainment only purposes, although the spirit world does want us to laugh, I take my connection to the spirit world extremely serious. During the gallery sessions I allow myself to be guided by the spirits. It's as if they grab my hand and take all of my attention. I hardly pay attention to the people who are there (sorry) and afterwards I'm often depleted, leaving pieces of myself somewhere in between this and that world. Here are my visitors. I have no other information than what I share below. These are some of my most recent visits:
Ruth – a beautiful woman who had Shirley Temple like dimples when she smiled. She loved being a mom, and loved being a grandma – and she loved her husband, her soulmate of 50 plus years. She was so grateful for how the family came together through her passing and showed me yellow finches as a sign that she was around.
Mary – Became ill suddenly, while otherwise always healthy, and passed just weeks after. She lived an extraordinary life without regret, and taught her family to live out loud, to be shine brightly always, and to use common sense in everything. She believed in humanity and humility. As much as she wasn't ready to pass, she kept in her faith and was happy about the legacy she left behind, and the stories her family would forever continue to tell.
Melanie or Marlene – passed from Dementia/Alzheimer's. Her husband had passed a decade before and she was very happy to reunite with him.
Ruby – She showed me that October was important to her. She fought hard to survive and showed me the sign for cancer and pointed to her chest (so lung or breast). She was a feisty lady, with a twinkle in her eye.
Rob/Bob – He showed me a sign for being in the military and showed me several tattoos on his arms. He said he passed from cancer, and that it was a sudden diagnosis and a quick passing. He kept playing with his wedding ring and was very emotional. He missed his soulmate, but he said that he was happy she was finding new paths until their paths met again.
Bud – Connected to a George and a Lou (Lou might be a female, though).
Terry – He wasn't ready to pass, and he knows that his family is still grieving, but he wanted everyone to know that he was okay. He grew up in a large family, appreciated simple things, and loved being a dad, but really loved being a grandpa. He loved kids and everyone in the neighborhood considered him a mentor or pseudo dad. He got a huge hug from his mom and dad when he crossed over.
Ben – He was very descriptive that he was a teacher by occupation, a gifted musician, but that his favorite thing in the world was his wife and children. He said he was grateful for the love his family showed him all of his life, but also through his passing. They made him feel comfortable and loved.
Gary – Passed from a stroke and then had a heart attack. He was smart. A hard worker. He was proud of his military past. He worked with his hands and had an analytical mind. He loved to play with his kids and then grandkids. You could find him chasing them around the house and snuggling his wife, playfully dancing with her throughout the house. He loved to come up with nicknames for everyone, and it was all done with love. He loved northern Michigan and hoped that his kids/grandkids would continue their traditions in the great north.
Joseph – He worked with the railroad, showing me his hands – which is my sign he was a hard worker. He was a quiet man, but kind and gentle. He wished he would've been closer to his family than he allowed himself to be.
Bonnie – Lived a fill life. Showed me a rosary and a catholic upbringing. She loved antiques and shopping, gardening and cooking (canning). She was met on the other side by a son she lost years before.
Others who came through with a "I'm good" was:
Albert
Anita
Fred
Ursula
Lori/Laurie
Noah
Margaret
Each one of us have the opportunity to make the connection, we just have to see the signs all around.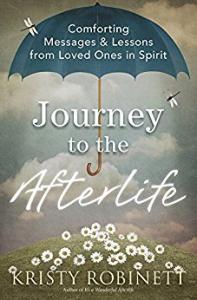 I love my job, but I don't always love what I see or hear. There's so much pain in this world and I do my best to help through the connections I make, but there are no magic wands to make it all better. Every one has to take their own baby steps and trust that even if they fall they can get back up. My days and nights are often long and I do miss spending time at home, but to those who schedule appointments or attend my events – thank you for allowing me the opportunity to spend the time with you and your loved ones on the other side. I believe in you all.
Believe,
Kristy
www.kristyrobinett.com