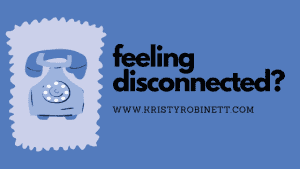 I typically wake up hearing the bus tires speeding down our gravel road. Minutes later my alarm will ring the formal wake up alert. But the last week the buses are garaged, and my alarm clock turned to silent. Today, the first official stay home order in effect, I awoke to birds happily chirping. I laid in bed and listened. I didn't hear any cars on the road. No planes flying in the air. Normally there's a distant whistle of the train, but even those more sporadic. I snuggled deeper into my fuzzy blankets and heard a squirrel run across our roof, chasing a potential mate. A nearby woodpecker kept rhythm with the gusts of wind. We might feel as if the world is at a standstill, but it was nature that reminded me we weren't disconnected, we were healing – in many ways.
How often have you wished the noise of the world would just stop? Now we are being forced to stop. We are being forced to pause. But disconnecting doesn't mean you are no longer in service. We are being encouraged to make the best out of a gloomy situation.
Today we welcomed in the New Moon in the astrological sign of Aries. Aries is an action energy and urges us to stop moping. Stop simply dreaming. And do something, with momentum and excitement. So, whether you are you are stuck inside, or you are still working, take 10-15 minutes a day to put focus your attention on something new. Yes, even in a quarantine. It might be a business idea. Or that book you always wanted to write. Or challenging yourself to run up and down your stairs 5 times.
Being that this New Moon is in the sign of confident and powerful Aries, this moon makes it a wonderful time to begin again. First, take a few deep breathes. We will be okay. We are strong. We've got this. Look at how you are spending your time. If it's in worry, then you aren't spending it wisely (I'm listening to myself). Turn the tv off. Turn on some fun music. Start cleaning, cooking, organizing, walking, putting together a puzzle, or start writing the book so many of you have told me you want to do – "if only there was time"! Start actually LIVING. Beautiful things happen when we disconnect ourselves from the negative.
I believe in you,
Kristy