Oracle ca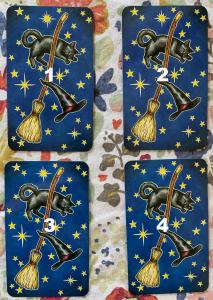 rds or Tarot cards are an excellent way to listen to your guides and your higher self, and sort through the confusion. We are bombarded by real life that we forget to take a minute to tune in. Tarot can help reassure. They can help renew and they can help remind you of your inner strength.
Choose a card from Everyday Witch Tarot by Deborah Blake that speaks to you. The backs are all the same, but by using your intuition choose one of the cards that calls most to you. There's no magic in this, just simply trusting your gut. So take a deep breathe in and out, don't second guess yourself, and choose. Which card speaks most to you?
.
.
.
.
.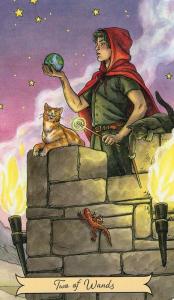 If you chose #1 – TWO OF WANDS – This tarot card is all about planning and moving forward – progression. Look at it this way; you have already set out to achieve a particular task, which means you have turned an idea into a realistic plan. Such a plan will require fulfillment and therefore you have to progress from just having the plan to actually achieving what you set out for. Through this discovery it means that you are stepping out of your cocoon and exploring new experiences and worlds. While the beginning might seem tough and difficult, the Two of Wands card encourages you to strive on and push forward.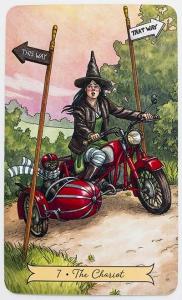 If you chose #2 – CHARIOT – The Chariot tarot card is about overcoming challenges and gaining victory through maintaining control of your surroundings. This perfect control and confidence allows the charioteer to emerge victorious in any situation. The use of strength and willpower are critical in ensuring that you overcome the obstacles that lie in your path. The Chariot's message comes to make you stronger as you strive to achieve your goals. You are bold and you are brave and through that you will achieve your goals.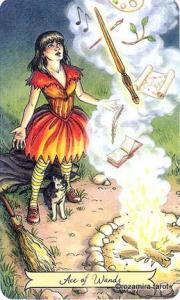 If you chose #3 – ACE OF WANDS – When you choose the Ace of Wands, it is an indicator that you should just go for it. Take the chance and pursue an idea that you have in mind. Take the first steps to start the creative project. The Ace of Wands calls out to you to follow your instincts. If you think that the project that you've been dreaming of is a good idea, and then just go ahead and do it. Send that email. Write that book. Paint that picture. Sell that jewelry. Build that website. To draw this card pushes you to act now, instead of brooding over research and more planning. Take small steps today, and then continue to grow your ideas over time. Action is what helps you grow, and build momentum.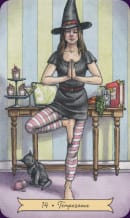 If you chose #4 – TEMPERANCE – In moments where there is anxiety or great stress, the Temperance tarot card suggests moderation and balance, coupled with a lot of patience. Where this card appears, there is the suggestion that extremity in any situation is to be avoided. Temperance may also indicate a time to evaluate and re-examine the priorities you have chosen. This will help you create a balance between your outer and inner self. At the end of it all, you will find greater purpose and meaning in your actions, for her message is that we cannot live fully in either.
***
Kristy Robinett (Michigan) is a psychic medium, international author, and inspirational speaker. In addition to giving readings and teaching workshops, she uses her psychic skills to assist with police investigations. Kristy lectures across the country and is a frequent media commentator, appearing on the ID Channel's Restless Souls, Fox News, ABC News, Coast to Coast, and more. Kristy Robinett is also the author of several books.