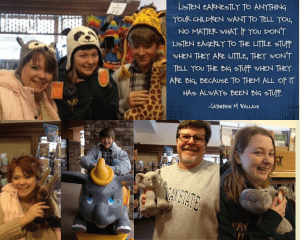 I never remember saying I wanted to be a mommy, yet I knew I wanted to have children. Nobody is prepared (are they?) to become a parent, and I think back to the time of holding my firstborn in my arms and what a child I was myself at 23 years old. Even though I had babysat, it was no replacement for what to do and what not to do under certain circumstances. There is no manual and every child is different and demands a different parenting style. Micaela would throw tantrums as soon as I tried to get her into the cars seat. Her screams so fierce and loud it was as if I was murdering her. And then came Connor, who was calm and patient. Micaela started walking at 6 months of age, which was a nightmare with baby proofing and trying to keep her in the crib that she endlessly climbed out of. Connor, it was on his first birthday when he took his first steps. Micaela liked her room messy, wore mismatched socks and rumbled shirts, without apologies. Since the beginning of time, Connor liked everything in order, color coordinated, and in militant order. Every child is different, but joyful just the same. Yes, even during teething, colic and curfew feuds.
Because I was a single mom for so long, and spent a lot of time just trying to pay for the roof over our head by working full time, part time, and going to college, so I instigated "Forced Family Fun". When the kids were little we would do something every other week, but as they get older and their schedules more filled, it was more like once a month, and/or during school breaks. It was nothing spectacular, although we tried to make it as magical as possible. It could be playing a game of Yahtzee, going to the movies, attending a museum, etc. And most of the time one of the kids would complain, but in the end we would laugh and have fun.
It was Spring Break 2012 and while most families were heading to Disney, we had other plans. I really wanted to go to the zoo, but Michigan's weather turned on us with snow, rain and cold temperatures, so instead we ventured to Frankenmuth, Michigan. Frankenmuth is called "The Little Bavaria" and is famous for chicken dinners and its small town charm. Some people hate it. Others love it. I'm indifferent. And since we didn't go to the real zoo, we pretended with the stuffed animals (see pictures). Dumb? Sure. Magical? Absolutely. And just so you know, we didn't get kicked out of any stores.
Who knew that 8 years later we'd be sequestered to our homes, Spring Break cancelled? Well, everything cancelled due to COVID-19. I think back to when my kids were little and I was broke. I felt so bad I couldn't give my kids the vacations and breaks like their friends were having. I tried to become as inventive as possible, although I had great kids that never complained or needed to be entertained. They were pretty happy reading a book or playing a video game. I remember only a handful of times they complained they were bored. I do know how blessed I was (and still am).
This time is stressful. Especially for those with kids under 18 years old. At the beginning of our stay home, stay safe orders, it sounded like an amazing time to bond with family, right? Now, I'm hearing from clients they are stressed. Ready to file for a divorce. Screaming at their kids. Unhappy with their own selves. Depression and anxiety is at an all time high. Now forced family fun is simply forced family.
My suggestions to break the stress include:
Make time to give space to everyone.
Everyone needs to pitch in.
Everyone.
Watch your attitude. It's contagious.
Schedule time together (as if we are in the "real" world).
Have a family meeting on responsibilities (don't assume).
Keep to a routine.
Make time to laugh.
Watch a comedy together.
Turn on fun music and dance.
Dig out the Wii and bowl.
What are you doing to break the stress?
Keep safe and always keep believing.
Kristy Robinett
www.kristyrobinett.com