Full Moons often call to the song in your soul, asking you to sing loudly or change the tune, but do something. Have you accidentally muted the volume? Oracle Cards are an excellent way to listen to your guides and your higher self, and sort through the confusion. We are bombarded by real life that we forget to take a minute to tune in. Oracle can help reassure. They can help renew and they can help remind you of your inner strength. Below are 4 Oracle cards from the beautiful deck of Spirit de la Lune. The backs are all the same, but by using your intuition choose one of the cards that calls most to you. There's no magic in this, just simply trusting your gut. So take a deep breathe in and out, don't second guess yourself, and choose. Which card speaks most to you?
.
.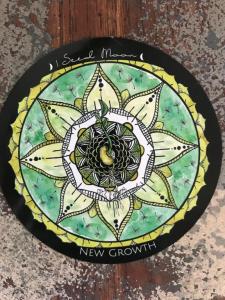 If you chose 1 – NEW GROWTH – Spring beckons forth with new life. This is a new season, a new chapter. The Seed Moon has reached her peak in the sky. It is time to set free your Dream seeds – any desires that have been brewing in your heart since Autumn and Winter. What is holding you back? What would happen if you step out of your comfort zone? Now is the time to put your intentions into action. Feel the winds of change and ride the winds with passion and harness that energy of growth. You have every reason to be optimistic right now, as things seem to fall into place magically. New opportunities remind you that abundance is available to you. Delight in the bounty that begins to appear in surprising forms. Stay curious and know that your hopes and dreams are being fulfilled.
If you c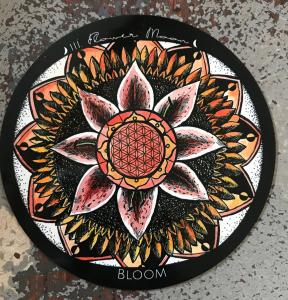 hose 2 – BLOOM – What needs nurturing right now? What have you been neglecting? This is a powerful card giving you permission to make time to nurture yourself, others, and your space. Take time to make a great home cooked meal and savor it. Decorate your space for the changing seasons and allow the magick of the season to enchant you. Bloom where you are rooted. Do not focus on what you can't have, but instead focus on what is blooming right before your eyes. Stay present. Practice gratitude. You are in a period of growth regarding affairs of the heart. Stretch yourself and your ideas of what you believe is possible – and know, in fact, that all things are possible if you will only follow your sun.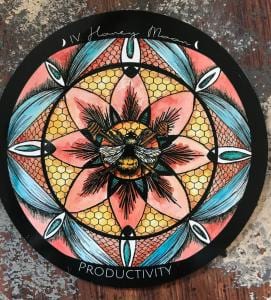 If you chose 3 – PRODUCTIVITY – This card has the message of abundance, production, and collaboration. What is it that you are drawn to? What blossom is calling to you? It's time to pollinate and plant your soul seeds. Don't forget that you can do anything, but not everything. Team work is important for you right now so you don't burn out. Everyone has their own "job" and if you've been trying to do it all on your own you may have simply given up, thinking you weren't supposed to receive all that you wanted. That's simply not true. Learn from the bees and embrace that energy.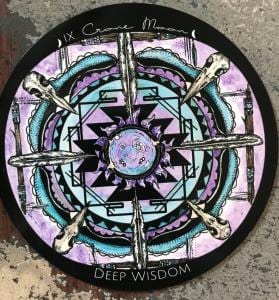 If you chose 4 – DEEP WISDOM – This message potent with possibility, transformation, and magick. This is the time for you to peer into the deep cauldron of your soul. There's soul shifts and changes coming. You've been challenged and you've strolled away from your own path. So often everyone comes to you for advice, but it's been awhile since you've followed your own deep wisdom. This is a time when your hunches will pay large dividends if you listen to them, take the risk, and act. It's time to let your guard down and walk into your path, listening to your intuition.
Believe,
Kristy Robinett
www.kristyrobinett.com
Kristy Robinett (Michigan) is a revolutionary psychic medium, international author, and inspirational speaker. In addition to giving readings and teaching workshops, she uses her psychic skills to assist with police investigations. Kristy lectures across the country and is a frequent media commentator, appearing on the ID Channel's Restless Souls, Fox News, ABC News, Coast to Coast, and more. Kristy Robinett is also the author of several books, including Tails from the Afterlife: Stories of Signs, Messages, and Inspiration from your Companion Animals; Messages From a Wonderful Afterlife: Signs Loved Ones Send from Beyond; It's a Wonderful Afterlife: Inspiring True Stories from a Psychic Medium; Forevermore: Guided in Spirit by Edgar Allan Poe; Messenger Between Worlds: True Stories from a Psychic Medium; Higher Intuitions Oracle; Ghosts of Southeast Michigan; and Michigan's Haunted Legends and Lore. Visit her online at KristyRobinett.com.