---
Oracle Cards are an excellent way to listen to your guides and your higher self, and sort through the confusion. We are bombarded by real life that we forget to take a minute to tune in. Oracle can help reassure. They can help renew  and they can help remind you of your inner strength. Below are 4 Oracle cards from the beautiful deck of Spirit de la Lune.  The backs are all the same, but by using your intuition choose one of the cards that calls most to you. There's no magic in this, just simply trusting your gut. So take a deep breathe in and out, don't second guess yourself, and choose. Which card speaks most to you?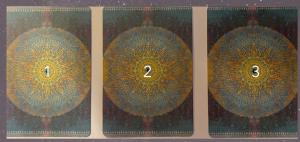 .
.
.
Which do you choose?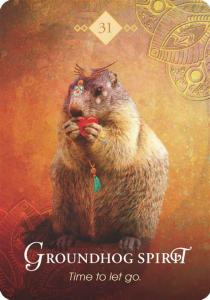 If you chose #1 – GROUNDHOG SPIRIT. I know, I know. It's easier said than done, but it's time to let go. It's time to release all that anger and sadness. It's time to stop looking at what should have happened, or could have happened and instead create what can happen. It's time to stop living in the past and start living in the now. What you are doing now is causing anxiety, and you are worth a time on this earthly plane much healthier and happier than that.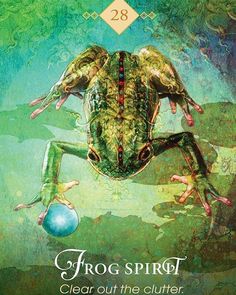 If you chose #2 – FROG SPIRIT. It's now time to clear out the clutter – both physically and emotionally. Sit down this weekend and prioritize what you need, and what you need to get rid of or give away. The old stories you tell yourself. The bad habits you continue to do. Even friendships sometimes have expiration dates. Whatever you need will appear when you need it, so release your grip on that is making you feel  anxious and burdened.
If you chose #3 – It's an abundant universe and you will be provided for. Buffalo Spirit comes to you now to remind you of the amazing manifesting power of gratitude and you have all that within yourself to create a mind-set of abundance.  This is a powerful time to manifest your desires—not by force or pushing but rather by following a natural path that rises up before you, trusting that there is always plenty to go around. Whether it be love, money, inspiration, or support, it's all there for you to claim. When you are grateful, you immediately align yourself with the truth that the world is rich and teeming with resources. There is always more than enough, and you are always enough.
If you loved this deck, visit HERE. 
I believe in you,
Kristy
www.kristyrobinett.com