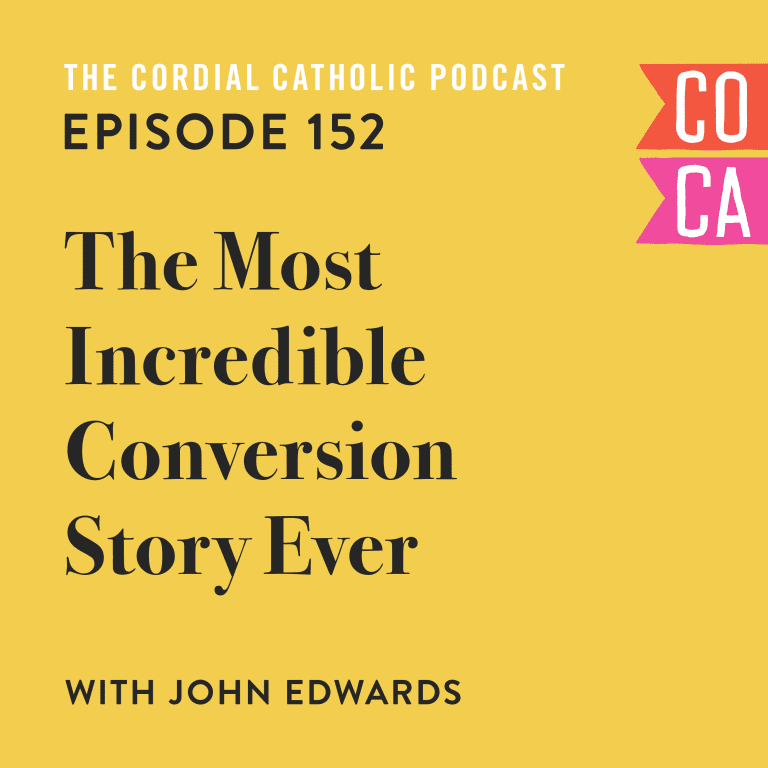 In this episode of The Cordial Catholic, I'm joined by podcaster, writer, and speaker John Edwards to share what I think is the most incredible conversion story ever.
John breaks the record previously held by the wonderful Tsh Oxenreider as he speaks for a full hour unpacking his whirlwind conversion story: through a crippling drug addiction, successes and failures, ups and downs, and an incredible return to the Catholic Church through the grace of vulnerability and the sacraments John's story is absolutely breath-taking. I can promise you'll be on the edge of your seat throughout; and once you start, you won't be able to hit pause!
For more from John check out the Just A Guy in the Pew Podcast and his website for links to book him to speak and for more information about the resources he's creating through his ministry.
For more, visit The Cordial Catholic. Send your feedback to cordialcatholic@gmail.com.
Sign up for our newsletter for my reflections on  episodes, behind-the-scenes content, and exclusive contests!
To watch this and other episodes please visit (and subscribe to!) our YouTube channel.
Please consider financially supporting this show!
For more information visit the Patreon page.  All patrons receive access to exclusive content and if you can give $5/mo or more you'll also be entered into monthly draws for fantastic books hand-picked by me.
If you'd like to give a one-time donation to The Cordial Catholic, you can visit the PayPal page.
Thank you to those already supporting the show!
To listen to this episode click here, or listen below.