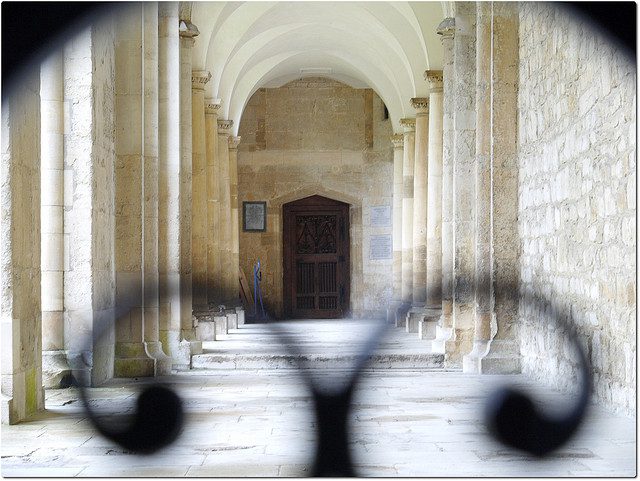 We are a people of the tangible.
A people of the here and now and, as much as we try, it's difficult to imagine ourselves anywhere else.
This is, often, how we find ourselves caught up in despair. Or desire.
We are of the moment which is why this Advent season of the Church is so incredible: It shoehorns us out of our own ritual and routine and demands we turn our attention to something so much more than ourselves. Something two thousand years ago.
And it does this every year.
But this year, at Advent, that elusive thing we chase after—the fullness of God in helpless babe—has been made that much more tangible through the remarkable efforts of our Holy Father, Pope Francis, and the Mercy Door.
As Catholics, we're banned from singing Christmas Carols until Christmas proper (and the blissfully wonderful days that follow) at which time the Church celebrates like nobody's business. But, for now, in this penitential, expectant season of Advent we wait in anticipation. With that in mind, it's probably unfair (and in breach of many Canon Laws) to quote, even briefly, from a secular Christmas tune but I can't help myself.
So here goes.
I know it's been said, many times, many ways… but I love the tangible element of the Catholic faith.
As a people of the here and now I feel like my Christian faith, as a Catholic, has been that much more magnified. Enhanced.
Made more full by those things that I can touch and feel.
Enter, the Mercy Door.
At the start of the new Church Year, which begins, traditionally, at Advent, Pope Francis has declared this to be a Jubilee Year—a Year of Mercy.
In this, the Pope invites us, the world's Catholics, to reflect, express, and extend what ought to be considered one of the chief attributes of the Christian: mercy.
We're called to bring mercy to this weary world. How fitting that this Jubilee begins with Advent.
The fullness of God in a helpless babe—bringing mercy.
Now here's where I come in.
I know I've said it before (I've said it before that I've said it before, too) but there's something remarkable and refreshing about making mercy tangible. About the Mercy Door.
Indeed.
At the request of the Pope, every diocese across the face of the earth is to establish a Mercy Door. A door through which the Catholic faithful can, quite literally, walk through and be renewed.
What is more tangible than that?
And what timing.
When the world struggles to reconcile itself to the humanitarian crisis taking place across the Middle East. A door, a physical door, reminds us to have mercy. When we, who have so much, celebrate like there aren't those who have so little. A door, a door in every diocese, reminds us to show mercy. When we of so little patience cannot wait just ten seconds longer in that line of cars at the light. A door, a million doors, remind us to be grateful for mercy.
And when we, who are so weary and broken inside, need nothing more than to know we are loved, still, there is that door.
As a Catholic, the Sacrament of Penance, is something of our stock and trade. I've written about it before. In this, the waiting season of Advent, we Catholics are called with renewed hope back to the confessional. It's a time to prepare ourselves for the once again coming of Christ; it's a time to be ready, and so we come to the fount for mercy.
This year, in a renewed way, with that special focus on mercy, we do it again.
And these are powerful things.
The Mercy Door. The confessional.
Really, the same thing. And, with that in mind, I've been reflecting on this, the absolution, which is prayed by the priest—which affirms God's mercy—during the sacrament.
It is this,
God the Father of mercies, through the death and resurrection of His Son, has reconciled the world to Himself and sent the Holy Spirit among us for the forgiveness of sins. Through the ministry of the Church, may God give you pardon and peace. I absolve you from your sins, in the name of the Father, and of the Son and of the Holy Spirit.
In this busy season of Advent—the Christmas season—it is dangerously easy to slip into an autopiloted routine. It's easy to be swept away in the secular season, up and down the aisles of choose-whatever-shop-you'd-like. But this is why, as an Evangelical, the Catholic Church appeared like a beacon in the storm.
Here is the Mercy Door. Here is Mercy.
Here is what the priest says.
Here are these tangible things to reveal our Lord, the Fullness of God in helpless babe, just a little bit more clearly this Advent season.