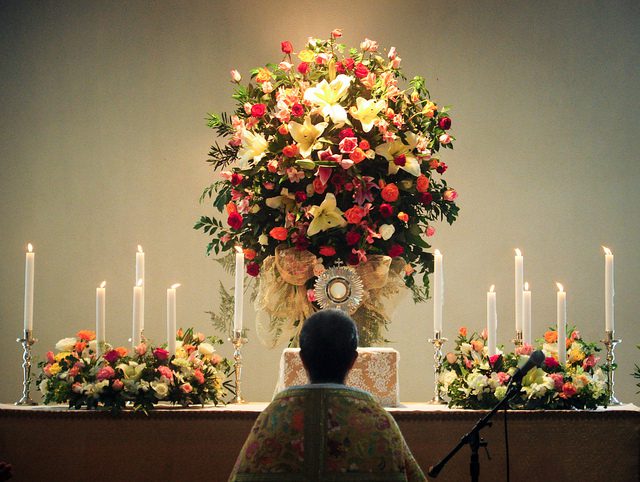 OK, I'm being facetious, I admit it.
I snuck out today, on my forty-minute lunch break, to spend some time sitting in church. Our local parish church is beautiful. It was a built in the 1800's by a famous church architect who was so popular that he was later hired, in an ecumenical reach across the aisle, by Baptists to rebuild some of their churches too. At any rate, it's a beautiful building that I'm still discovering and learning to appreciate.
I snuck out today because being the first Friday of the month our parish hosts all-day Eucharistic Adoration.
Of all the new things—the hidden treasures—I learned about on my journey into the Catholic Church, this was one of the things I was most excited about when I first discovered it in a book by convert Scott Hahn. This was something I couldn't wait to experience and having been twice now I can safely say I haven't been disappointed.
Before I dig too deep let me say this: I don't want to overly complicate things with theology—maybe that's for another time. I've filed this post under, "Why I'm Catholic," and instead I'm going to write about my experience and why this draws me closer to Christ, and His Church.
I meant to shock you with the title of this post, as if that wasn't super obvious. I'm being a bit glib, but I'll tell you why. The notion of Eucharistic Adoration is inherently shocking because the nature and theology of the Eucharist in the Catholic Church is inherently shocking too. Let me break it down, briefly, before telling you why I've fallen in love with this particular devotion.
I wrote about the Eucharist in a bit more depth before. Suffice it to say, the Catholic Church believes, derived from history, Tradition, and Scripture, that Jesus is actually present in the Eucharistic elements. The wafer—which I've taken poetic license to call a 'cracker' in the post title for dramatic effect—doesn't actually look different but becomes, in its essence, the actual blood and body of Jesus Christ.
In other words, in the Eucharistic elements Jesus is actually there. The real Jesus.
Enough theology.
Presupposing a belief in the Catholic theology of the Eucharist, Catholic churches the world over offer up Eucharistic Adoration services. It's exactly what you think it would be, and very much like the picture I've chosen for this post. A fully consecrated host, which has become Jesus, is displayed on the altar in the church. One local church in town actually offers 24/7 Adoration and will give you the passcode to their alarm system so you can get into their chapel any time, day or night. Our local parish church offers an Adoration service on the first Friday of every month, from 8-5.
And I love it.
The theology of the Eucharist blows my mind, I've said that before, but think about this further mind-exploding concept: If you believe the theology, I spent my lunch hour today sitting, praying, and worshiping in the actual presence of Jesus.
Kaboom.
When I read this, and think about this, I wonder how someone who believed it couldn't possibly be drawn inexplicably to the beauty of this opportunity.
While possibly complicated theologically, the practical aspect is humblingly simple. The consecrated host is displayed, parishioners who want to can come in any time during the day and do pretty much whatever they'd like in the presence of Jesus. When I've been, which has been twice, the few there have been praying, reading, or meditating silently. In a beautiful, expansive church like ours the act of being there, in silence, surrounded by so much high church expression  is immensely pleasurable just by itself. I can see the appeal of being in a simple, clandestine setting as well though—simple and undistracting.
Regardless, it's beautiful. To be in the presence of Jesus Christ, in whose Name I'm praying to, is heart-stopping. To pray and know that Jesus is miraculously present right there is incredible.
So I sat, and I knelt, and I prayed.
And maybe an analogy will suit. It's one thing to talk to my beautiful wife on the phone. (When we were first dating, I remember, I was absolutely enamoured with her voice.) It's an entirely different thing to talk to her in the same room.
I snuck out today, on my lunch hour, to worship a cracker because it's begun to make sense to me that that cracker becomes Christ. That that is what He meant when He said what He said. And because I couldn't pass up the opportunity to pray to Jesus in His very real presence, in the electrically-charged air of my local parish church. Because it's an incredible journey I've been on and because these incredible gifts that I'm discovering—this hidden treasure—feel inexhaustibly big, and unfathomably beautiful, and that's what I want to be a part of.