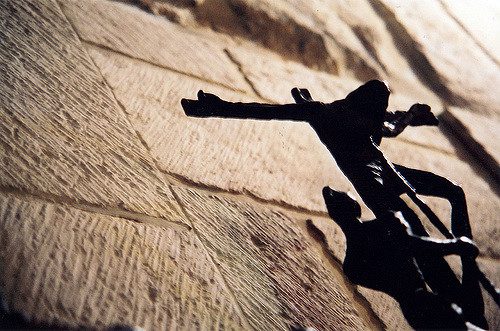 Picture the one person on earth that you like the least.
There's gotta be somebody.
(Even saints have their bad days.)
For me it's easy. See, we used to have these neighbours.
Now, picture what it would be like to completely forgive all the hurts and hang-ups you've long associated with that one god-awful person—or persons.
Gone.
Completely forgiven.
What would that feel like?
Probably pretty insane.
First,  it would probably be incredibly difficult to let it all go. To forgive. To recognize that even though they've likely hurt you deeply you're going to make the difficult decision to live and let live. To forgive. That's not easy; probably feels pretty scary.
And, second, it's probably a bit mind-blowing.
Maybe up until this very second you'd never considered genuinely forgiving that one awful person in your life.
Maybe it hadn't occurred to you.
Maybe you've been a Christian your whole life and when you've repeated, "forgive our trespasses as we forgive those that trespass against us" you kind of just said it.
You didn't really put two and two together.
Until now.
It certainly wouldn't be easy to forgive that person. They certainly don't deserve it.
But…
Incredibly, audaciously, this is the kind of grace that God gives to us.
Unmerited grace.
I love that term.
God, who lovingly sewed us together, who knows each hair on our heads, is all too ready to embrace us with an unmerited grace.
A grace that we've done absolutely nothing to deserve; we've simply existed. God, ultimately, breathed life into us and wants to give us more and more and more.
And we've done nothing to deserve it.
Understanding, first, that God loves us so unconditionally is incredible—audacious. But knowing, second, that he loves everyone like this is a kind of holy, cosmic, levelling of the playing field. And it's what I love about Christianity.
We're all equal.
Those bad neighbours, that awful person you were picturing earlier, are all able to receive God's grace and love and forgiveness in the same way—if we want it. (God isn't going to shove it down our throats.)
I love that the Gospel of Jesus is, above all things, insanely fair.
Because I've had a heck of a time trying to forgive those neighbours of ours, and we've long since moved away. If it were up to me I'd likely never forgive, never move on, and never show the kind of grace I'm called to.
It's difficult. It's scary. It's hard to move past it.
But my grace is only a sliver of what God has to give.
Audacious, unmerited grace.
When we fall short of God's standards or even our own it's that unmerited grace which wins us back. That complete forgiveness we've done nothing to deserve—but to ask for it. Time and time again.
I love this: That, ultimately, we're all absolute equals; I can do no more to "earn" God's grace than you can—than the holiest person on earth can.
Or the crappiest.
Not sure which I'm closer to most days.
Stay in touch! Like The Cordial Catholic on Facebook: