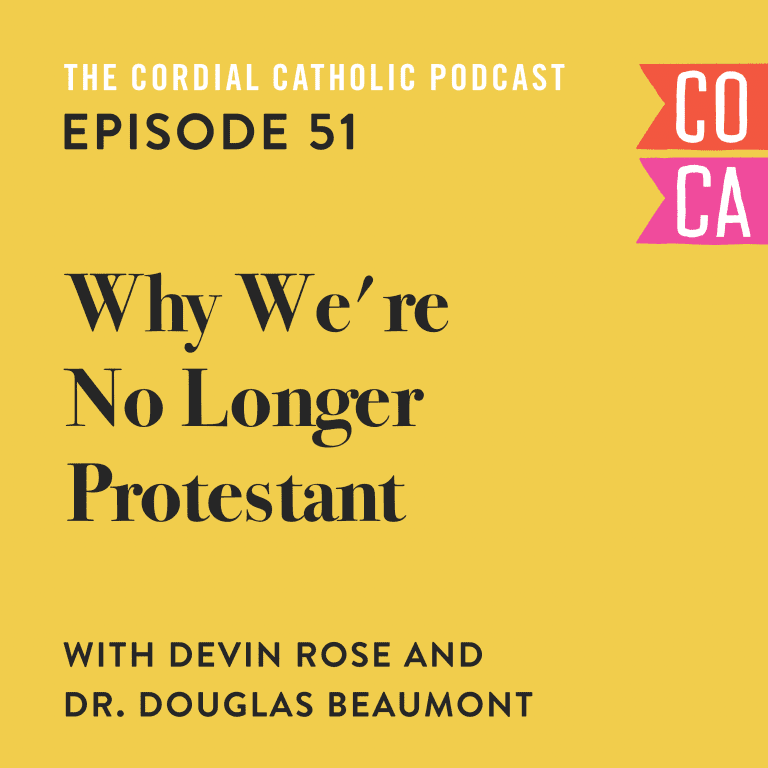 In this episode of The Cordial Catholic Podcast, I'm joined by two fantastic Catholic apologists to discuss their joint journey into the Catholic Church. Devin Rose is a Catholic convert, writer, speaker, and app developer. Dr. Douglas Beaumont is an apologist, speaker, and writer as well. Together, these two have written some of the best books in Catholic apologetics and, it turns out, they connected, became friends, and had some great discussions around Doug's journey into the Catholic Church.
In these episode they unpack how asking questions about the Bible, the biblical canon, authority, and the nature of the Christian Church led them to eventually leave Protestant Christianity to become Catholic.
For more from Devin visit Lionheart Catholic where he even offers his book for free.
For more on Doug visit his website where you can find more information on his speaking, by his fabulous books, and follow him on his upcoming pilgrimage.
Send your feedback to cordialcatholic@gmail.com.
This show is sponsored by Select International Tours. To learn more about their pilgrimages and tours and to organize your own group tour visit their website. And thank you to Select International Tours for sponsoring this show.
For more information about sponsoring the show, keeping this podcast going, and helping me to continue to deliver quality content please visit the Patreon page.
Even $1 or $2 a month can go a long way to helping make this podcast sustainable and will give you access to a special Patron-Only podcast featuring behind-the-scenes content and early access to upcoming material.
If you can give $5/mo or more you'll also be entered into monthly draws for fantastic books hand-picked by me.
If you'd like to give a one-time donation to The Cordial Catholic, you can visit the PayPal page.
Thank you to those already supporting the show!
To listen to this episode click here, or below.